New Memphis Restaurants To Enjoy
Memphis' food scene keeps on giving with the opening of these new restaurants, bars, bakeries, and coffeeshops.
Here's a running list of the new restaurants that have opened lately in Memphis, starting with the newest.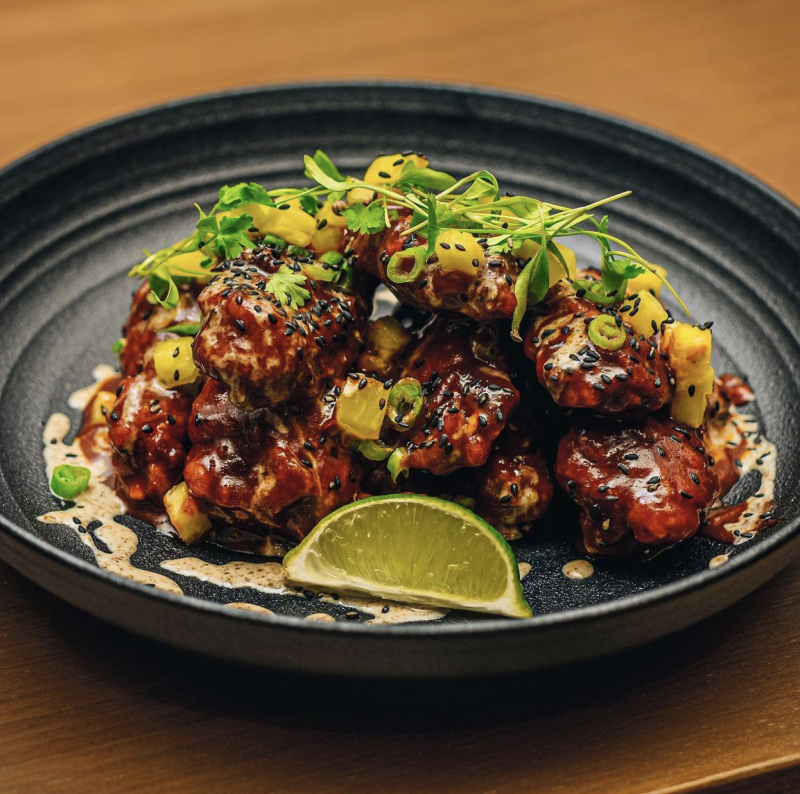 New Memphis Restaurants, Bars, and Coffee
Hive Bagel & Deli
Downtown now has a NY style bagel-dedicated shop with the opening of Hive. You don't realize how much you were missing a spot you never had until it opens. Hive offers single bagels (at a good price may I add) in addition to bagel sandwiches, pastries, salads, coffee, and more. I recommend the Bagel & Lox -- which I once ate three days in a row.
Hive Bagel & Deli: 276 S Front St.
Muggin Coffeehouse
Muggin Coffeehouse made a delicious name for itself from their first location in Whitehaven. Their success propelled to this second location in downtown's Uptown neighborhood and we're thrilled to have them now close to our office. Their hot and cold mix of coffees rep Memphis and we love their best-seller Zippin Pippin iced frap. 
Muggin Coffeehouse #2: 606 N Main St.
Options
You have lots of options at Options which offers comfort food with a Memphis vibe. This new spot in Cordova offers wings, burgers like they're "over the top" double bacon cheeseburger, phillys, bossed up fries drenched in their signature Options sauce, and more. Want to get the full taste of this new spot? Opt for the big sample box. Here's a big bonus: they're open late-late on the weekends!
Options: 7940 Fischer Steel Rd.
Elwood's Shack
The always-a-favorite Elwood's Shack has now opened a section location. This second location is larger and has a slightly different menu but many of the same favorites as the OG location. It, too, will be open for breakfast, lunch, and dinner. A few new options include a fried chicken sandwich (Tiger Bleu Chicken Sandwich), milkshakes and mocktails, and an açaí bowl.
Elwood's Shack #2: 4040 Park Ave
Sugar Ghost
This month has been all about expansions. Sugar Ghost is another shop opening their second location after the success of their Broad Ave. spot. The second location, in Germantown, will offer the same homemade ice cream, handcrafted bubble teas, and adorable interior. We're overdue for a visit and this new fall menu with a Pumpkin Oreo Cheesecake is calling our name. Their banana pudding ice cream is still one of my favorites.
Sugar Ghost #2: 9077 Poplar Ave
You can guess what this new restaurant is all about by its name but Wingman says they're not just a regular wing spot. They offer 10 speciality sauces inspired by different cultures from all over the world. They take some of the traditional Memphis flavors like Honey Gold and Lemon Pepper and add a special twist to it. Although they're a wing spot -- the chicken sandwiches look incredibly tempting.
Wingman: 143 Madison Ave.
Not a new restaurant per se but it is newly reopened after nearly two years of being closed. During the closure, Momma's completely remodeled including a huge and nice patio expansion. The menu favorites are all back plus some new menu items. I recommend the Firebird Chicken Sandwich and the Big "M" burger with some deviled eggs to start. Read our blog about its reopening.
Momma's: 855 Kentucky St.
Memphis now has an authentic Sichuan restaurant to rave reviews. To be honest, I'm a little traumatized by going to my first Sichuan restaurant in NYC. I was not prepared for the heat those meals would be packing. I admit I am a wuss but that's all to say, if your dish has a lot of red in it. Don't take the biggest bite you can manage. 
Petals of a Peony: 1250 N Germantown Pkwy
Located next door to Alcenia's, this charming nautical-themed interior specializes in sorbet, juices, candies, and unique sweets. They have so many different treats to choose from including Taiyaki fish shaped waffles cone. Wonky's is only open on the weekends so plan your visit in advance!
Wonky's: 315 North Main Street
Vice & Virtue, Paper Plate Pavilion
With the opening of the new Tom Lee Park comes two permanent meal options. Vice & Virtue coffee shop and Paper Plate Pavilion both have their own buildings in the park. Vice & Virtue will serve up their coffee, pastries, and more. Paper Plate Pavilion was first a food truck and offers savory bites. I loved the brisket mac!
Both: Tom Lee Park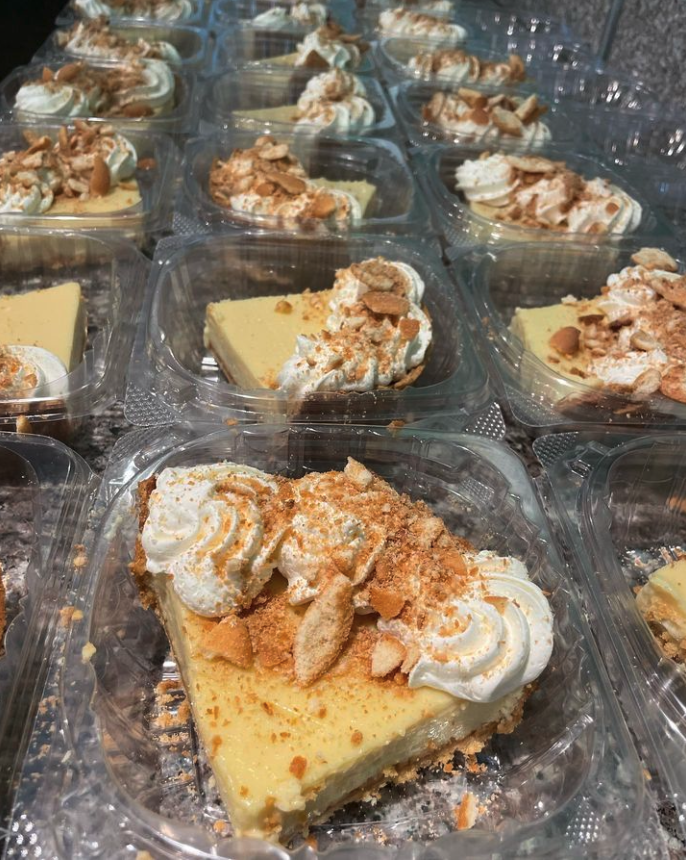 New Asia
One of our favorite food trucks now has a restaurant space to call its own. Mem Dim Sum has taken over New Asia in Germantown.  An updated menu is on its way but in the meantime, enjoy the deliciousness of the Mem Dim Sum menu. We love the soup dumplings!
New Asia: 2075 Exeter Rd Suite 90 Germantown, TN 38138
Elise Dessert Co.
There's a good chance you've seen Elise Dessert Company's banana pudding at your local shopping spot. You can continue buying it there or make a visit to their new storefront for even more pudding flavors like strawberry caramel banana. She also makes key lime pie at the store.
Elise Dessert Co.: 3536 Walker Ave.
Jeremiah's Italian Ice
There's a new sweet spot to cool off in town. Jeremiah's Italian Ice opened their first Memphis location and from the bright green and red exterior -- it's hard to miss. They serve authentic Italian Ice with creamy ice cream and Gelati.
Jeremiah's Italian Ice: 3717 Summer Ave.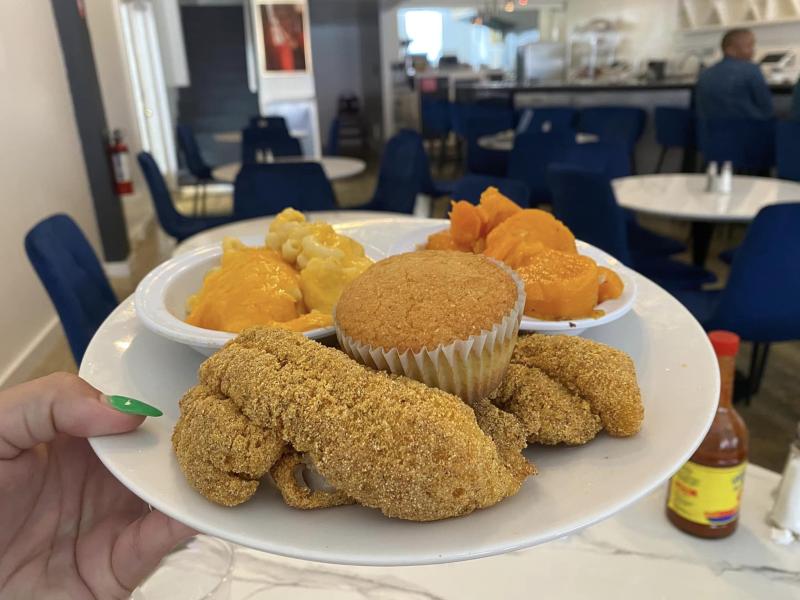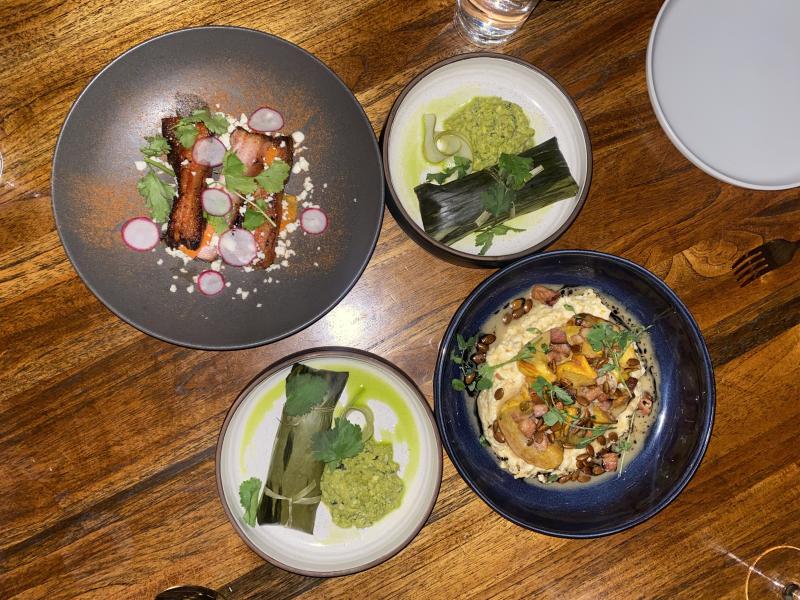 Promise
The new soul food spot recently opened in South Main at the former Grecian Gourmet Kitchen location. The family run restaurant uses handed down recipes. Menu is limited currently but expect it to expand soon. Currently menu had fried catfish, chicken with dressing, and chitterlings. Each dish comes with two sides. We recommend the sweet potatoes, spaghetti, and Mac n cheese sides! Give them some time to get settled. They're currently waiting on liquor license.
Promise: 412 S. Main St.
"They're not Mexican tacos, they're Memphis Tacos!" Try out their BBQ Taco that has Central BBQ's pulled pork and signature slaw and Soulburger Taco which is Earnestine & Hazel's SoulBurger with sautéed onions and cheese! I promise you'll be a huge fan. The drinks are always flowing with delicious margaritas and Patron tower. The space filled with lots of photo ops (I'm a sucker for neon signs.) 
Pretty Taco: 265 S. Front St.
We're really excited to give this spot a try. Arnold's Smokehouse is a vegetarian and vegan-friendly soul food and bbq restaurant. The menu features sandwiches like a fried oyster mushroom sandwich, flatbread pizzas, nachos, bowls, and pastas. The BBQ Fajita Nachos are calling our name!
Arnold's Smokehouse: 2019 E Person Ave.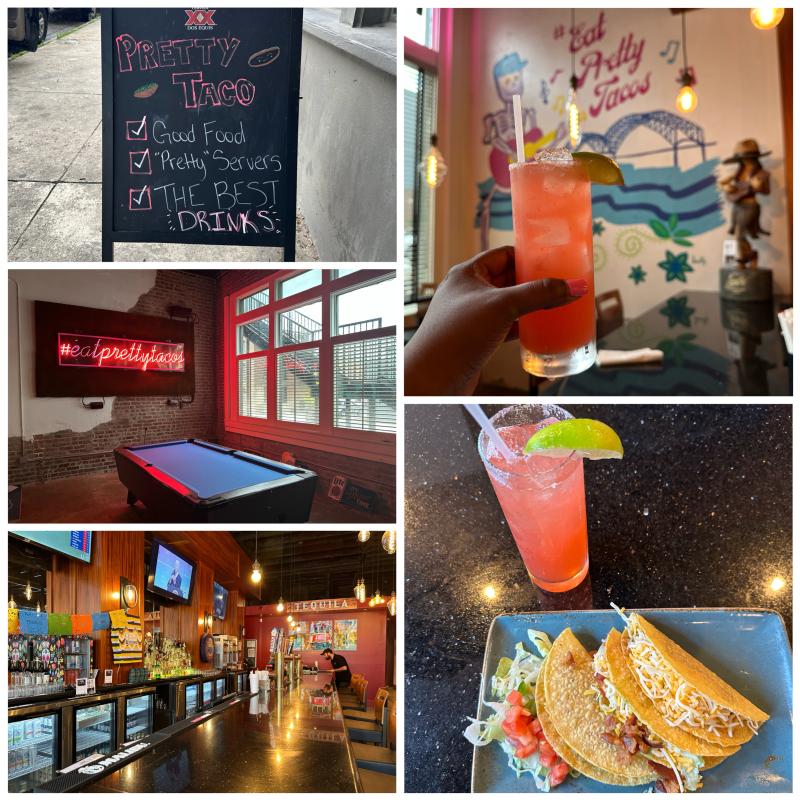 Love beignets? Head over to Cooper-Young to Memphis' newest beignet shop (located in the old Muddy's Bake Shop location). Beignets can be ordered by 8 minis, 3 pieces, or 12 pieces with different syrup options. They also offer a variety of coffees from signature espressos to cold brews and more.
Mo' Bay Beignet Co.: 585 Cooper St.
The newest brunch spot located downtown. They're only open Friday, Saturday, and Sunday, but this spot is the perfect cozy cuisine to fuel your weekend.
The Garden Brunch Cafe: 492 S Main St
Ditch boring breakfasts and lunches and head to Perch 74 Bistro for an elevated experience. Their menu includes chicken and waffles, raw juices, strawberry field salads, and more!
Perch 74 Bistro: 813 Ridge Lake Blvd
Check out this one stop shop for sushi and wings. What a pairing, right? Think more of a casual place to eat, nothing too fancy. The sushi rolls are huge. Basically two rolls for the price of one.
Momoya: 135 S. Main St.
Crazy chicken with Crazy sauces. Get your chicken, your way, with Crazy taste! This new spot is now open in Bartlett. Their menu is loaded with wings, sandwiches, fish dinner and more!
After growing a huge following on Tik Tok, Chloe Sexton is taking her baking skills to the next level with a brick and mortar spot in Germantown. BluffCakes specializes in big cookies like Giant Funfetti to Cookie Monster Cookie stuffed with Oreos.
BluffCakes location: 7850 Poplar Ave STE 24
The Lobbyist opened January 20 at The Chisca in downtown. This new modern restaurant brought to us by Chef Jimmy Gentry is all about bringing in natural and local ingredients to bring out extraordinary flavors. Their mission is to provide food that is a reflection of who we are and where we come from with a melting pot approach of culture and global styles.
The Lobbyist: 272 S Main St.
An upscale bar & lounge, IBIS opened in the former Pontotoc Lounge in downtown. The vibe is a mix of New York meets New Orleans (especially the upstairs lounge area). In addition to craft cocktails, IBIS has a menu featuring shareable small plates, bar snacks (the sweet teeth aka puppy chow is a must!), and a few larger entrees. They're also open brunch (yay!) on Sundays.
IBIS: 314 S. Main St.
Cooper House Project is located across the street from the popular spot Celtic Crossing. The artisanal brewery is dedicated to beers that fall under the modified traditional, wild, sour, experimental ales, and lagers style.
Cooper House Project: 906 S. Cooper Street
Also in Cooper Young, owner Edwin Dorsey opened this casual brunch and breakfast spot—with vegan options. Check out their Instagram and you will be immediately hungry.
Ashtar Gardens: 898 S Cooper St.
Brought to you by The Majestic Grille owners, Cocozza American Italian is Harbor Town's newest restaurant featuring American Italia dishes served with a side of pasta. You may remember Cocozza as a pop-up restaurant during the pandemic at Majestic. Now you can enjoy their dishes year-round!
Cocozza: 106 Harbor Town Square
Located in the heart of downtown on 2nd Avenue, Supper Club is a beautiful space that gives a nod to the original supper clubs in the 60's and 70's. Supper Club on 2nd features two bars and an incredibly appetizing menu. The Grand Mariner Chops, Chef Woods Seafood Pasta, and Lobster Mac and Cheese have us drooling.
Supper Club: 85 S. 2nd St.
Germantown's favorite little coffee trailer has put down roots in a space next to Uncle Goyo's and Moondance Grill. 
JoJo's Espresso location: 1730 S Germantown Rd Suite 114
Memphis finally has a grilled cheese bar. Chessy Corner is in the Ferraro's pizza joint in the Pinch District. The full monte Cristo is calling our name.
Cheesy Corner: 111 Jackson Ave
This new downtown convenience store opened July 11 with groceries (think snacks, local products like Raw Girls juices) as well as coffee. They're still figuring out hours and offerings and have mentioned lunch sandwiches. They also have a few pantry necessities and craft beer, too. On a recent morning they were offering Bain's kolaches. Keep up with their progress on Instagram. 
Big River Market location: 516 Tennessee St. (enter on GE Patterson)
Just in time for our blistering inferno of a summer, Kaye's offers small batch handcrafted ice cream in flavors like butter pecan, strawberry, and salted caramel. Like the name says, stop in for a scoop or grab a pink pint to take home.
Kaye's Pints & Scoops: 2089 Winchester Rd.
Don't panic! The food truck will still make its round around town, but one of Memphis's top chicken wing providers just opened their first brick-and-mortar location on Beale Street inside the Ghost River taproom on June 11. They have all your favorite wings, plus some new items for the restaurant including vegan-friendly avocado fries, quesadillas, and grab 'n' go sandwiches like a pimento cheese and chicken salad. 
Read more about this New Wing Order / Ghost River Taproom collab.
New Wing Order location: 341 Beale St.
This Louisiana + Memphis chain opened its 9th location near the University of Memphis on Highland Street (in the former Casual Pint location) this summer—all your favorite coffee and espresso drinks, hot or cold, plus a few pastries. More to come.  
French Truck Coffee Highland Row: 395 S. HIGHLAND ST.
Technically Bain BBQ & Bakery has been open for a while in the former Stone Soup location in Cooper Young, albeit with a breakfast menu only (kolaches and pastries) and no BBQ. And technically they don't start serving their barbecue menu until June 10. Just get ready.
Bain BBQ & Bakery: 993 Cooper Street
There's a new bakery offering fresh bread and more in midtown! Jimmie Hoxie's The Ginger's Bread started up during the pandemic offering pickup, and recently opened a brick-and-mortar location at 1613 Union Avenue. They sell fresh baked bread, baguettes, sourdough, challah, croissants, cookies, and more
Ginger's Bread & Co: 1613 Union Avenue
New cocktail bar Inkwell opened on May 6, 2022 in the Edge District. You'll find this hip spot next to the historic Sam Phillips studio and across the street from Evelyn & Olive at 631 Madison. Order from curated lists of signature drinks, classic cocktails, mocktails, and a few wines, plus a small menu of food like flatbreads, grilled cheese, and a Cuban sandwich. 
Inkwell: 631 Madison.
After a total renovation, this Pinch District staple and Memphis soul food landmark reopened on April 15th. Read more about Alcenia's here, and stay tuned for updates about the renovated space. Hours are 11 a.m. - 5 p.m. Wednesdays, Thursdays, and Fridays, plus 9 a.m. to 3 p.m. on Saturday and Sunday; however, I always recommend calling ahead for Alcenia's or really anywhere to confirm that the restaurant is open when you plan to go.
Alcenia's: 317 N. Main St.
It's the first Memphis riverfront restaurant in ages, and we are excited about it! This upscale seafood restaurant downtown is right along the bluff and has cocktails, fish, a raw bar, and their signature seafood towers. Park on the streets nearby or in the Premium Parking garage. See our quick preview video of the space.
Fancy's: 1 Dr. MLK Jr Ave. Suite 101. 
Craft cocktail bar owned by some of Memphis's best bartenders. In The Citizen building in midtown at 1835 Union Ave. (across the street from the fire station). In addition to classic cocktails, fun tiki-inspired drinks, and a full mocktail menu, Cameo excels at a classy but casual food menu including charcuterie from Paradox and the best Reuben. Watch our quick preview video.
Cameo: 1835 Union Ave.
In the former Dog Houzz location—right across from the Crosstown Concourse—there's a shiny new pinball bar and restaurant that opened in late March 2022. Play from 16 pinball machines and enjoy some Latin-inspired eats. Open daily 11 a.m to midnight. Watch the preview video (also posted below).
Flip Side Memphis location: 1349 Autumn Avenue
Our favorite old-school video rental spot and music/event venue is stepping up its offerings with a full food menu to go along with their bar. They'll serve breakfast-all-day, sandwiches, and snacks like totchos (nachos made with tater tots) in addition to some vegan and vegetarian options. Read more from the Memphis Flyer. 
Eat at Black Lodge: 405 N. Cleveland St.
Our mini trend of upscale Mexican restaraunts in shopping centers begins with Uncle Goyas at Thornwood in Germantown. It's from the people who run the Taconganas empire, but don't expect tacos birrias or food truck fare at this spot. Opened March 5.
Uncle Goyo's Location: 1730 S. Germantown Rd.
The bougiest Mexican restaurant I have ever seen, this is a part of the fancy pants Silo Square development in Southaven. It's owned by the same people as the other Tekila location in Cordova but has a totally different menu, space, style, price point. First floor patio! Second floor patio! Repeated use of the word "high end" and the phrase "not your usual Mexican restaurant"! I'd give this one a few weeks for crowds to clear and the kinks to work out.
Tekila Southaven Location: 6343 Getwell Rd., Southaven.
Tekila Modern Mexican Facebook Page 
Technically a reopen after a winter break, I'm including Loaf because most people don't know about them and they're the most interesting food truck in Memphis. They're parked at First Congo in Cooper Young and serve an eclectic American menu that's rooted in Memphis cuisine but inspired by recipes from the city's immigrant community—think Korean fried chicken sandwich, okra molotes, roujiamo (a Chinese spiced pork belly sandwich), honey gold chicken sandwich, or black eyed pea falafel. Vegan options, too!
Loaf location: 973 Blythe St. 
Loaf Instagram
Spanish-inspired tapas and gin tonics are the order of the day at this midtown bar, open 4:30 p.m. - 'til Thursday through Sunday. Owned by the same folks at Ecco and Libro (and just down the street from Ecco) this has potential as a great pre- and post-dinner spot.
Tonica Location: 1545 Overton Park Ave.
Tonica Instagram
Kinfolk breakfast food pop-ups have returned! They'll be slinging biscuits every Saturday and Sunday for the foreseeable future at Comeback Coffee in The Pinch District. Think biscuits 'n' gravy, fried chicken biscuit, a s'mores biscuit (!!) and more, plus all the great coffee drinks from Comeback. Read more. 
Kinfolk / Comeback Coffee Location: 358 N. Main Street
Kinfolk Instagram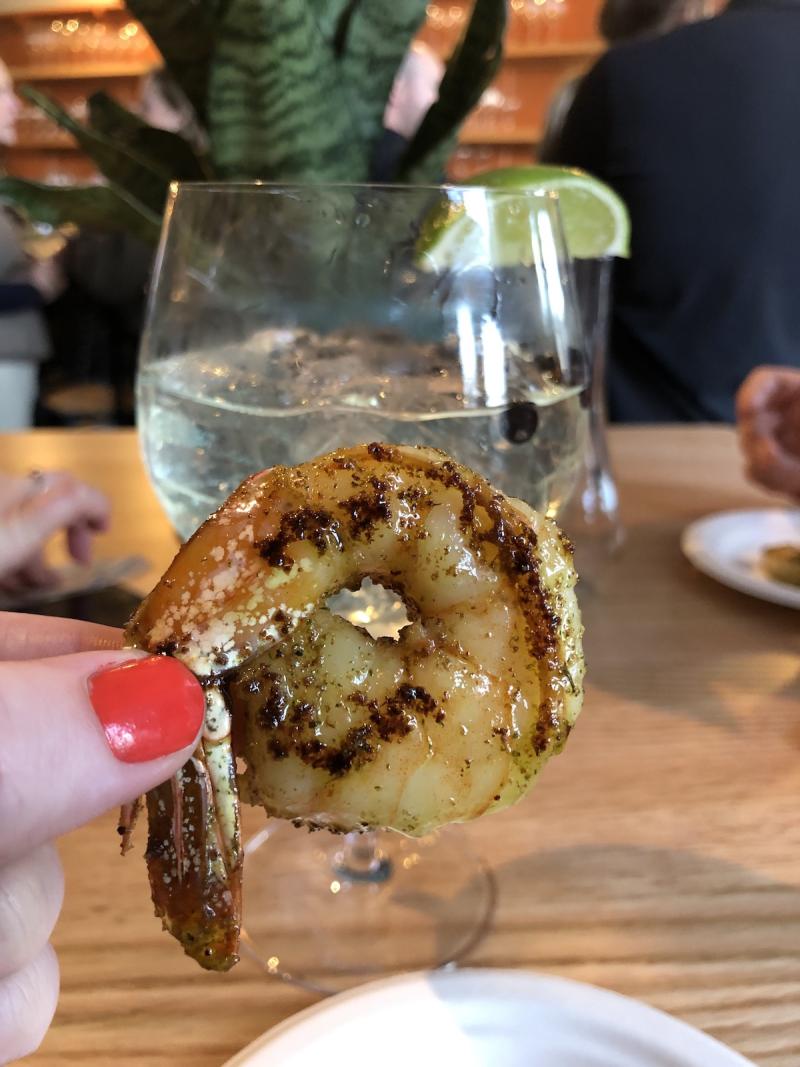 Cevicheria and Grill Chilelemon opened on Summer Avenue, specializing in grilled meat and seafood dishes including ceviche, of course—I'll let our friends at Edible Memphis tell you more. 
Chilemon Location: 4509 Summer Ave.
After a total renovation—and under new ownership—the Side Porch Steak House in Bartlett has reopened. The food tasted exactly the same as it always has, and although the shiny new digs make me a little sad I understand they had to get the place up to code and ready for the next generation. The croutons are still the best on earth, the steaks delectable, and the prices amazing. Reservation only, and I'd suggest planning out well in advance.
Side Porch Location: 5689 Stage Rd., Bartlett
Side Porch Website
New Cooper Young restaurant with burgers, sandwiches, vegan and vegetarian dishes, and incredible handcrafted cocktails in a cozy, quirky house in Cooper Young with a speakeasy vibe.
Memphis Whistle Location: 2299 Young Ave.
Memphis Whistle Instagram
I bet you've never seen a Gus's with a chandelier. Well now's your chance—Gus's on Forest Hill Irene has one.
Gus' Germantown Location: 3100 Forest Hill Irene Rd
Gus's Website
After two years and the addition of a second dining room, downtown institution McEwen's has reopened! They serve an eclectic Southern American menu at lunch and dinner, including affordable lunch specials.
McEwen's Location: 120 Monroe Ave. 
McEwen's Instagram
The Farmer (was on Highland for years, then briefly in Chickasaw Oaks Plaza) brings their farm-to-table upscale home cooking to the former diner space at Railgarten in midtown. They're open Wed. - Sun. from 11 a.m. - 2 p.m. and 5 p.m. - 9 p.m.
The Farmer Location: 2158 Central Ave. 
The Farmer Instagram
The ultra-trendy taco "trucks" (they stay in the same place) have expanded their empire to Cooper Young. It's on the corner of Central and Cooper where everyone (used to) park for Railgarten. 
Taconganas Location: Intersection at Cooper St. and Central Ave.