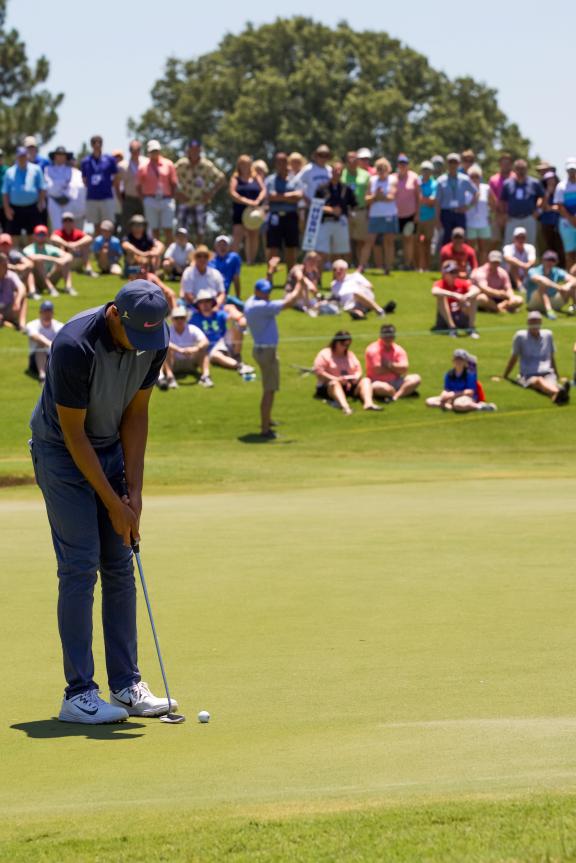 Known as the "Grit and Grind" capital and home to the Memphis Grizzlies, Memphis has a fast-paced, energetic scene for every sports fanatic. Get ready for a season of NBA, NCAA, G-League basketball, AAA baseball, PGA golf tournaments, high school athletes and USL soccer. This Official Sports Guide gives you everything you need to know to add a Memphis game to your trip itinerary. 
Cheer On The Grizzlies!
Our beloved Memphis Grizzlies NBA team brings basketball players from around the world to downtown Memphis for exciting games from October to April every year. See the biggest names in the NBA compete at FedExForum, along with plenty of music and entertainment like the Beale Street Flippers and Grizz Girls. Arena concessions provide local flavor, including the world-famous Rendezvous barbecue.
Cheer on Ja Morant and the Grizz throughout the NBA playoffs beginning April 16, 2022. Grab your tickets to ensure you don't miss a second of the action. 
After the game, you'll be just steps away from a neon-infused 5th quarter on Beale Street with more music, food, and fun.
Pro Tip: Stay an extra day and explore more of Downtown, which is home to the National Civil Rights Museum, Orpheum Theater, Memphis Rock 'N' Soul Museum, Bass Pro Shops at the Pyramid and Sun Studio.
Where To Park For A Memphis Grizzlies Game
The FedExForum offers parking in the attached garage for a fee. Other parking lots are available nearby for $5-20, depending on proximity to the stadium. Guests at
downtown hotels
are able to walk to the stadium. Guests in Midtown or East Memphis are encouraged to take advantage of
MATA
bus services or Uber/Lyft.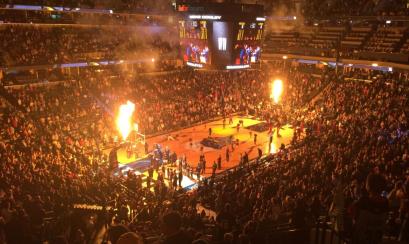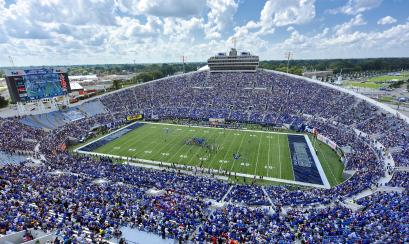 Go Tigers, Go!
The University of Memphis supports 18 NCAA college sports teams, including football and basketball.
The Memphis Tigers men's basketball team plays home games at FedExForum (the same place as their NBA peers) from October through March each year. Be sure to go out on the town before or after the game, perhaps in the nearby South Main Arts District.
The Memphis Tigers football team plays at the historic Liberty Bowl Stadium in midtown every fall. Wear your blue and gray and cheer for the Tigers' every touchdown; experience the Mighty Sound of the South marching band and spirit squads, plus the Southern tradition of tailgating before kickoff at Tiger Lane.
You'll be a few blocks away from one of America's favorite neighborhoods, Cooper-Young. For a taste of the free-spirited college scene, head to the nearby Highland Strip in East Memphis, where plenty of bars and pubs await.
Liberty Bowl Parking:
The Liberty Bowl has several large parking lots, but most are reserved for season ticket holders. Arrive to the area early to find neighborhood street parking, or just make it easy on yourself by taking an Uber/Lyft to the stadium.
St. Jude Marathon
Thousands of St. Jude Heroes™ fill the streets for this annual Memphis marathon, held on the first Saturday in December. The 2022 marathon will be held on December 3, 2022.
The race course leads runners on closed streets in midtown and downtown, and through St. Jude Children's Research Hospital's main campus. Whether you're running the 5K, half-marathon, or marathon, or cheering with one of the many cheering sections along the route, the St. Jude Marathon is a signature Memphis event with a life-saving mission that everyone can get behind.
Root For The Home Team
Take the family out to a ballgame at the  Memphis Redbirds' award-winning Autozone Park.  The AAA baseball team is the affiliate of the St. Louis Cardinals Major League Baseball team, so it's your chance to see the world's best before they head to the pros. Cheer on the Redbirds at games from April through September every year.
The team offers low-cost, family-friendly fun at one of the finest baseball parks in the minor leagues. Peanuts, cracker jacks and Memphis-style barbecue nachos await, plus plenty of specials, giveaways, and promotions for most home games. Most Saturday evening games include an impressive post-game fireworks show.
WELCOME THE MEMPHIS 901 FC SOCCER TEAM
Don't miss any of the action from Memphis 901 FC, the Bluff City's very own professional United Soccer League team. Get your tickets for the club's fourth season, which runs from March through October of 2022 with at least 15 home matches. Games are played at AutoZone Park in downtown Memphis, which will be transformed from a baseball field to a soccer pitch for USL matches.
Pro tip: Join the hooligans from the Memphis 901 FC's supporters group - The Bluff City Mafia - for a pint before or after the game at their home pub, The Brass Door. During the matches, you'll recognize their section in the stadium as the loudest, rowdiest group of fans. 
More Can't-Miss Sports
Fedexcup Playoffs - FedEx St. Jude Championship
Formerly a World Golf Championships event, this PGA tournament marks the first event of the FedExCup Playoffs.  Memphis will welcome the absolute best golfers from around the world to compete at stunning TPC Southwind, Aug. 8 - 14, 2022. Thousands of enthusiastic golf fans will attend the showcase to witness the highest level of tournament play. Tickets go on sale April 6.
Plan Your World Golf Championships-FedEx St. Jude Invitational Itinerary
St. Jude Dragon Boat Race
In May, the St. Jude Dragon Boat Race takes over Mud Island River Park with hundreds of attendees cheering as rowers paddle across the Mississippi River in speedy synchronization.  
St. Jude IRONMAN 70.3 Memphis
The St. Jude IRONMAN 70.3 Memphis will take place October 1, 2022 at Shelby Farms Park. This 70.3-mile triathlon will include a 1.2-mile swim, a 56-mile bike ride and a 13.1-mile run. Last year, Ironman 70.3 Memphis was one of the largest 70.3 events in North America by registrants. 
Memphis Hustle
See future NBA players at a Memphis Hustle game, the Grizzlies' G-League affiliate since 2017. Cheer on at the Landers Center from November to April every year.
High School Athletics
Thousands of families arrive in Memphis every year for high school sporting events every year. Soccer fans kick things up at the Mike Rose Soccer Complex with annual events like the Rose Cup in September and the Blues City Blowout in March. AAU basketball tournaments and national baseball tournaments also take place in Memphis. 
Southern Heritage Classic
The annual Southern Heritage Classic pits rivals Jackson State and Tennessee State against each other every September. This historic extravaganza celebrates Memphis' rich cultural heritage and is topped off with plenty of tailgating, concerts, parades and a battle of the bands. The 2022 Southern Heritage Classic weekend is set to take place at Liberty Bowl Memorial Stadium Sept. 8 - 10, 2022. 
Your Guide to Southern Heritage Classic Weekend
Outdoors, Inc. Canoe & Kayak Race
Things get wild during June's annual Canoe & Kayak Race when over 500 recreational to expert kayakers take off down Wolf River to the Mississippi River. After racing under a bridge and past Mud Island River Park, a winner will be declared on the banks of Harbor Town.​
PR7S Inaugural Championship 
Last year, Memphis played host to the Premier Rugby Sevens Inaugural Championship. Rugby fans saw multiple star players from the U.S. Men's and Women's Olympic Rugby Sevens Teams take the field at AutoZone Park on October 9, 2021. Stay tuned for details on the 2022 event. 
AutoZone Liberty Bowl
The AutoZone Liberty Bowl Football Classic matchup has been a Memphis staple for over 50 years. Usually pairing a Big 12 Conference member against a Southeastern Conference pick, the football matchups draw thousands of enthusiastic fans to one of the most tradition-rich bowl games in the nation. The game is always played in late December or early January, usually over New Year's holiday weekend.
Plan Your Liberty Bowl Weekend