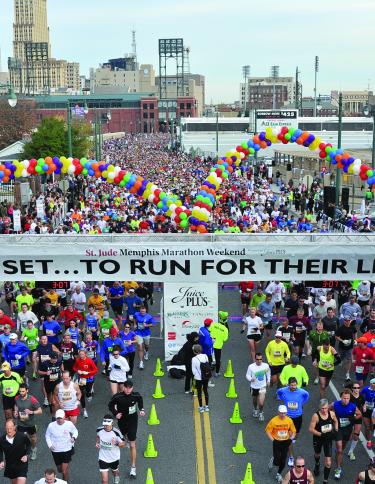 More than 26,000 runners from all over the world will come to Memphis in December for the annual St. Jude Memphis Marathon Weekend. While the race expo (and carb-loading!) begin Friday night, all races will take place Sat., Dec. 2, 2023. Considering joining in on the fun? Here are five things you should know, including start times, which Memphis landmarks you'll see along the routes, how to get involved without running and, of course, what to do (including where to eat) before and after the race.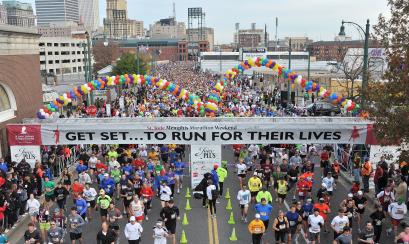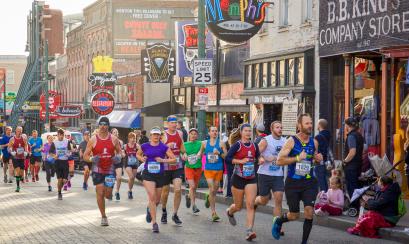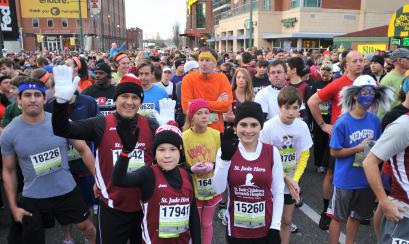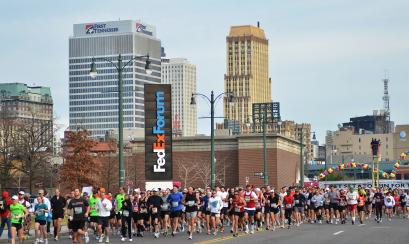 1. MEMPHIS LOVES ST. JUDE.
St. Jude Children's Research Hospital is known worldwide, but it started in Memphis, thanks to the efforts of entertainer Danny Thomas. His mission remains big but simple: Since its founding in 1962, St. Jude has worked to dramatically increase the survival rate of childhood cancer, and patients and families never pay for treatment or related travel, housing, or food. Fundraising events like the marathon make that possible.
2. ANYONE CAN PARTICIPATE.
Though you'll hear it called "The Memphis Marathon" and "race weekend," the event, in fact, includes a marathon, half marathon, 10K, 5K, and kids marathon (a one-mile run that encourages families to run with their kids ages 11 years and younger). All races take place Saturday morning. If you're my speed, you'll gather up some combination of cowbells, pom-poms, and DIY posters, find a spot along the route, and cheer on the runners. With bands playing along the way and runners accessorized in everything from tutus to Elvis jumpsuits, there are literally zero dull moments in this race.
3. THE RACE ROUTES READ LIKE A BEST-OF MEMPHIS.
Pay attention as you run or cheer: You're going to want to swing back by some of the places you see along the route. Runners will jet through Downtown Memphis starting from Beale Street, following along the Mississippi River and the brand new Tom Lee Park while also passing legendary landmarks such as the National Civil Rights Museum and legendary Sun Studio. However, anyone who's run this race before will tell you the highlight is running through the St. Jude Children's Research Hospital campus, cheered on by patients and their parents. (It's okay to get choked up now.) The finish line is outside pretty-as-a-picture AutoZone Park in Downtown Memphis, home of the Triple-A Memphis Redbirds and Memphis 901 FC USL team.
4. THERE'S MUCH TO DO PRE- AND POST-RACE.
Depending on how much time you have before and after the race, you might want to:
5. THE LOGISTICS ARE EASY.
Not registered?


Register here for the marathon, half, 10K, 5K, or kids marathon; volunteer; or make a contribution. And anyone can cheerlead. 
 

Wondering where to stay?  Since all race events start and finish in Downtown Memphis—and because some critical city streets will close to become race routes—I'd recommend choosing accommodations in Downtown Memphis. Check out all our hotel listings here. Hotel discounts are listed at stjude.org/marathon.
Wondering where to park? Should you need to drive to the start or finish line Saturday morning, know that multiple lots and garages in a 4- to 6-block radius of the start and finish lines are available, most for around $10, but you'll need to arrive early. A parking map is available at—you guessed it—stjude.org/marathon
RACE START TIMES
5K 7:00 a.m. Wheelchair 5K start 6:55 a.m.
10K, Half and Full Marathon 8:00 a.m. Wheelchair starts for these races: 7:55 a.m.
Kids Marathon 1:30 p.m.