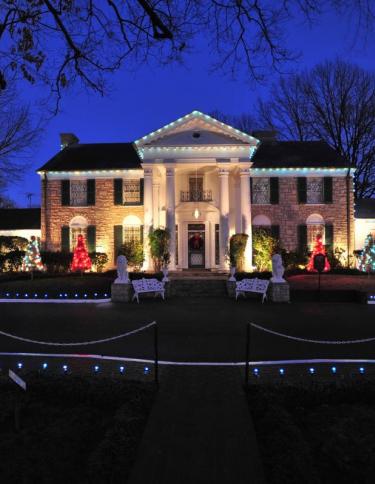 Memphis is no stranger to the entertainment biz. Yet, beyond the music the city is known for, Memphis has made a name for itself as a location for big-name films, ad campaigns and TV shows.  Make note of these Memphis landmarks featured in favorite movies and TV shows before you visit.
Memphis Culture Showcased in "Bluff City Law"
Most recently, Memphis was showcased on NBC's "Bluff City Law" in fall of 2019. Set in Memphis, the show featured prominent local attractions and historic sites around town. 
Memphis' place in civil rights history was key to the premise of "Bluff City Law," centering on a firm that has built its reputation on pivotal civil rights cases. 
You can learn about the city's deep ties to social justice with visits to the National Civil Rights Museum at the Lorraine Motel, Clayborn Temple and I Am A Man Plaza.
The single-season TV show also included scenes from the city's legendary Sun Studio, where Elvis got his start, the "I Love Soulsville Mural" (at the corner of E. McLemore Ave. and Mississippi Blvd., just down from the Stax Museum of American Soul Music) and shots of two iconic bridges, Big River Crossing and the Hernando de Soto Bridge, over the Mississippi River. One of these, Big River Crossing, is the longest pedestrian bridge over the river, and you can walk or bike it using the city's Explore Bike Share program. Return at night to see both bridges illuminated in a display called Mighty Lights. 
Memphis' downtown skyline gets plenty of screen time in the series, too. Whether you're searching out views of the skyline, the river or Mighty Lights, find good vantage points at green spaces like Beale Street Landing, River Garden and Mud Island River Park; on a riverboat cruise; and from hotel rooftops (try The Lookout at Bass Pro, the Comfort Inn, Residence Inn, The Peabody Memphis, Hyatt Centric Beale Street or Hu. Hotel).
More Memphis Music History
Music fans should of course head to Graceland Mansion. But Hallmark Channel movie buffs will also feel at home here: Elvis Presley's mansion has provided a filming location and inspiration for three movies in Hallmark's "At Graceland" series. You can tour Elvis' home or stay at the neighboring
Guest House at Graceland
while you soak up the site's place in music and film history. 
Now for some trivia: During filming, Hallmark turned Memphis' downtown riverfront into a winter wonderland with fake snow made from cotton and felt. From the river, it's a short walk to the 
South Main Historic Arts District
. The street and its retro-styled buildings have served as the backdrop for several films. Check out the historic marker outside 
The Arcade
, Memphis' oldest café, and pop inside for a hearty meal or boozy milkshake at the bar, where native son Justin Timberlake shot his recent campaign for Levi's. 
YOUR FAVORITE MEMPHIS MOVIES
Add these memorable Memphis movies to your film tour as well:
 
1989's Mystery Train:
Filmed primarily in South Main with a stop at 
Sun Studio
.
1993's The Firm:
Recall the chase scenes? Tom Cruise was at
Mud Island River Park
, trying to hide himself in the Mississippi River Museum.
2003's 21 Grams:
Drive through the leafy Chickasaw Gardens neighborhood, then head to 
Earnestine & Hazel's
 on South Main for a cold one, to channel scenes with Benicio Del Toro and Naomi Watts.
2005's Walk the Line:
Follow Joaquin Phoenix and Reese Witherspoon to Sun Studio, 
The Orpheum Theatre
 and South Main.
MEMPHIS' HOMEGROWN STARS
Celebs with Memphis roots include Ginnifer Goodwin, Lucy Hale, Kathy Bates and Cybill Shepherd. (Shepherd was recently inducted into the historic
Peabody Memphis
hotel's Duck Walk Hall of Fame for her significant contributions to Memphis culture.)
Memphis director Craig Brewer is best known for his 2005 film
Hustle & Flow
, now a cinematic symbol of the city. Check out his more recent works,
Coming 2 America
and
Dolemite Is My Name
, both starring Eddie Murphy. A pillar of Memphis' creative community, Brewer remains involved in the annual
Indie Memphis Film Festival
. Most recently, he helped find space in the city's revitalized
Crosstown neighborhood
for Black Lodge, a longstanding Memphis video store resurrected as a movie and music venue/movie library.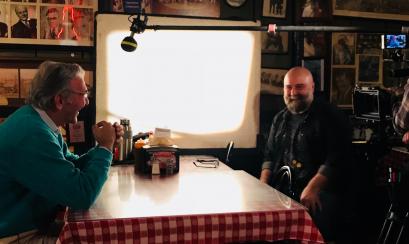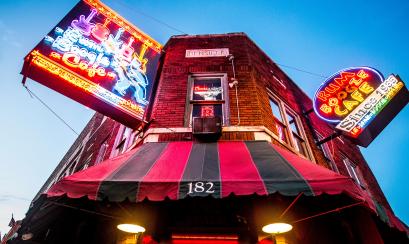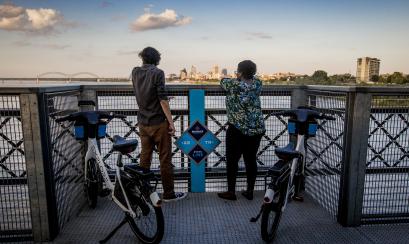 Mouthwatering Food Shows
If you craft your culinary itinerary based on delectable dishes you've seen on television, check out some of these Memphis classics that have been featured on the top travel food shows.
Brother Juniper's: The San Diegan – $40 a Day
Address: 3519 Walker Ave., Memphis, TN 38111
Rachael Ray got a satisfying start to her one-day excursion at this eatery near the University of Memphis. The San Diegan is an open-faced omelet topped with home fries, sautéed portabella mushrooms, tomatoes, bacon, green onions, feta and cheddar cheese. It's served with cheese grits and diner's choice of toast or a biscuit (get the biscuit). Lines can get long, so be prepared for a wait, especially on the weekend.
Restaurant Iris: Surf and Turf – The Best Thing I Ever Ate
Address: 2146 Monroe Ave., Memphis, TN 38104
Memphis chef and television personality, Claire Robinson declared Kelly English's signature dish as one of the best things she's ever put in her mouth. If you're a meat lover, you don't want to miss this hearty entrée. Chef English stuffs a NY strip with fried oysters, smothers it in a creamy bleu cheese sauce and serves it over a potato and bacon hash. It's like New York and New Orleans got married in Memphis.
Kooky Canuck: Kookamonga Burger – Man v. Food
Address: 87 S. 2nd St. #3009, Memphis, TN 38103
Extreme eater Adam Richman accepted the king of all food challenges when he took on the Kookamonga burger. Anybody who can consume this four-pound burger plus the bun and all the toppings (seven pounds total) in 60 minutes will be inducted into the Kooky Canuck hall of fame. Though the challenge has been successfully completed over 20 times, Richman fell short of the mark. Feel free to bring a couple of friends to help, but only solo eaters win the grand prize.
Uncle Lou's Fried Chicken: Fried Chicken – Diners, Drive-Ins and Dives
Address: 3633 Millbranch Rd., Memphis, TN 38116
Triple D host Guy Fieri became a deep-fried believer after learning the secrets of Uncle Lou's delicious chicken. Lou seasons up fresh chicken and fries it until it's golden and crispy. Now you can stop there, and you'll have his home-style version. Or, Lou can dip your chicken in a tangy and savory concoction he calls "sweet spicy love" sauce. Either way, make sure to order a couple of honey butter biscuits; they make the perfect accompaniment for the chicken. 
Memphis Barbecue - Various
Memphis-style barbecue has become a regular on TV. Fieri reviewed rib tips at Tom's Barbecue & Deli on Best Thing I Ever Ate: Grilled. The Travel Channel dubbed Central BBQ's smoked hot wings as the biggest, baddest BBQ wings on Food Paradise. Bizarre Foods showed you why the Bar-B-Q Shop's barbecue spaghetti is a must. On Diners, Drive-Ins, & Dives: Memphis Barbecue Tour, Fieri got an inside look on a nearly 100-year Memphis barbecue tradition at Leonard's Pit Barbecue. Check out Savuer Magazine: BBQ Nation to learn a little bit more about Cozy Corner and owner Desiree Robinson, and see why chef Tyler Florence recommends the pulled pork sandwich from Rendezvous on Best Thing I Ever Ate: Bar-B-Que.