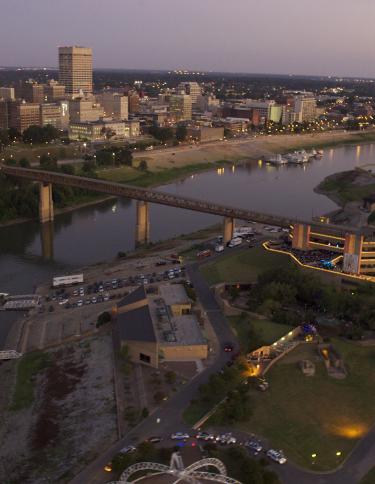 What will you find on and around this Mississippi River island? Paddling excursions, free ways to play and a model of the Mississippi River that doubles as a water feature for kids.  
Ready to explore an island in the Mississippi River? Here are five things to know before you go to Memphis' Mud Island River Park:
1. It's fun to get there
Take the Skybridge, accessible from the public parking lot at Front Street and Poplar Avenue. You could walk the bridge; it's only a half-mile to the park (plus some stairs) and you'll get to really savor those river views as you stroll above it. But with electric scooter rentals downtown and new Explore Bike Share stations on both sides of the bridge, why not cruise over?
You could also stop in at the 4th Cup kiosk at the River Garden and rent a kayak or stand-up paddleboard to paddle across the calm waters of the harbor to reach the park. Rentals are $20 per person and available seven days a week from 9 a.m. - 5 p.m. (last boat leaves at 4 p.m.) on a walk-up basis; no reservations required!
If you prefer to drive, or if you use a stroller or wheelchair, the best access point is paid parking in the North Lot, accessible from the A. W. Willis Bridge.   
2. Playing in the park is free
The centerpiece of Mud Island River Park is the Riverwalk, a scale replica of the Lower Mississippi River from Cairo, Illinois, to just south of New Orleans, Louisiana. Walk alongside it (or splash in it) and you'll pass through six states in the span of roughly five city blocks. The Riverwalk ends at a million-gallon pool representing the Gulf of Mexico, surrounded by views of the river and downtown Memphis. Strolling the Riverwalk—and soaking in those views—won't cost you a thing.  
3. There's a museum on-site
Starting with Memorial Day weekend 2021, check out the park's Mississippi River Museum. From native cultures that settled along the river thousands of years ago to soldiers engaged in Civil War battles to showboat performers, you'll get your fill of river history and lore, plus photo ops: Paddle a dugout canoe, pilot a barge or stand on the deck of a replica steamboat and smile.
Mississippi River Museum admission is $10 for adults and kids 12 and up, $8 for kids 4-11 and free for kids under 4.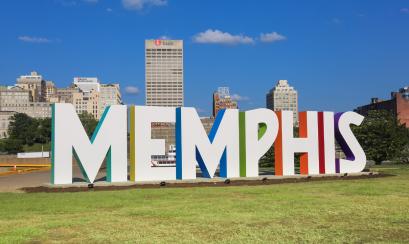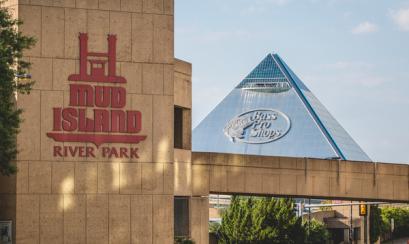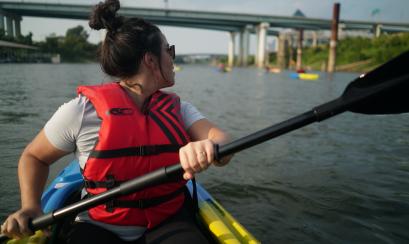 4. It's a great place to get out on the water
Take advantage of Mud Island's locale and get out on the water.
Kayak Memphis offers walk-up rentals for kayaks and stand-up paddleboards that you can use to explore the calm waters of the Harbor and park on Mud Island River Park. Just check out their colorful kiosk, 4th Cup, located in the River Garden at Mississippi River Park. Rentals are open 7 days a week from 9 a.m. to 5 p.m. and are $20. For events on the island, like the concerts listed above, Kayak Memphis runs deals and specials. 
5. Wild card: It's a great place to just hang out
Think of Mud Island River Park like any other park—with a bit more magic, thanks to its island location. Seven days a week from dusk to dawn, you can: 
Bring your dog (on a leash)
When you're done exploring Mud Island River Park, you can let Fido off leash at Mud Island Dog Park in Harbor Town. 
Spin on a cheery yellow tire swing
Enjoy a picnic in a grove of trees
Claim a riverside hammock with an unforgettable view
Get dressed up and bring your fiance or family for a photo shoot (Mud Island River Park doesn't charge a professional photographer fee)
Snap that selfie with the MEMPHIS sculpture 
Just do it by the end of October, when Mud Island River Park closes for the season.