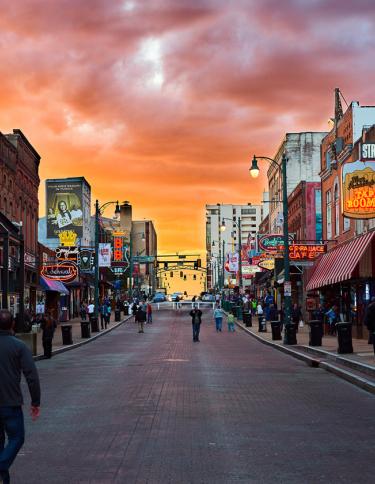 Beale Street in Memphis, Tennessee, is one of the most iconic streets in America. It is three blocks of nightclubs, restaurants and shops in the heart of downtown Memphis, and a melting pot of delta blues, jazz, rock 'n' roll, R&B and gospel. This National Historic Landmark district shares its rich history of legendary live music (think Memphis Minnie, B.B. King and Rufus Thomas, to start) through museums, photo ops and clubs where you can still hear who's making music in Memphis today. With cold beer and hot music, Beale Street is one of the coolest places in Memphis.
Historic Beale Street: AN OVERVIEW
All you need to do is take a stroll down Beale Street's neon row. Hear music spilling out of clubs and restaurants like Rum Boogie Café, B.B. King's Blues Club, Silky O'Sullivan's or the Hard Rock Café. Beale Street is serious about its music, and jam sessions at many of these clubs go deep into the night. For a good time, grab a drink, soak up the sounds and throw a few bucks in the tip jar for the Beale Street Flippers.
The Downtown Memphis music scene isn't just about the blues. At the historic Orpheum Theatre, rightfully dubbed the "South's Finest Theatre," you'll find everything from Broadway productions to famous comedians.
Every May, the Beale Street Music Festival brings major headliners like The Killers, Neil Young, Snoop Dogg, Cardi B and St. Vincent to Tom Lee Park at the end of Beale Street on the Mississippi River. The festival launches a month of festivities citywide known as Memphis in May.
Regardless of when you visit, you're sure to have an amazing time in the heart of Downtown Memphis.
THINGS TO SEE & DO ON BEALE
Beale Street Flippers
A Memphis treasure-turned national sensation on America's Got Talent, the Beale Street Flippers defy gravity with their amazing acrobatics down the center of Beale Street. Don't be surprised if they call on you to join the show!
New Year's Eve
Join 50,000 festive friends and ring in the new year on Beale Street. This 21 and over party features the best live music pouring out of all the bars, clubs and restaurants on Beale.
Memphis In May
Get a start on summer with Memphis in May, a month-long celebration of all things Memphis that includes a series of tributes to an international country, the 3-day Beale Street Music Festival, the World Championship Barbecue Cooking Contest and a 5K run along the Mississippi River. 
Rum Boogie Café
Eat, drink, boogie, repeat. With a slogan like that, how can you not have a great time? Open 7 days a week until 1 a.m. (2 a.m. on Fri. & Sat.), the fun starts early and includes live music, a delicious Cajun-barbecue menu, and one of the best rum menus east of the Mississippi. Rum Boogie Cafe is also a featured venue for the International Blues Challenge, a music event that attracts thousands to Beale Street for the very best of modern blues. 
B.B. King's
Whether it's blues, soul, or rock 'n' roll, you can find your beat at the original legendary B.B. King's Blues Club. Delicious Southern staples like fried catfish, greens and macaroni and cheese are served alongside Memphis-style ribs and pulled pork. Visit for lunch, dinner or a late-night meal and enjoy live music on the mainstage daily.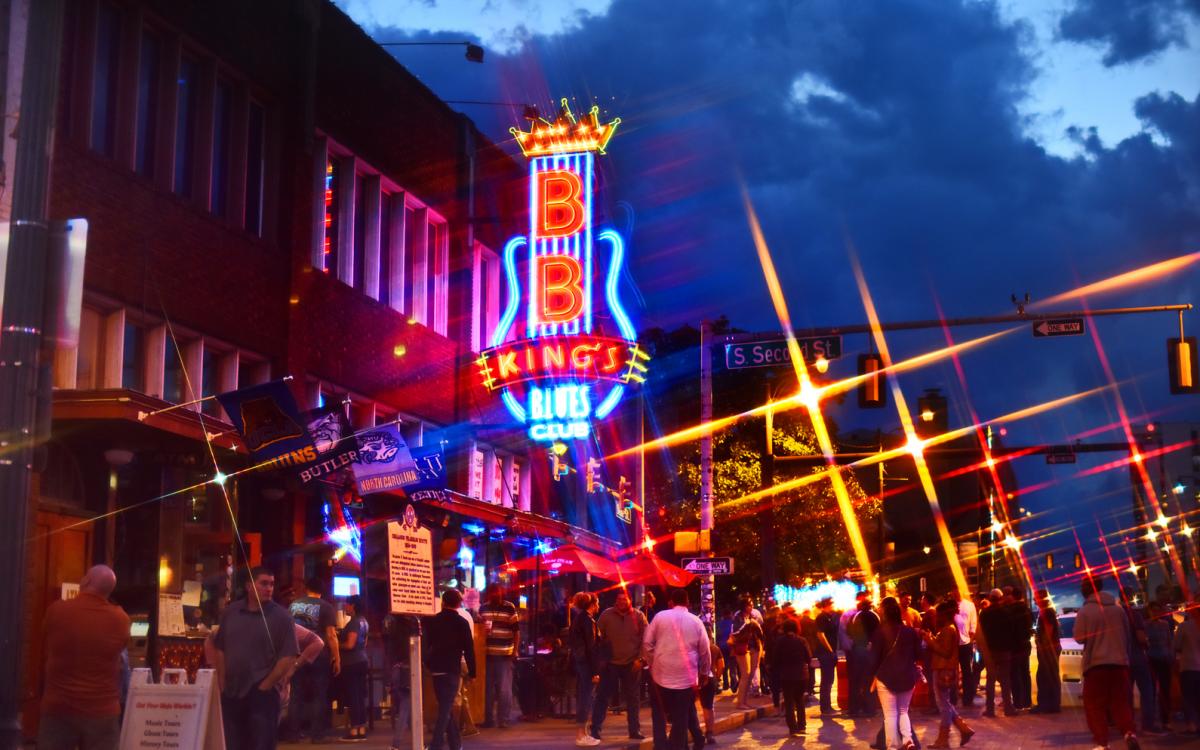 B.B. King's Blues Club on Beale Street
A. Schwab
A. Schwab is the city's oldest and longest-standing store. You'll find everything from products, novelty items, and Memphis-themed souvenirs in the store. Plus, visit the nostalgic soda fountain and share a homemade soda or creamy milkshake, with two straws of course.
Memphis Pride Fest
Let the rainbow flags fly at Mid-South Pride Fest! This three-day festival in September is one of the biggest Gay Pride celebrations in the South. Each year the parade takes over Beale Street to march in Pride of who they are and who they love. Party with the Memphis LGBTQ+ community and stand for equality.
Silky O'Sullivan's
Don't forget your green when you visit Silky O'Sullivan's pub. Dine inside with your group or visit the patio to check out the tower-climbing goats. Yes, real live goats.  It's also the place to be on March 17, during the annual St. Patrick's Day Parade when Silky O'Sullivan's charm takes center stage on Beale Street. 
FedExForum
Grizzlies and Tigers and … Timberlake! The largest indoor arena in the Mid-South area is home to the NBA's Memphis Grizzlies and the NCAA Division I University of Memphis Tigers men's basketball team. Plus, some of the world's biggest performances take the stage throughout the year at the FedExForum.
 
ROOTS OF MEMPHIS MUSIC ART & SELF-GUIDED TOUR
Standing on the plaza outside FedExForum, you'll notice two dozen boldly painted bollards. Each tells the story, via local, original art and a QR code, of a different facet of Memphis music. Appreciate the art, scan the code and launch your own self-guided tour of the roots of Memphis music, from blues and gospel to soul, rock and hip-hop.
 
The Orpheum Theatre
Broadway shows, live concerts, comedy performance and movie series are some of the events you'll find at the majestic Orpheum Theatre on the corner of Beale St. and Main. 
Frequently Asked Questions
Where is Beale Street?
The iconic Beale Street is located in Downtown Memphis, Tennessee.
Are there hotels near Beale Street?
Yes. Several hotels are located near Beale Street, including the Westin, Peabody Memphis, Hotel Napoleon and more. And a new hotel being built right on Beale Street is in the works.
Where can I find barbecue on Beale Street?
Most of the bars and restaurants along Beale Street have barbecue on the menu. This is Memphis after all!
What is WC Handy Park?
Handy Park is a large amphitheater and public park located in the Beale Street entertainment district. Named after the grandfather of the blues, Handy Park hosts countless soul-shaking musical acts all year long.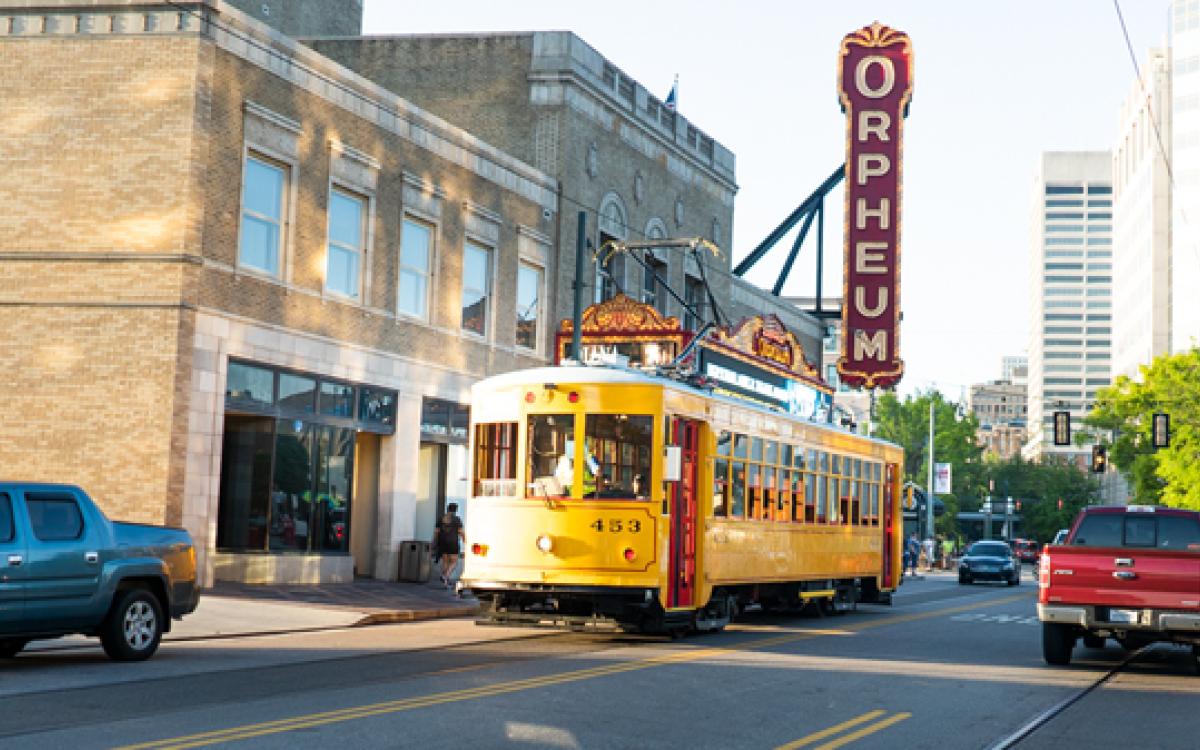 The Orpheum is at the corner of Beale Street and South Main