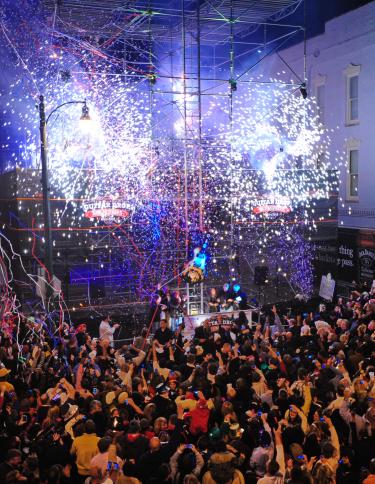 New Year's Eve in Memphis
We know you're already thinking about New Year's Eve. Why not ring in the world's partying-est holiday in Memphis? The city that rocks year 'round rocks hardest on New Year's Eve, when landmarks, attractions and local-favorite bars invite everybody in for a party. Get a jumpstart on your planning by reading up on these annual traditions, then check back in December or follow us on Facebook for a full list of parties and admission info. 
New Year's Eve on Beale Street 
Beale Street can be a party almost any night of the year. It's the kind of place where you'll see brides-to-be wearing bachelorette-weekend tiaras; where you can bar-crawl, sing karaoke and dance late-night. Beneath it all is the music (literally—look down while you're strolling the sidewalk and you'll notice stars commemorating Memphis music legends). But also, listen: live music streams from clubs, sending the sounds of electric and acoustic blues, rapid-fire rockabilly and searing soul out into the night. 
Since Memphis' musical legacy meets the city's love of a good time on Beale, you can bet the street's New Year's Eve celebration is big. You'll party with tens of thousands of people, spilling in and out of bars and restaurants onto the wide street. You'll dance under the stars to live music by headliners (last year, blues legend Bobby Rush). Note that to join the NYE party on Beale, you'll need to be at least 21. 
NYE Overton Square/Peabody
Overton Square New Year's Bash
By day, pretty-as-a-picture Overton Square is where you take the kids for pizza or burgers, load up on candy at Sweet Noshings and play cornhole in the courtyard. Where you shop clothing boutiques and snap selfies with public art. By night, the scene shifts: couples and friends take over restaurant patios, sharing tapas and drinks. Live music pours out of Lafayette's Music Room, Zebra Lounge or get your tickets to the Hattiloo Theatre as it turns into a dance hall lounge for a night of funk soul music and comedy.
Party at The Peabody Memphis
The Peabody has held a solid place in Memphis' social scene for decades (check back in summer for info on the hotel's sultry rooftop parties). On New Year's Eve, the lobby and mezzanine will fill with revelers dancing to live R&B and pop, plus DJ sets. Your best bet? Dress up and do dinner at one of the hotel's restaurants first: reserve a table for New Year's Eve Dinner at posh Chez Philippe or its more casual counterpart, Capriccio Grill, and your party admission is included. Note that New Year's Eve events at The Peabody Memphis are 21-and-up.
New Year's at Noon, Children's Museum of Memphis
Traveling with kids, the Children's Museum of Memphis is the one place you don't want to pass unless you're prepared to stop. The building and its surrounding playground, vintage carousel and seasonal splashground are painted with what seems to be every color in the crayon box. Inside, kids climb on a real firetruck, sit in the cockpit of an actual FedEx plane, shop in a miniaturized grocery store . . . and on December 29, they get their very own New Year's Eve-style celebration. There will be costumed characters from movies they love. A dance party, with a DJ, in the museum's ballroom. Themed crafts. And a balloon drop and goody toss at 12 noon—all included with general admission.