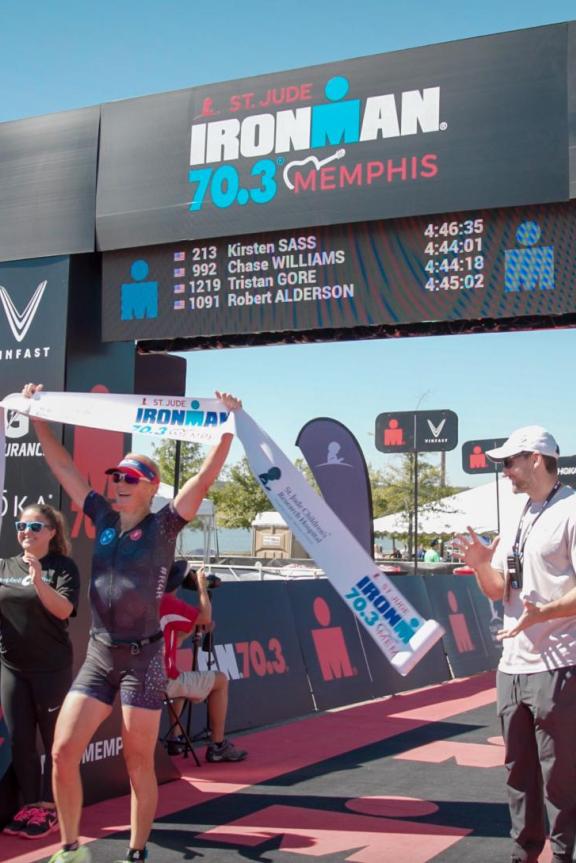 The St. Jude IRONMAN 70.3 Memphis is scheduled for October 7, 2023. It includes a 1.2-mile swim, 56-mile bike and 13.1-mile run. 
The race course is centered around Shelby Farms Park, located 20 miles east of Downtown Memphis.
In IRONMAN's 2022 Athletes' Choice Awards, Memphis' event was voted Best Finish Line and a Top 3 Overall Race.
2,500 athletes are expected and can qualify here for the 2024 IRONMAN World Championship.
About the St. Jude IRONMAN 70.3 Memphis
Since its inaugural run in 2021, the St. Jude IRONMAN 70.3 Memphis has risen quickly in status among the IRONMAN community. In 2022, the event was named a Top Three Overall Race based on its standings in the Athletes' Choice Awards for Best Finish Line, 2nd Best Run Course and 3rd Best Overall Race.
While you can register to compete, there are ways to get involved in Memphis' IRONMAN that don't require epic feats of endurance. Read on to learn how you can volunteer, watch and cheer the athletes on race day.
We'll also preview Memphis' award-winning course in the sections that follow, but what further sets this IRONMAN apart is its connection to St. Jude Children's Research Hospital. Headquartered in Memphis, St. Jude is the pioneer in childhood cancer research and treatment, known globally for providing free treatment, travel, housing and food for the patients and families in its care. Memphis IRONMAN participants can register as Heroes to raise funds for St. Jude as they train, making this event even more meaningful.

Where is the St. Jude IRONMAN 70.3 Memphis?
Let's talk about how to get to Memphis and, once you're in town, where to find the race. 
Memphis is centrally located within the U.S., easily accessible by car, air or train. Downtown Memphis, which is home to world-famous Beale Street, live music venues, music attractions, the National Civil Rights Museum and the Mississippi River, marks the city's western border. Approximately 20 miles east of Downtown Memphis is Shelby Farms Park, one of the largest urban parks in the U.S. While it's a short drive from Downtown Memphis via I-40 West, the park's 4,500 acres, gentle hills and tree canopy create a nature escape so expansive, you might forget how close you are to the sights and sounds of the city.
The core of Shelby Farms Park was recently renovated to restore its centerpiece, Hyde Lake, along with the lake's surrounding trails and amenities, including a visitor center and on-site restaurant and refreshment options. Throughout the park, you'll also discover fishing lakes; pedal boat and paddling concessions (including SUP rentals); horseback riding; a zipline course; the award-winning Woodland Discovery Playground; and access to the 10.65-mile Shelby Farms Greenline, a rails-to-trails project connecting the park to neighborhoods and other greenspaces citywide.   
How can I get involved in the St. Jude IRONMAN 70.3 Memphis?

There are three main ways to get involved in the St. Jude IRONMAN 70.3 Memphis:
1. Train and compete. Registration is available at varying levels, including individual, relay and St. Jude Heroes, who fundraise as part of their event entry. Register to compete in the St. Jude IRONMAN 70.3 here.
2. Volunteer. From registration tents to aid stations, IRONMAN events depend on volunteers. The bonus for locals, and anyone accompanying an athlete, is a unique way to experience the event and its rich community. To volunteer, complete an application online; then select your shifts. 
3. Cheer. Stay tuned for event details so you'll know where and when to catch the action. Athletes appreciate spectators and the St. Jude IRONMAN 70.3, especially along its swim and bike routes, provides ample space for you to line the course and cheer. The IRONMAN Village is also free and open to the public beginning the day prior to competition, so stroll around and soak up the energy of this award-winning event.
St. Jude IRONMAN 70.3 Memphis Course DETAILS
70.3 IRONMAN events are also known as "Half IRONMAN" events because they require half the distance of a full IRONMAN competition. As a triathlon, the competition includes a swim, bike and run. Combined, the event distances equal 70.3 miles.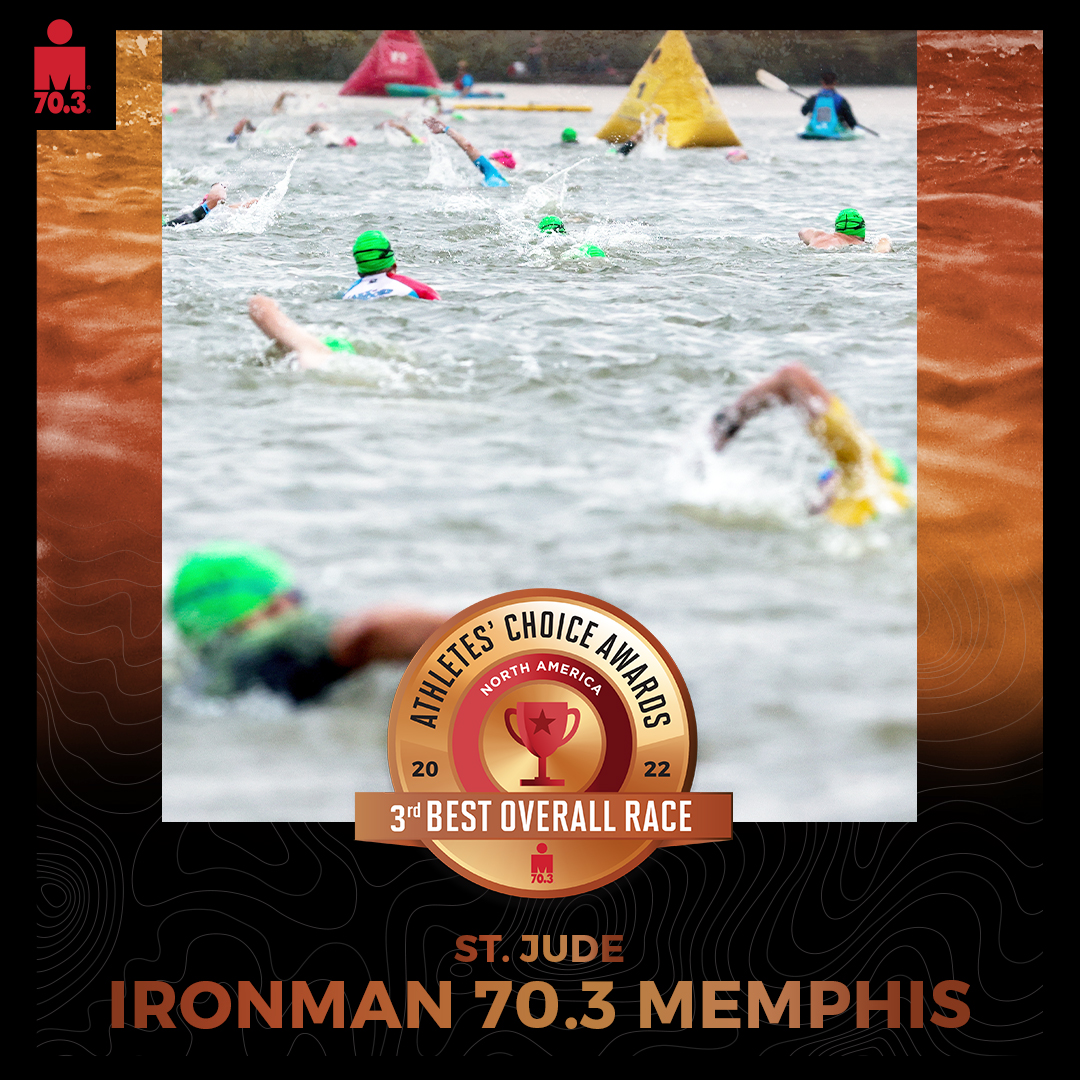 St. Jude IRONMAN 70.3 Memphis Swim
Of the 70.3 miles Memphis IRONMAN participants will complete, 1.2 of those will be logged while swimming in Shelby Farms Park's Hyde Lake.
Fun fact: The average water temperature during the event is 70 degrees Fahrenheit.
Bonus: Hyde Lake is surrounded by a paved trail, boardwalks and a restaurant with a popular patio (Coastal Fish Company), creating an ideal and scenic environment for spectators to cheer on participants.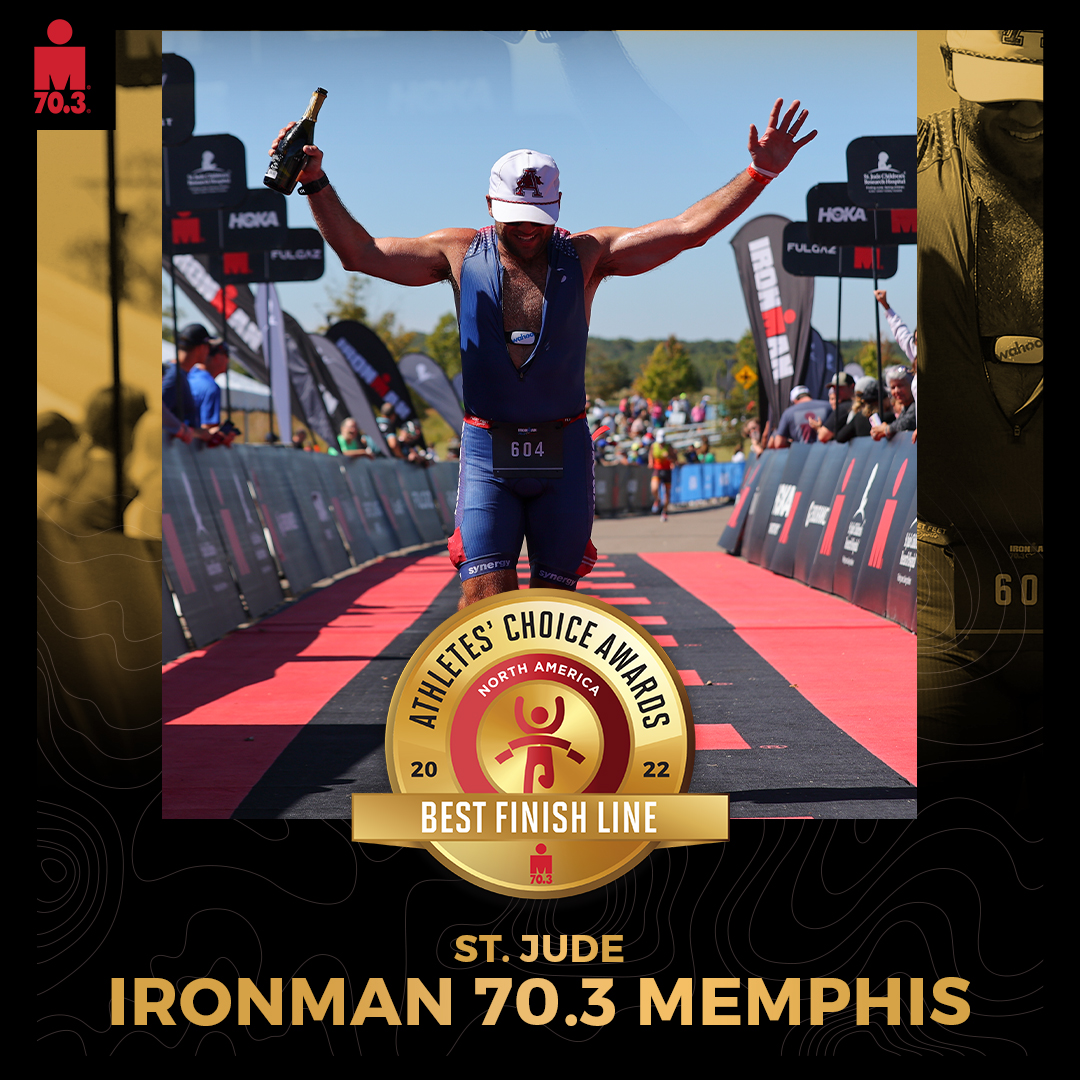 St. Jude IRONMAN 70.3 Memphis Bike
From Shelby Farms Park, athletes will head east to complete a 56-mile loop that ventures all the way into Memphis' neighboring Fayette County. Country roads, gently rolling hills and the lush greenery of tree canopies define the character of this course. 
Fun fact: The average air temperature during this event is 75 degrees Fahrenheit.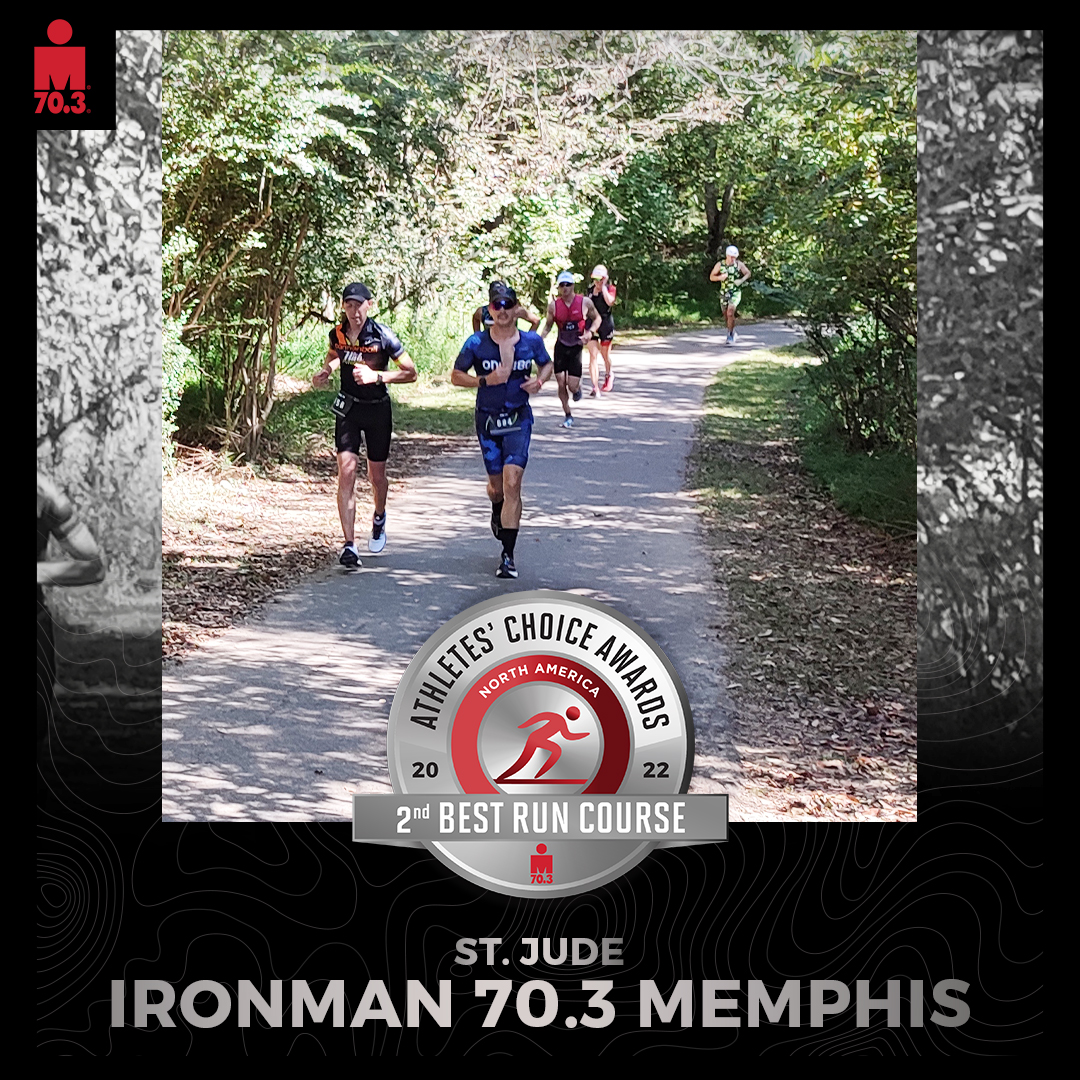 St. Jude IRONMAN 70.3 Memphis Run
To log the 13.1 miles required for a half-marathon, runners will complete two loops inside Shelby Farms Park. The course edges around Hyde Lake and features the park's Chickasaw Trail, loved for its shady tree canopy, gentle hills and generous room for spectators. 
Fun fact: This route was ranked IRONMAN's 2nd Best Run Course in the 2022 Athletes' Choice Awards.