Beale Street Entertainment District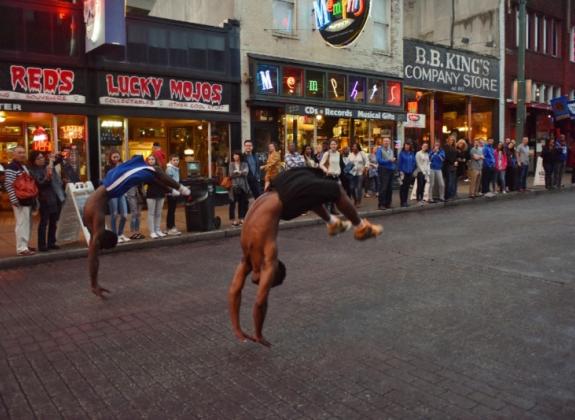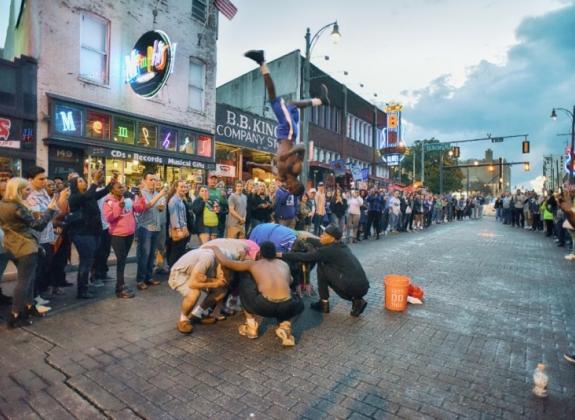 The Beale Street Flippers are one of the most popular entertainers on Beale – without strumming a guitar or belting out the Blues. Crowds line the cobblestone street to cheer on this group of athletes who flip their way for tips.
You almost have to see what they do to believe it. They have taken a simple handspring and made it into an art form. With strength and grace, they begin at one end of the street and flip for what seems forever. They go from landing on both hands to literally flipping in the air without using their hands at all. They seem to fly over their teammates who line up to make a human hurdle. It truly is amazing.
In 1987, a 6-year-old boy named Rarecas Bond saw where he could earn money for candy entertaining visitors coming in and out of the clubs. Now he manages a group of over a dozen flippers who perform at halftime shows for the NBA and at events throughout the country. The flippers were semi-finalists on season 4 of America's Got Talent. Tommie Bonds (Rarecas' brother) holds the Guinness World Record in Germany for the longest backflip by flipping over 7 people which totaled 12 feet, 3 inches.
Trivia: Remember Tom Cruise in "The Firm?" Rarecas Bond was 11 years old when he flipped down Beale Street with Tom's character, Mitch McDeere.
Interested in booking the Beale Street Flippers? Contact Rollin Riggs at 901-341-6565. or email [email protected]
For more info visit: https://riggsentertainmentllc.com/entertainers/beale-street-flippers
Amenities ▲
Facility Amenities
General Information

Accessible
Family-Friendly
Free Admission

Neighborhoods
Parking

Parking Lot
Street Parking
Valet Parking