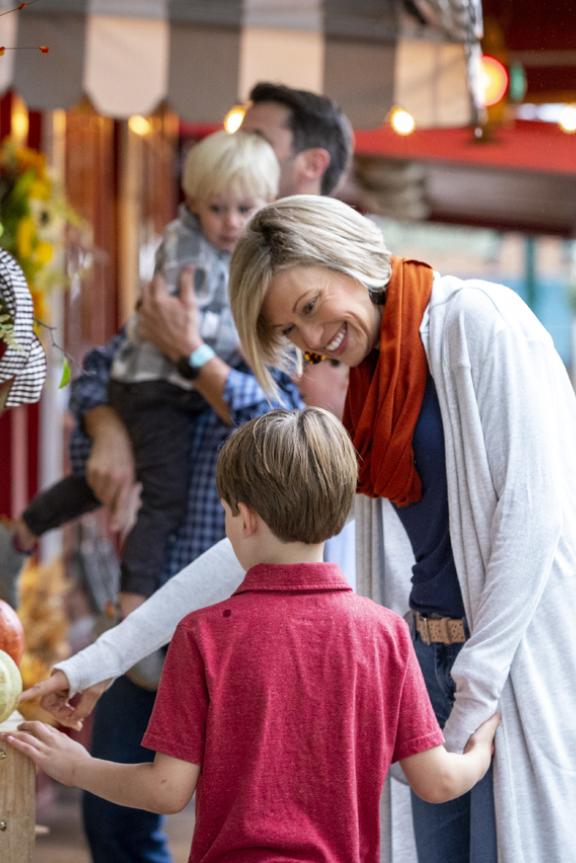 Plan Your Fall Break in Memphis
Ahhh . . . crisp air, changing leaves, spiced lattes and those two magic words: FALL BREAK. Come spend the whole week or even a weekend in Memphis, Tennessee, making memories with your family.
Outdoor Adventures THIS FALL
Visit the animals & trick-or-treat at Memphis Zoo
Year-round, Memphis Zoo is full of thrills: come face-to-face with polar bears and lions, watch acrobatic gibbons swing and flip as otters play nearby, and seek out species from meerkats to hippos. Adults can enjoy local craft beer from a commemorative stein as they stroll around the zoo every weekend in October as part of Zootoberfest. After-hours on select nights Oct. 13-31, 2023, the attraction also hosts its annual Zoo Boo celebration. While the animals sleep, you and your entire family can dress in your favorite costumes and enjoy candy stations, hay mazes, magic shows, the Jack-o-lantern Jamboree and more. 
Go for adventure & family-friendly hikes at Shelby Farms Park
Shelby Farms Park is one of the country's largest urban green spaces. In other words, you could spend your entire fall break just experiencing all that this has to offer: the award-winning Woodland Discovery Playground. Fields for kite-flying. Off-road and paved trails surrounded by trees with fiery fall foliage—including the 10.5-mile Shelby Farms Greenline—for walking, running and biking (bike rentals, too). Guided horseback riding. A treetop adventure and zipline course, Go Ape. Kayaking and stand-up paddleboard rentals. Fishing, paintball, laser tag and a BMX track. Oh—and a resident herd of bison. 
Get a cool view of the Mississippi River
Enjoy the cooler temps and trek across the Mighty Mississippi River on Big River Crossing. Take in unrivaled views of the river and Downtown Memphis. The nearly mile-long bridge leads you over the river into Arkansas and connects to 10 miles of trails. Stay for the nightly Mighty Lights show, when Big River Crossing and the Hernando De Soto Bridge light up Old Man River with hundreds of thousands of colorful LED lights.
Experience Memphis' New-Look Riverfront 
Tom Lee Park just underwent a $61M renovation. The newly reimagined park on the banks of the Mighty Mississippi River reopened on Labor Day weekend. Now it's your turn to come experience our new-look riverfront. With tons of green space, including the 100,000-square-foot TVA Central Lawn, a fitness zone, a river-themed playground and unmatched views of the Mighty Mississippi, this new riverfront experience is a must! 
Make your way through The Mid-South Maze
The Mid-South Maze is an annual favorite fall activity for Memphians. Each year, the maze features a new design with new twists, turns, and surprises. In 2023, the maze is going interstellar shaped as an astronaut. Take a hayride and have a bonfire after exploring what the maze has to offer. On Wednesdays, both are free with a purchase of admission.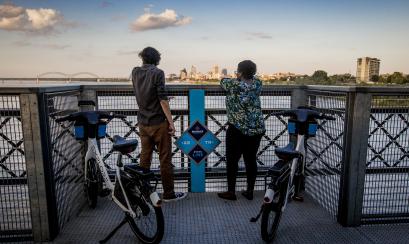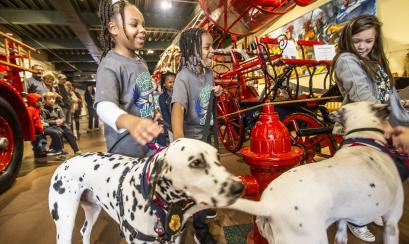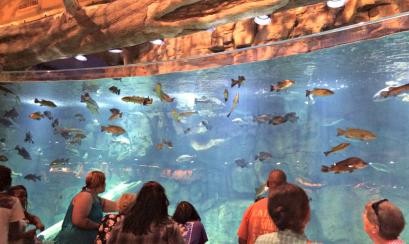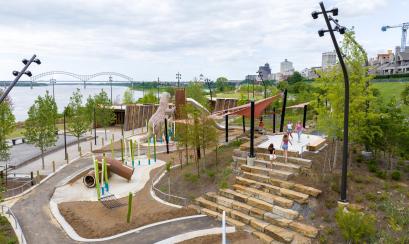 Kids Museums & Indoor Fall Fun
Learn & play at the Fire Museum of Memphis
Learning about fire safety is fun at the interactive Fire Museum of Memphis downtown. Kids can crawl through a smoke alarm maze, step into a rescue bucket and raise it high, climb into real fire engines (and check out antique ones) and "meet" an animatronic horse named Billy, who helps tell the story of Memphis' original firefighters. 
Scare up some Halloween fun at CMOM
In addition to museum favorites, including the Grand Carousel, FedEx plane, skyscraper maze and kid-size grocery store, the Children's Museum of Memphis (CMOM) promises seasonal fun, like fall-themed crafts in the Art and Innovation Lab. 
Catch planetarium shows & movies at MoSH
Museum of Science and History (Mosh) is a regional museum for Memphis and the Mid-South full of classic exhibits from animal skeletons to an extravagant miniature circus to a replica of the first Piggly Wiggly (founded in Memphis by Clarence Saunders, who commissioned the Pink Palace as his home). In fall, the museum hosts seasonal events like themed laser light shows in the digital planetarium and seasonal shows including the Movies & Mixers series on the Giant Screen Theater.
Explore Bass Pro Shops at the Pyramid
The world knows Memphis as the home of blues, soul and rock 'n' roll, but did you know it's also the nation's waterfowl capital? Visit one of the largest free-standing retail locations in the world: Bass Pro Shops at the Memphis Pyramid, right on the Mississippi River, to shop for all the outdoor gear you need. Ride the world's tallest free-standing elevator up to the glass observation deck for stunning views of the Mississippi River and Downtown Memphis. Go bowling at the aquatic-themed Fishbowl. Dine on venison chili and bison burgers at Wahlburgers Wild. Then, see live alligators and over 1,800 fish at the cypress swamp and 600,000-gallon aquarium. This one-of-a-kind retail experience also includes the treehouse hotel, Big Cypress Lodge, so you can extend your adventure overnight.
Fall Events & Festivals
In addition to the events we've already mentioned, fall is one of the best times to enjoy neighborhood festivals, family-friendly events and concerts in Memphis. See Funny Girl on stage at Orpheum Theatre, Oct. 10-15, 2023. Sample from 30 different tequilas at the 5th annual Memphis Tequila Fest on Oct. 13, 2023, at FedEx Event Center at Shelby Farms Park. On Oct. 14, 2023, head to Edge Motor Museum to see more than 150 classic and custom cars at Edge Motorfest. Pack your cooler and blanket and enjoy the free fall concert series at Overton Park Shell, running weekends through early October. For even more ideas, check out these 60 Fall Festivals & Events on the I Love Memphis Blog.