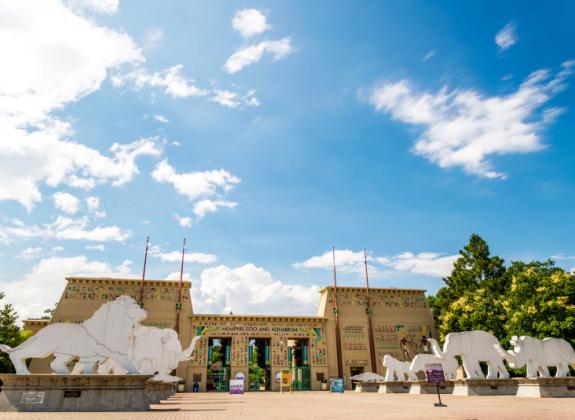 Location
2000 Prentiss Pl.
At the Memphis Zoo, get nose-to-nose with polar bears and splashed by sea lions in Northwest Passage. Take in the sights and sounds of Yellowstone National Park at the Teton Trek exhibit, featuring grizzly bears, elk, timber wolves, and trumpeter swans. The Memphis Zoo is an interactive and fun experience for the whole family.
Don't miss Zambezi River Hippo Camp, home to hippos, flamingos, Nile crocodiles, and other animals along the 1,600 miles of Africa's Zambezi River.
Viewing all the exhibits requires a walk of about 2 miles, and visitors should allow three to five hours to see the entire property. Guided tram tours are available for a small fee. The zoo is host to several annual events such as Zoo Boo with its haunted forest, Zoo Lights with over 1 million holiday lights, and Zoo Rendezvous.
Amenities ▲ Meeting Space ▲
Facility Amenities
General Information

Accessible
Family-Friendly

Neighborhoods
Parking
Room
Sq. Feet
Banquet Capacity
Classroom Capacity
U-Shape Capacity
Reception Capacity