Graceland's Chapel in the Woods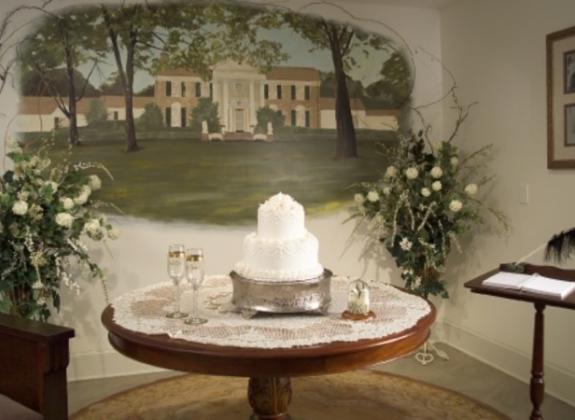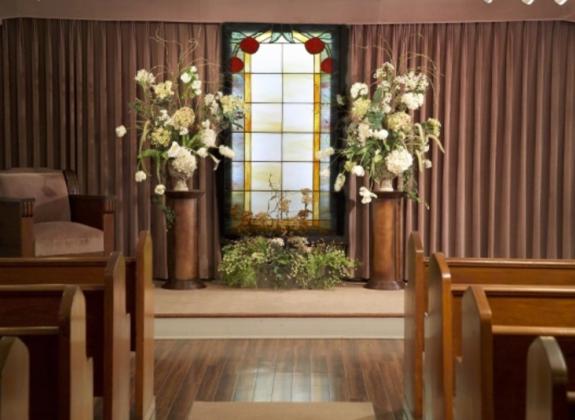 Location
3734 Elvis Presley Blvd.
Nestled in the shadows of Graceland, the legendary estate Elvis Presley so lovingly called home, is Graceland's Chapel in the Woods. Step back in time as the wooded area adjacent to Graceland Mansion embraces the old-fashioned chapel in Southern style and grace. Whether it's just the two of you or up to 50 of your friends and family, Graceland's Chapel in the Woods will complement the ceremony of your dreams.
Your wedding experience begins with the bride's own private dressing room. From there to the Chapel's main entrance, is a beautifully landscaped walk, shaded by stately trees that lead to the Chapel's door.
Inside the Chapel, your guest will take their seats in authentic, wooden pews. The flickering "gas light" of intricately etched wall lamps will light your way down the aisle. A lovely, stained glass window, reminiscent of the stained glass transom above the Mansion's front door makes a beautiful setting for your vows.
Located in an intimate reception area at the rear of the Chapel, a stunning, hand-painted mural of Graceland Mansion makes a perfect backdrop for photos as you cut your cake as man and wife and toast your new life together.
Finally, conditions permitting, for photos that are truly unforgettable, the newlyweds can walk the short, winding path to the Mansion itself! There, you will have up to 15 minutes to pose on the steps of the Mansion known far and wide as Graceland, home of Elvis Aaron Presley.
From your first phone call, until your last guest has "left the building," our dedicated staff of professionals will be honored to coordinate your every wish. For more information about Weddings by Graceland, give them a call or visit online.
Amenities ▲
Facility Details
Group Information

Maximum Group Size
50
Minimum Group Size
50

Meeting Facility Details

A/V & Tech Support
Event Coordinator on Site
Operations Support on Site
Reception Capacity
Restricted Catering List

Neighborhoods
Parking
Service Type