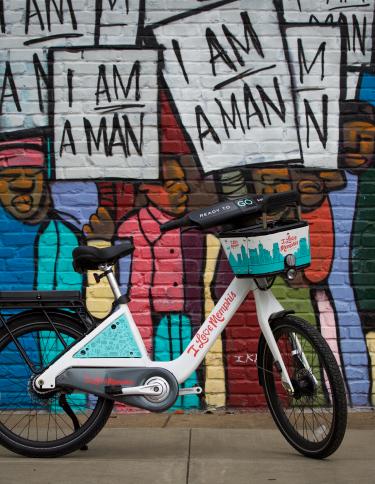 Get on your bikes and ride! 
There's a new way to get around town in Memphis, and it's called Explore Bike Share. Launching on May 23, 2018, this new Memphis bike rental programs lets you check out bikes from stations for an hour, a day, or for a whole week. 
Explore Bike Share is the city's first bike share program. For its summer 2018 launch, Explore Bike Share will deploy 600 bikes at 60 stations across Downtown, Midtown, and Southern Memphis neighborhoods. 
What is Explore Bike Share?
Bike share programs allow riders to rent bikes from unmanned docking stations, for a small fee. You then return the bike to another station and be on your way. It's a great way to get around and travel between different attractions and things to do. The bikes will be sturdy, simple, and easy to use and will be visibly marked. In other words, you'll know when you see someone using an Explore Bike Share bike. 
So how exactly does it work? 
First, you buy an Explore Bike Share membership - this can be for single ride ($5), weekly use ($12), monthly ($15), or a yearlong membership ($120). Then, you'll check out a bike using your membership card, the app on your phone, or an ID number. After that, you're free to ride. 
Each ride is 60 minutes long, so you'll need to check in your bike every 60 minutes or be charged an additional fee. The app and website will have all of the station location information you need, so that you can easily plan your route and ride check-ins. They all have GPS. There's even a touch screen on the bicycle itself with more information.
Memphis' bike share program will launch with 60 docking stations throughout Downtown, South Memphis, Orange Mound, Overton Square, Crosstown, and Cooper Young. These initial station locations were chosen carefully, using community input and lots of data; there may be more locations added later. As of this writing, the first station has just been installed at Memphis Park on Front Street. 
For more info on Explore Bike Share or to sign up for a membership, check out their website at explorebikeshare.com. 
Memphis Originals
Follow Sara and Abby as they bike through some of Memphis up and coming neighborhoods.