Using common household items as instruments, jug bands could be heard up and down Beale Street throughout the early 20th century.
Among them, Will Shade's Memphis Jug Band was the most popular with more than 60 recordings between 1927 and 1932. Some say the first of those recordings was in fact the first one made in Memphis.
WHERE TO GO NEXT 
All points of interest below are mapped from the Memphis Rock 'n' Soul Museum, just steps from the bollards and FedExForum.
Walk 2 minutes
Beale Street
Since the 1860s, Beale Street has been a hub for black musicians and groups like Memphis Jug Band. Walk down Beale and hear the clang of electric guitar and the cry of the blues, as today's musicians keep the spirit alive. 
Get Directions
Walk 5 minutes 
Memphis Music Hall of Fame
At the corner of Beale and B.B. King, you'll find the Memphis Music Hall of Fame. Tour to learn more about legendary inductees, including Memphis Jug Band. 
Get Directions
Walk 15 minutes
Blues Foundation's Blues Hall of Fame
Memphis jug music was closely related to the Memphis blues, so add on a stop at The Blues Foundation's Blues Hall of Fame. Memphis Jug Band was inducted into this esteemed hall of fame in 2016. 
Get Directions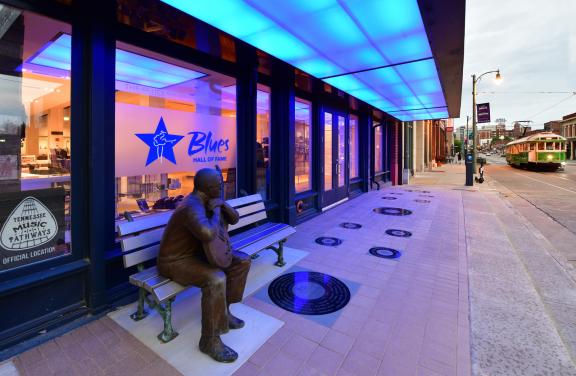 Andrea Zucker
THE BLUES
Explore the people, stories and places behind the bollard art outside FedExForum. Use this slider to sneak a peek at everything blues-related, from the art itself to local points of interest.