Why Memphis Barbecue Is World Famous
What Is Memphis-style Barbecue?
First things first, you need to know how Memphis-style barbecue stands out from the rest. Every region and state known for their smoked-meat goodness has their own way of doing things. For example, Texas is all about the brisket, the East Coast states prefer their meat sliced and tangy. But here in the 901, we tend to lean more towards the pig, specifically pulled pork and a big 'ole rack of ribs. Of course, we don't discriminate. You will find lots of beef, sausage and all the chicken staples -- especially wings. But the star of the show around these parts will always be the oinker. So if you are at a restaurant and are at a loss for what to order, start with the pork, and you won't be disappointed.
 
The History Of Memphis Barbecue
How barbecue is seasoned and sauced also matters in the South, and varies from city to city. The way Memphis got its flavor and traditional style is flat out fascinating. A lot of the variation in barbecue flavors and sauce can be explained by geographical factors. I know, you came here to learn about meat, not history and geography, but stick with me. BBQ began on the east coast in the colonial days. As it grew in popularity and spread west, different cooking technologies and agricultural aspects of each region added a new unique twist. Since Memphis is a port town, there was access to a wider variety of ingredients to slab on, plus all the molasses that was shipped up the mighty Mississippi River, so that kinda became our style - lots of spice and a sweet, tomatoey sauce.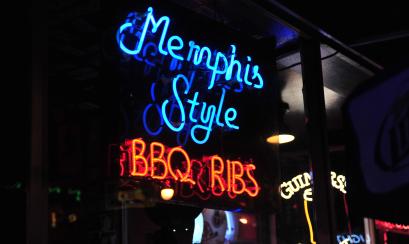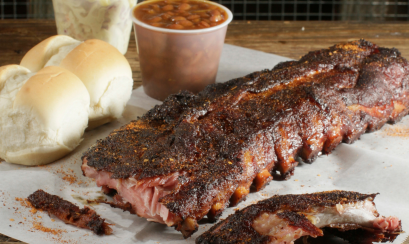 Memphis-style Barbecue Secrets
We talked pork, we talked sauce, but when you order BBQ you know it doesn't just end there. Ask any Memphian what their favorite BBQ side is and from what restuarant, and they will be able to tell you. Common sides are coleslaw, cornbread, baked beans, greens, mac and cheese and cornbread. Hungry yet? Some restaurants serve a bun with your order, some sliced bread. Whether you make a sandwich or just use it to soak up some of the delicious sauce, the choice is all yours.
So what if you are feeling quirky? You know, in the mood for some 'que, but not the same-ole pork plate and sides you default to? Memphis has you covered. For starters, BBQ pizza is a staple around here. The original was invented at Coletta's in the 1950's. Elvis himself was said to be a huge fan, when he wasn't eating peanut butter banana sandwiches of course. Coletta's is still cranking out those delicious pies today. Memphis went a little overboard with that Italian-barbecue combination with this next unique item: BBQ spaghetti. Yes, it is a thing and yes it is delicious. It is exactly as it sounds -- marinara and pulled pork over traditional spaghetti noodles. It is served at a few restaurants around town, but most notably at the Bar-B-Que Shop. It may sound strange, but the locals and curious visitors all rave about it, so it is worth checking out. And then there are the BBQ nachos. Think an amazing pile of nachos topped with an even more amazing pile of smoky pulled pork and sweet tangy BBQ sauce -- you can't go wrong. Central BBQ has a solid nacho option available, served on their homemade potato chips in lieu of corn chips if you ask.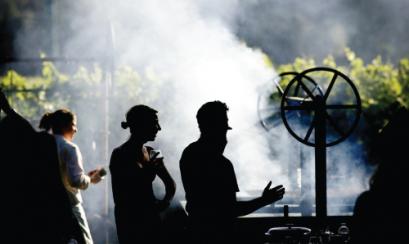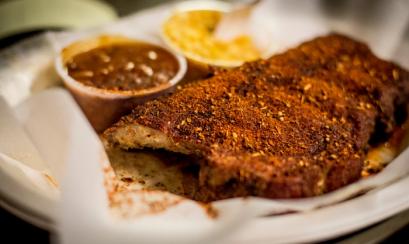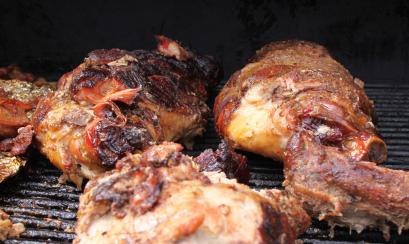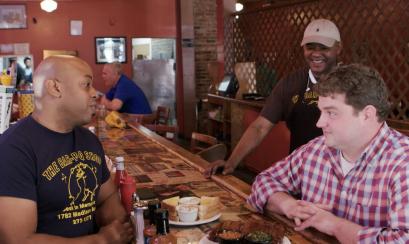 Find The World's Best Barbecue In Memphis
Whether in the form of a pizza, pasta or just nestled in next to a place of delicious sides, one thing remains constant: the meat is what matters most, and Memphis gets that, despite the creative liberties they have taken. In fact, they have an entire festival devoted to mastering the art of the smoker and sauce: the annual World Championship Barbecue Cooking Contest. It takes place every year along the banks of the Mississippi, during the city's beloved Memphis in May festival. Teams set up elaborate tents and cooking stations, get their best recipes ready and then fill the air with delicious smells, hoping to snag the grand prize. Like a lot of things in Memphis, WCBCC started small and hustled to the top. It began in the 1978 with about two dozen teams in a parking lot, and has since grown to more than 250 high-powered competitors from across the country, and attracts national media from all over the world.
But if you can't make it out to the World Championship Barbecue Cooking Contest, no problem. Every day of the year you are able to get some all over town. Some great restaurants we already mentioned are Central BBQ and The Bar-B-Q Shop. Corky's Ribs & BBQ is always a solid choice. Rendezvous is a unique experience, with the door nestled in the alley of a downtown building. Other famous Memphis barbecue restaurants are Leonard's Pit Barbecue, Pollard's BBQ, Jim 'N Nick's Bar-B-Q, Tom's Barbecue & Deli and Pig on Beale all are worth checking out too. And, there are countless others, over one hundred if you count the food trucks and the side of the road shacks. See? Lots of options to choose from!