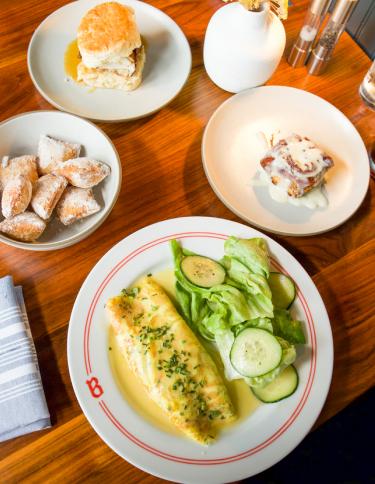 Whether you're treating your mom for Mother's Day, taking the family out for a special birthday brunch, or just hitting up a weekend brunch with friends, Memphis knows how to do brunch! Here are some of the best brunches in the city, as suggested by locals and Memphis lovers.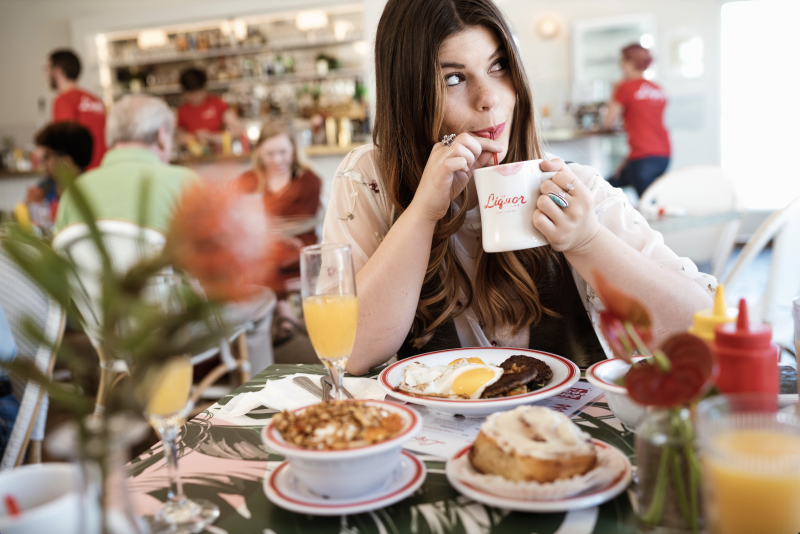 149 Union Ave.
Memphis, Tenn.
Brunch at the Peabody Hotel in downtown Memphis is a tradition! They're known for serving up some of the best brunches in Memphis for holidays like Mother's Day and Easter in the hotel's Grand Ballroom. The menu is extensive, with a made-to-order omelet station, salad bar, fruits and cheeses, antipasto, seafood, and a carving station.
Try to leave from for dessert after your Peabody brunch, the pastries, cakes, ice creams, and brûlée's are as impressive as they are delicious. Holiday brunches at The Peabody require reservations and payment in advance. 
966 Cooper Street
Memphis, Tenn. 
Is the best Memphis brunch at The Beauty Shop? A lot of locals think so! This Cooper Young restaurant pulls in the crowds every Saturday and Sunday for their beloved brunch menu. Diners say they love it because of the variety and creativity of the brunch food, from the ricotta pancakes and fried chicken biscuit to the Benedicts and house-made Bloody Mary mix.
We love the Beauty Shop for their atmosphere, too. They're located in midtown in a former beauty shop where Priscilla Presley once had her hair done, and the sinks and dryers are still on display. You'll definitely need a reservation for this best Memphis brunch spot.
6150 Poplar Ave. Suite 150
Memphis, Tenn. 
Consistently mentioned by locals as the best brunch in town, Owen Brennan's in East Memphis near Poplar and 240 serves a popular brunch buffet inspired by New Orleans jazz brunches! Fill your plate with seafood like peel-and-eat shrimp, oysters, and smoked salmon; then go for some French toast, biscuits and gravy, and omelets cooked to order.
Enjoy live jazz and brunch cocktails from the bar (priced separately from the brunch buffet). Owen Brennan's on Poplar Avenue serves Sunday brunch from 9 a.m. until the final seating at 2:30 p.m. on a first-come, first-served basis.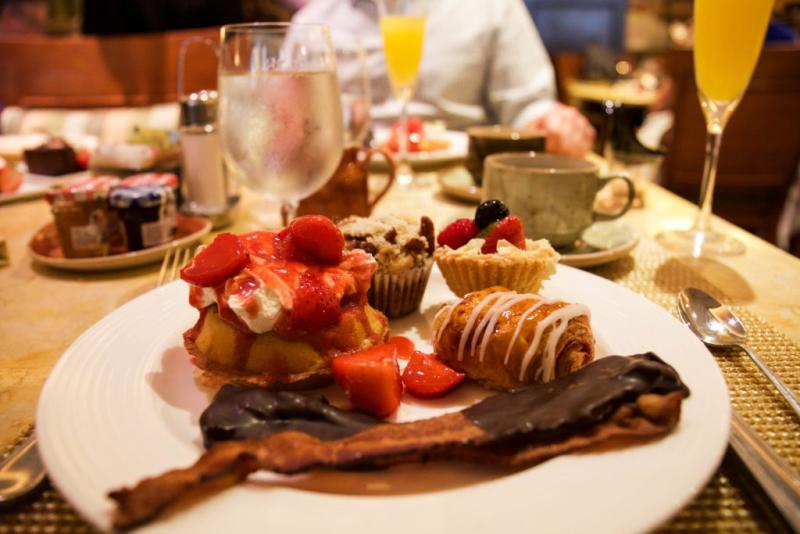 2655 Broad Ave.
Memphis, Tenn.
For the cutest atmosphere and a mix of the best breakfast food and Latin-inspired brunch dishes, head to Broad Avenue's The Liquor Store—located in between East Memphis and Midtown. The vibe is tropical-chic-meets-diner, with biscuits, pancakes, breakfast tacos, and the popular sweet potato hash with cuban pork or vegetarian sausage. They make a mean brunch cocktail, too, including a spicy Bloody Mary.
There's also a patio for when the weather's nice. The Liquor Store serves their breakfast/brunch menu daily starting at 8 a.m. and doesn't take reservations, so we recommend going early on weekends and keeping your group small. There's no seating for groups of more than six people. An 18% gratuity is already added to each check.
94 S. Main St.
Memphis, Tenn.
Sip a mimosa in style in the heart of downtown at this urban chic restaurant. Choose from salmon or crab cakes Benedict, chicken and waffles, or a strawberry cream cheese cake French toast from the brunch menu.
Sage serves brunch in downtown Memphis on Saturdays and Sundays. They do not take reservations so come early because Sage is one of the most popular brunches in Memphis!
670 Jefferson Ave.
Memphis, Tenn.
Memphians consider Sunrise to be one of their absolute favorite brunch places in Memphis, and they consistently bring up the Bloody Mary bar and biscuit sandwich options. Order yourself the "Rooster", a fried chicken biscuit, or go for a pimento cheese biscuit, sausage biscuit, or the smoked bologna biscuit.
There's also avocado toast, an omelette, and breakfast tacos. Sunrise serves their breakfast and brunch menu Tuesdays through Sundays starting at 7 a.m. and they don't do reservations.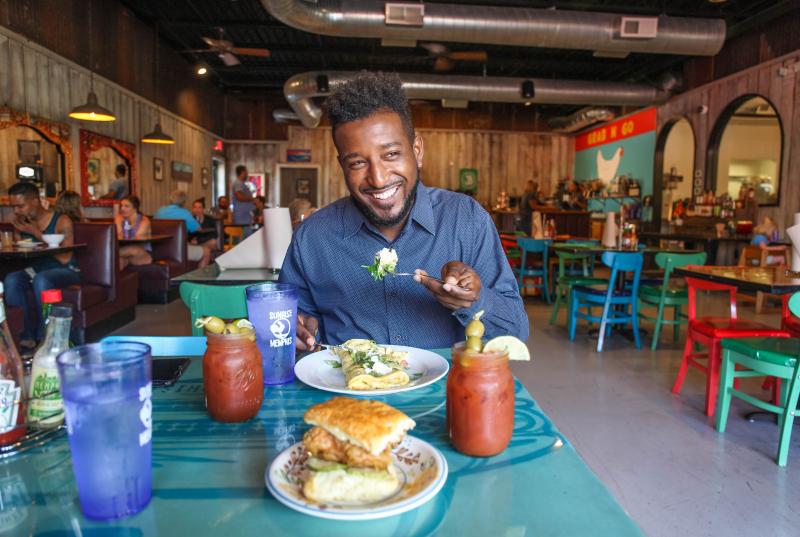 600 Monroe Ave.
Memphis, Tenn.
In a sun-filled cafe in the Edge District just east of the downtown core, Edge Alley serves up fresh, delicious brunch, coffees, and cocktails on the weekends. Sit in the window and enjoy avocado toast, quiche, shrimp and grits, and French toast waffles while you sip on craft cocktails and a full menu of gourmet coffee drinks—from hazelnut cappuccinos to lavender lattes. Edge Alley offers their brunch menu on Saturdays and Sundays from 9:30 a.m. until 3 p.m. and reservations are highly recommended. An 18% gratuity is added to each check, or 20% for parties larger than five people.
2094 Madison Ave.
Memphis, Tenn.
For a casual, Cajun-inspired brunch head to Overton Square in midtown for brunch at The Bayou. Their menu is full of brunch food classics with a Cajun twist, like an omelet with crawfish and bacon cheddar grits or the ever-popular King Creole Benedict with crab cakes, andouille, and crawfish with the poached eggs.
For drinks, the Bayou's bar keeps it flowing for thirsty Memphis brunch people with $3 Bloody Marys and mimosas. If you're feeling more lunch-y, their poboys and famous Zydeco chicken wings are also available during lunch. There are always sports on the TVs and a few tables on the patio at The Bayou—they don't accept reservations, so arrive early for faster seating.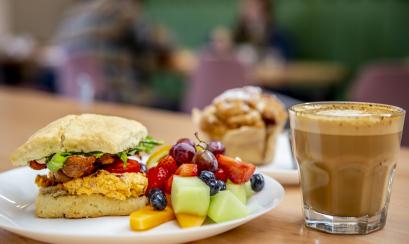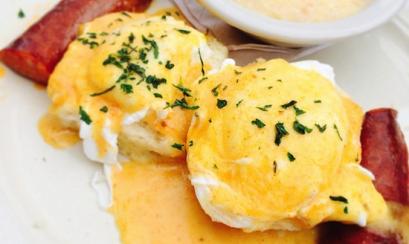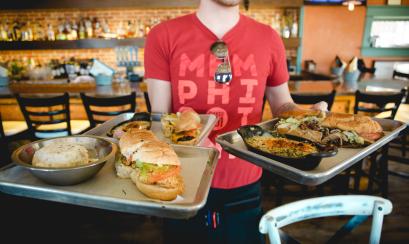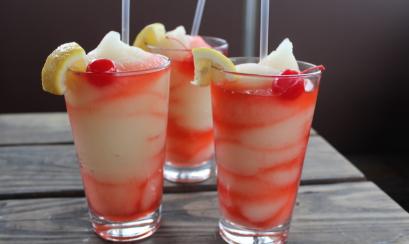 363 Mulberry St.
Memphis, Tenn.
Another super casual option for brunch in Memphis is the Slider Inn. Good for groups, Slider's downtown location offers patio seating, brunch sliders (mini burgers) and their infamous Jameson slushies. About those slushies: Slider Inn takes frozen lemonade, ginger beer, Jameson whiskey, and bitters and blends it all up in a deceptively strong cocktail perfect for hot summer brunches.
Slider Inn downtown also has a Melty Mary during weekend brunch; it's a house made Bloody Mary "garnished" with an Angus beef burger on a grilled cheese sandwich bun. Slider Inn Downtown is open for brunch on Saturdays and Sundays starting at 11 a.m. They do have a location in midtown, but the Melty Mary and other brunch menu items are only available at the South Main spot.
2144 Monroe Ave. 
Memphis, Tenn. 
In Memphis, the Second Line in Overton Square is another one of our favorite places to get brunch. We love it for the spacious patio, cocktails, and New Orleans inspired cuisine. Dine on shrimp and grits, quiche, pancakes, and steak and eggs, plus a selection of po-boys and appetizers like the andouille, crawfish and pimento cheese fries or the jambalaya.
The Second Line has kids' menu section (appropriately titled, "so you brought your child to a bar") so everyone's welcome inside or outside. Brunch is served on Saturday and Sunday from 11 a.m. until 1:45 p.m. and reservations are recommended but not required.