Did you arrive in Memphis early for a convention, or are you staying an extra day to take in the sights and sounds? Don't fret! We know you're on a busy schedule and with only one day in the Bluff City, you need to get rockin' and rollin'. This guide will help you see and do as much as possible in Memphis in one day.
Insider tip: Memphis is easy to navigate and there are things to do scattered throughout the city and into Shelby County, but for the best day trip, it may be wise to keep your adventure focused on Midtown and Downtown Memphis. Both areas are densely packed with sightseeing opportunities that will help you get the most out of your visit.
Morning
Start your day the right way by grabbing a bite from the legendary Arcade Restaurant. The Arcade is a diner which was a favorite of Elvis and many of the train passengers and soldiers who occupied that area back in the day. If you're hungry, try the sweet potato pancakes (they're a local favorite).
Now it's time for a music history lesson! Isaac, Otis, Booker T., Sam & Dave . . . you've bobbed your head to their tunes, now see where it all went down. In a small neighborhood in southeast Memphis known as Soulsville, the Stax Museum of American Soul Music pays homage to music legends and one of the world's most recognizable record labels.
Stax houses more than 2,000 musical and cultural artifacts including Studio A, the spot where nearly all Stax hits were recorded and the Hall of Records where 912 singles and 292 full length albums take on a new life. Let loose on the "Express Yourself" Dance Floor, where that funky 1970s sound flows without stopping. Take a selfie in front of Hayes' gold-plated, peacock blue 1972 Superfly Cadillac El Dorado.
Expect to spend between 90 minutes and 2 hours at Stax. Admission is $13 for adults, $12 seniors 62+ and $10 for children 9-12. 
As an alternative to Stax, explore the Memphis Rock 'n' Soul Museum. This Downtown Memphis museum located at the corner of legendary Highway 61 and Beale Street lays the groundwork for American music history. You'll learn how sharecroppers planted the roots of blues, country and gospel music in the 1930s and how a bountiful crop of sound from Stax Records, Sun Studio and HI Records set the country on fire in the decades that followed.
Admission to the Rock 'n' Soul Museum is $13 for adults and $10 for youth ages 5-17.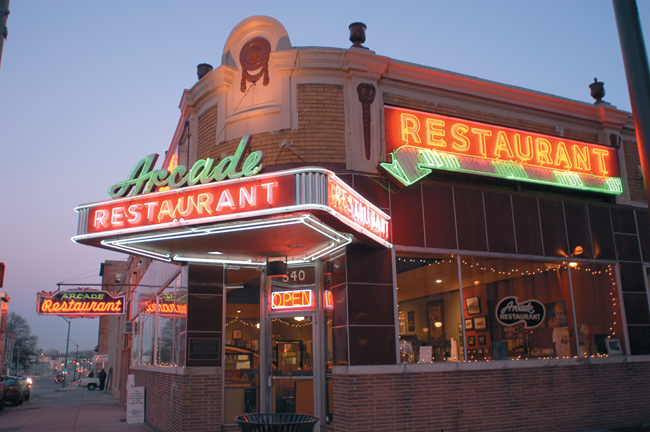 Noon
Grab some lunch at the Four Way Grill. Located in the Soulsville neighborhood near the Stax Museum, the Four Way has been a local favorite for over 70 years, serving celebrities like B.B King, Aretha Franklin, Elvis Presley and Dr. Martin Luther King Jr. The restaurant specializes in Meat and Three plates and include Southern soul food favorites like fried chicken, fried catfish, turnip greens and cornbread – and you've got to make room for the sweet potato pie or peach cobbler. 
After lunch, head to The National Civil Rights Museum (the site of the assassination of Dr. Martin Luther King, Jr). This powerful museum presents a timeline of Civil Rights struggles concentrating on events of the 1950s and 1960s. Iconic exhibits and fixtures like Brown v. Board of Education and the Montgomery Bus Boycotts include interactive screens that offer a richer experience. Double tap the "smart" tables with touch panels, watch stunning visual programs and soak in ample audio and video snippets. The entire museum is stunning. 
A self-guided tour of the National Civil Rights Museum lasts approximately 1 - 3 hours and admission is $17 for adults, $15 for seniors and $14 for children 4-17. 
Looking for souvenirs? The National Civil Rights Museum offers a great gift shop. As an alternative, walk about one block south and you'll land smack dab in the middle of the trendy boutiques of South Main. 
If you're more apt to spend your time outside, try the Memphis Riverboat tour. These sightseeing cruises dock at beautiful Beale Street Landing and take you on a 90-minutes voyage aboard the Memphis Queen III. Tours are $20 for adults, $17 for seniors and youth (13-17) and $10 for children (3-12). 
Night
If you've never been to Beale Street, here's your chance. Memphis' historic neon row is three blocks of nightclubs, entertainment and retail shops. You'll hear music spilling out of clubs like Rum Boogie Café, B.B. King's, Silky O'Sullivan's and the Hard Rock Café. Jam sessions on Beale can go deep into the night so put on your dancing shoes. For a good time, grab a drink, stroll the street and let your ears be your guide.
Would you rather do what the locals do? The Overton Square entertainment district is located in the heart of Midtown (just east of Downtown Memphis). Featuring some of the tastiest restaurants in the city, Overton Square is also loaded with live theater and independent retail shops. Check out The Second Line, chef Kelly English's casual joint with a menu full of classic New Orleans dishes like po' boys, shrimp and greens. Looking for live entertainment while digging in to some delicious grub? Lafayette's Music Room offers live music every night of the week and a variety of southern-inspired fare you'll love. 
For your nightcap, tap into Boscos or Local on the Square for a locally made craft beer.