The University District in East Memphis is an area on the rise, thanks to the expansive renovations taking place around the University of Memphis campus, especially along Highland Street. The neighborhood encompasses all of The University of Memphis's main campus then stretches west to Christian Brothers University. Some Memphians refer to this area, or the neighborhoods within it, as Normal Station or East Buntyn.
The University District is surrounded by charming residential areas and is home to museums, art galleries, shopping, and plenty of fun activities for the entire family. You'll also find entirely rebuilt storefronts along the Highland Strip and fun places to eat and shop in the bustling college area covered in this guide.
Food, Drink, and Nightlife
East Memphis offers countless options for all kinds of dining and nightlife, but for the purposes of this guide, we'll stick to the area immediately near the University and the stretch of Highland Street between Southern Avenue and Central Avenue, usually referred to as the "Highland Strip".
Newby's has been a haven for up-and-coming local bands and big names "before they were famous" since 1975. This concert hall/college hangout closed in 2014 and was completely renovated and reopened in 2016 with the same great food, drinks, music and atmosphere that it's famous for. For live music and casual Cajun eats, spend an evening at The Bluff. With three bars, tons of flat-screen TVs, a large music and dance floor, balcony seating, and a cozy alley patio, The Bluff is a perfect party spot.
R.P. Tracks Restaurant and Bar is another classic mainstay of the University District. Take a cue from the locals and try the infamous BBQ tofu nachos, a perfect option for vegetarians wanting to sample the local specialty and just as satisfying for carnivores, too. Brother Juniper's is arguably the best breakfast spot in Memphis. Word has gotten out, so arrive early and be ready to wait a bit for omelets, biscuits, and daily specials that are far beyond typical greasy spoon diner fare.
Take advantage of the students' need for caffeine with multiple coffee shop locations in the area. The young locals who own Belltower Artisans coffee and ceramics shop paired their passion for java and pottery-making into a space that offers both. For that cozy neighborhood coffee house vibe, head just south of campus to The Avenue Coffee for coffee and espresso drinks and baked goods.
Over in the "Highland Strip" mixed-use complex, you'll find several regional chains for dining and imbibing. The Casual Pint specializes in local and national craft beers served on draft, bottle, in flights, or make-your-own six-packs. They have nearly 30 beers on tap and hundreds more for sale in bottles, and a coffee-house atmosphere with trivia nights and special events. Char is an upscale steakhouse that manages to be perfect for special occasion dinners, business lunches, or a drink at the bar, which often has live piano music. They serve a fusion of Southern, Cajun, and New American cuisine and offer brunch on weekends as well.
Several other regional and national chains are available for dining along the strip, including: The Cook Out, Petra Cafe, Newk's Eatery, Insomnia Cookies, and Burgerim.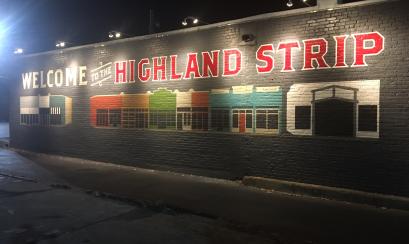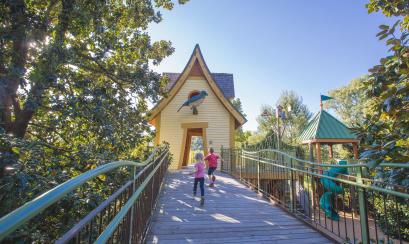 Things to do
The "largest" attraction in the University District (structurally speaking) is the Liberty Bowl Memorial Stadium.  Originally built in 1965 as part of the Mid-South Fairgrounds, the stadium is the home field of the University of Memphis Tigers football team, and the site of the annual AutoZone Liberty Bowl. Memphis Tigers games run from April to November and you check out the current schedule here.
MoSH is the Mid-South's foremost museum of science and history, and nearly a quarter-million people visit each year with their families. Permanent exhibits cover the cultural and natural history of the Mid-South, such as 15th Century Native American Pottery; fossils, dinosaurs, and mounted animal displays; pre-Columbian artifacts; the hand-carved Clyde Parke Miniature Circus; and a replica of the original Piggly Wiggly store, the first ever self-service grocery — a concept first introduced to the world in Memphis. There are also regular traveling and special exhibits each year.
MoSH is also home to the CTI 3D Giant Theater and the 165-seat Sharpe Planetarium. It is also associated with the nearby Lichterman Nature Center, which is a must for the nature-loving members of your family.
The University District's headquarters for all-ages family fun is undoubtedly The Children's Museum of Memphis.  It features dozens of interactive exhibits indoors and outdoors - from tornado generators to treehouses - plus a seasonal waterpark and basketball courses designed to teach geometry. New for 2018, the Children's Museum recently opened the beautiful Grand Carousel, a stunning, historic carousel once housed at Libertyland amusement park. It's open for rides from 9 a.m. to 5 p.m. each day.
A short trip east of the University, the Dixon Gallery and Gardens offers a collection of paintings focusing on French and American impressionism, including works by Renoir, Monet, and Degas. It also houses an exhibition of 18th-century German porcelain considered to be one of the finest collections in the United States. Stop by to peruse the galleries or enjoy a walk through the lush gardens (especially during tulip season in early spring) before grabbing a bite at the onsite cafe, Park + Cherry.
The Memphis Botanic Garden is open to the public daily and consists of 96 acres of specialty gardens, 29 of them in all. The Botanic Garden features a children's garden, My Big Backyard, which encourages families to learn and play together in a beautiful natural environment. They also hold the "Live from The Garden" series of concerts on the garden grounds, featuring a variety of nationally touring musical acts through the summer and fall.
 
Theatre Memphis is one of the oldest and most successful community theatres in the United States. The building hosts two separate stages and schedules performances year-round, from musicals to dramas and a beloved run of "A Christmas Carol".
And of course, there's always a tour of The University of Memphis or Christian Brothers University. The U of M offers free tours of its Art Museum, which features an Egyptian gallery, African gallery, modern collections, and experimental art installations in the Art Lab. And don't forget to stop by the Tiger Bookstore for all your University of Memphis gear and merch.