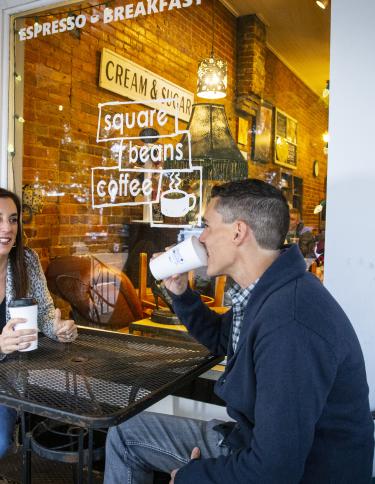 You may think that Midtown or Downtown Memphis is where all the fun is, but if you like your action a little more low-key, then consider chilling in Collierville. Just a short 30-minute drive from the city center, Collierville offers comfortable accommodations, eclectic shopping and plenty of delicious dining options.
Stay
Hampton Inn – This popular hotel is located right on Poplar Avenue, which is one of Memphis' main thoroughfares. Enjoy complimentary, in-room, wireless internet access, state-of-the-art fitness center and swimming pool during your stay. Hampton Inn also offers free continental breakfast and "on the go" breakfast bags if you're in a hurry.
Courtyard by Marriott – This hotel is one-stop shopping as part of the Carriage Crossing outdoor mall. Stay in comfort and then walk right out the front door to shop until you drop. Choose from a cozy guestroom or a spacious suite, and make sure to grab breakfast or dinner at the Bistro, the on-site hotel restaurant.
Days Inn & Suites – This budget and pet friendly hotel is perfect for family travel. Every guest room has free wireless internet, refrigerator and microwave. Start your day with complimentary continental breakfast, then visit some nearby attractions, or enjoy a lazy afternoon by the Days Inn swimming pool.
Play
Harrell Theatre for the Performing Arts – If you love community theater, then this is the place for you. Check out professional productions starring local talent at this 342-seat venue. Previous productions include seminal classics like Oklahoma, Bye Bye Birdie and Seussical: the Musical.
Museum of Biblical History – See stories from the Bible presented in a whole new way at this fun, interactive museum. Take in artifacts that represent thousands of years of biblical history. The museum features a permanent exhibit as well as rotating temporary exhibits, which include biblical art, maps and other documents.
FunQuest – Bowling, roller skating, and laser tag, oh my. Bring the kids to this massive entertainment complex for a rockin' good time. Grab a pizza, a pitcher of beer, and bowl a couple of games or take out your aggressions with a neon-fueled shoot out. FunQuest offers awesome activities for kids of all ages.
Dine
Jim's Place Grille – This family-owned restaurant has been a Memphis staple for 85 years. Feast on chargrilled oysters, pecan crusted catfish, New Orleans-style gumbo and classic Greek fare like souflima and moussaka. Jim's Place also serves delicious, juicy steaks.
Café Piazza – Café Piazza is a cozy Italian eatery in Collierville Town Square and dishes up delicious interpretations of bruschetta, toasted ravioli and spaghetti with homemade meatballs. Or, grab one of their signature pizzas topped with out-of-the-box ingredients like walnuts, crawfish, brie cheese and pulled pork. This popular restaurant is perfect for a quick casual meal or a romantic date night.
Osaka Japanese Cuisine – The menu at Osaka was crafted by master sushi chefs and showcases the freshest seafood. You can get classics like California rolls and eel rolls, or be adventurous and order the signature Osaka roll or the sea urchin nigiri. If you're feeling really brave then go for lunch and grab whatever looks good off the sushi conveyor belt. Whatever you choose, you won't be disappointed.
Shop
Carriage Crossing – This luxury outdoor shopping mall houses major department store anchors like Dillard's and Macy's, popular clothing boutiques like Abercrombie & Fitch, New York & Company, Delia's and White House | Black Market. There's also a massage parlor, portrait studio, nail salon and gourmet food emporium.
Collierville Town Square – Quaint and diverse are two words that accurately describe the wares you'll find at the historic Collierville Town Square. Stylish ladies will love Sass it Up Boutique and Hammer Jewelers. Spice up your pad with unique home furnishings from First Fruit Collection, The Brooks Collection and Town Square Antique Mall. Recharge with a massage at Our Little Secret Spa or a relaxing cup of joe at Square Beans Coffee.