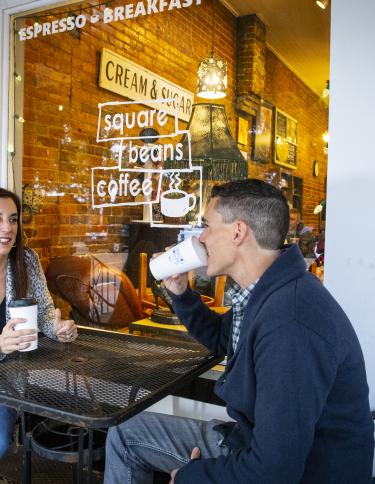 You may think that Midtown or Downtown Memphis is where all the fun is, but if you like your action a little more low-key, consider chilling in Collierville. Just a short drive from Memphis, this town offers comfortable accommodations, eclectic shopping and plenty of delicious dining options. Center your visit around historic Collierville Town Square for proximity to attractions and year-round events.
Plan Your Morning
Yoga
Start your morning with a yoga class from Collierville Yoga. Whether you're enjoying the views of Town Square with Yoga in the Yard or practicing in-studio, this is the perfect start to your Collierville adventure.
Breakfast
After yoga, reward yourself with a delicious French pastry from Raven & Lily Restaurant's Baked in Collierville, where you can sample cinnamon rolls, croissants and other delectable goodies. Looking for a heartier breakfast? Raven & Lily also offers weekend brunch with classics like biscuits and gravy, the house omelet and pastrami hash.
Shopping
After breakfast, explore Town Square's shops and boutiques. At Patricia's on the Square, you can browse jewelry, women's and children's clothing and home décor. Shop wall art, candles, dishware and all kinds of home accessories and gifts at The Brooks Collection. Bazaar is your one-stop-shop for olive oils, spices, teas and cooking accessories.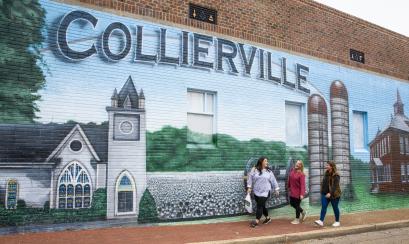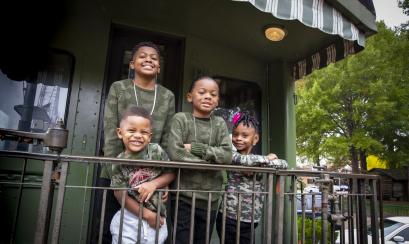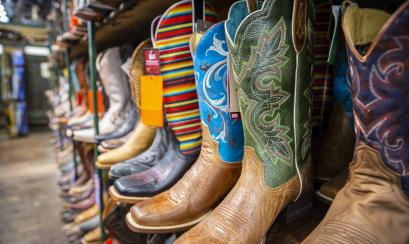 Afternoon Activities
Lunch
Work up an appetite with all that shopping? Grab lunch at the Silver Caboose. Built in 1890, this structure has a storied past as a grocery store-turned-auto shop. Now, you can grab a soda or milkshake to go along with your mouth-watering sandwich, burger or meat-and-two combo at this old-fashioned soda bar.
Landmarks & Attractions
Town Square is teeming with landmarks. Visitors love seeing and posing for pictures with the 1351 Frisco steam locomotive and its three accompanying vintage train cars. If you're interested in learning more about the train, stop by the Morton Museum. At this free history museum, you can explore the history of the 1351 Frisco, Collierville railroads and more of the town's past. Also on Town Square, you'll find the log cabin Stage Coach Stop. The structure dates back to 1851. Afterward, be sure to pop over to the Collierville mural for an Instagram-worthy selfie.
Enjoy Dinner, Live Bluegrass & More
Dinner
If you're looking for more live music, Highlander Pub is the perfect spot for dinner. This Scottish pub features live musicians and bands almost every weekend. No one playing the night you're in town? No problem. Grab an order of fish and chips or the BBQ Tomahawk pork chop, while enjoying a craft cocktail or pint on the pub's patio. Mensi's Dairy Bar is a must for dessert. Right off of Town Square, this Collierville favorite offers cake, ice cream, milkshakes and coke floats. 
Special Events
Collierville features family-friendly events year-round, but the city really comes alive between Thanksgiving and Christmas. Return for details on annual celebrations including "A Quarter of a Million Christmas Lights" light display, carriage rides, a storefront decorating contest, Holiday Photo Stroll, shopping open houses and Girls' Night Out.
Any time of year, if it's Friday night, keep an ear out for bluegrass. Around 6:30 p.m. each Friday, a group of local musicians gathers for the Collierville Town Square Bluegrass Jam – a weekly tradition running for over 20 years.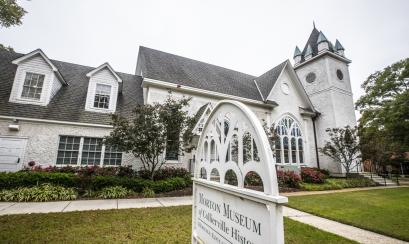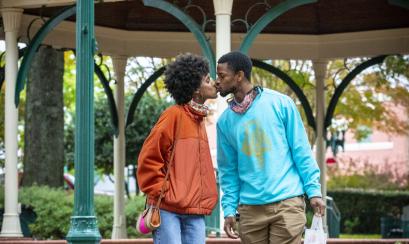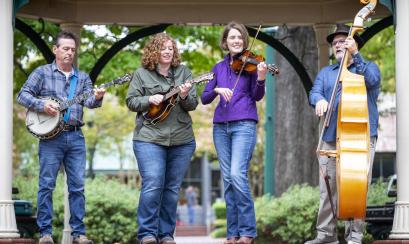 More Spots to Eat, Stay & Shop
On and around the Square, you'll find additional options for dining, accommodations and shopping in Collierville. 
Collierville Accommodations
Hampton Inn – This popular hotel is located right on Poplar Avenue, which is one of Memphis' main thoroughfares. Enjoy complimentary, in-room wireless internet access, state-of-the-art fitness center and swimming pool during your stay. Hampton Inn also offers free continental breakfast and "on the go" breakfast bags if you're in a hurry.
Courtyard by Marriott – This hotel is one-stop shopping as part of the Carriage Crossing outdoor mall. Stay in comfort and then walk right out the front door to shop until you drop. Choose from a cozy guestroom or a spacious suite, and make sure to grab breakfast or dinner at the Bistro, the on-site hotel restaurant.
Fairfield Inn & Suites – This new hotel is also located on-site at The Carriage Crossing mall, giving you plenty of shopping and dining experiences just steps from your comfortably elegant accommodations. 
Collierville Restaurants
Jim's Place Grille – This family-owned restaurant has been a Memphis staple for 85 years. Feast on chargrilled oysters, pecan-crusted catfish, New Orleans-style gumbo and classic Greek fare like souflima and moussaka. Jim's Place also serves delicious, juicy steaks.
Square Beans – Stop by the only locally owned coffee shop in Collierville for specialty coffees and delicious breakfast sandwiches and pastries.  
Gus's – People travel from near and far to experience Memphis' famed fried chicken establishment, Gus's World Famous Fried Chicken. But if you're staying in Collierville, you won't have to drive very far to get your hands on this delicious, spicy fried chicken thanks to Collierville's very own Gus's location. 
Dyer's – Cooking up mouth-watering burgers in the Memphis area for over a century, Dyer's Café is a must. These world-famous burgers are fried in a skillet using "ageless grease" from when the burger joint first opened. 
Collierville Shopping
Carriage Crossing – This luxury outdoor shopping mall houses major department store anchors like Dillard's and Macy's, and popular clothing boutiques like H&M, Forever 21, Francesca's and Loft. There are also a massage parlor, nail salon and fantastic dining options.