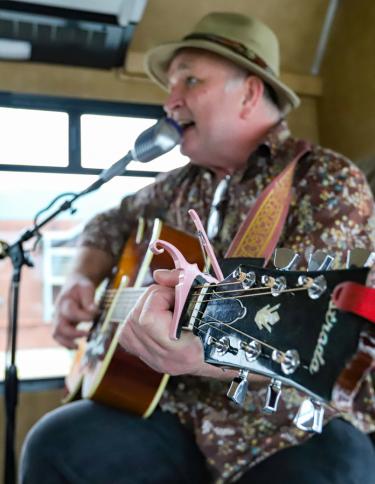 Whether you love to explore on your own or prefer seeing the sights and attractions with a group, Memphis has plenty of tours that'll fit your style and needs! From guided sightseeing excursions to the best music tours in Tennessee, check out these Memphis tours for your chance to see what this city is all about. 
Music Tours Of Memphis
Whether you're touring solo or you have enough traveling companions to form a band, pick up a Backbeat Tour on Beale Street and hop aboard their vintage tour bus. These tours have been classified as rolling concerts, so you'll need your instrument (don't worry, they've got you covered) and a camera to capture the good times. Backbeat gives one of the more unique and entertaining views of our great city and takes guests past sites like Sun Studio, Stax Museum of American Soul Music, historic Beale Street and the childhood homes of Elvis Presley, B.B. King and Johnny Cash.
Cruise around town on Classic Memphis Tours' "Intro to Memphis." You'll learn about the unique history of Memphis and how its music legends got their start while seeing the sights along the way. Rock 'n' roll- and Elvis-themed car tours, as well as walking tours, are also available.
Elvis fans will love Memphis Road Tours. See the King's favorite spots and significant places in his life while also learning a great deal about Memphis history. Plus, this tour offers convenient hotel pick-up and drop-off for its guests! Try Graceland Excursions for a chance to see significant Elvis sites outside of Memphis, including his boyhood home in Tupelo and a Mississippi Delta music landmark tour. 
STAX, WDIA, BEALE STREET & MORE
FEDEXFORUM ART CELEBRATES MEMPHIS' BLACK MUSICAL ROOTS
Ghost Tours
In a city with as much history as Memphis, you're bound to hear a few ghost stories during your visit. Historical Haunts knows all of the most haunted places in Memphis and they offer guided tours with plenty of spine-tingling tales. Try their Haunted Memphis Bus Tour, or have a pint with your spectral stories during their Haunted Pub Crawl. They also offer walking tours downtown and ghost hunts at Memphis' historic Victorian Village mansions. Backbeat Tours also offers a two-hour walking ghost tour you won't want to miss. 
Food & Drink Tours
Foodies will love Tastin' 'Round Town.  Meet the chefs and try local favorites while learning about Memphis' highly rated food scene!
Memphis' microbrewery scene continues to grow, and the Memphis Brew Bus is one way to experience the local craft beer without having to drive yourself. On the bus, you'll stop at three of Memphis' favorite taprooms, sip pints, and meet with the local brewers and experts that make the city's beer unique. In between stops, the tour offers beer knowledge, trivia, and a soundtrack of Memphis music. Can't get enough craft beer? Visit any of Memphis' craft breweries for guided tours and tap room access.  And don't forget about Memphis' very own distillery, Old Dominick. Learn the story of a spirit brand that dates back to the 1800s while trying them yourself.
If you're more of a wine person, the Stemmed Glass Wine Tasting & Winery Tours are perfect for you. Try wines from different Tennessee wineries, as well as wineries from around the nation.
Tours By Bus
Memphis offers a variety of themed bus tours, from music to Memphis history and Graceland. Grab a shuttle bus to the Tunica casinos for some gaming with Blues City Tours. Explore civil rights and African-American culture that shaped Memphis with Heritage Tours and A Tour of Possibilities. Along with its stellar music tours, Backbeat Tours also offers a three-hour Memphis attractions tour, the Memphis Discovery Tour, where guests will shop at Lansky Brothers (clothier to Memphis music legends including Elvis), grab a bite from Central BBQ and visit the historic Peabody Hotel among other Memphis landmarks. Memphis Best Tours also offers a three-hour city attraction tour which includes sites like The Lorraine Motel, The Pyramid, Beale Street and so much more, 
No car, but want to see the city? Get on board with the Memphis Hop. This shuttle loops around to eight Memphis attractions every hour. Spend as much time as you want in each attraction and catch the next bus to move on at your own pace. The Memphis Hop operates Wednesday - Saturday each week, and daily passes are $40 for adults. Get the details at MemphisHop.com.
DIY Tours
Want to take a tour at your own pace? The Memphis Heritage Trail is a self-guided tour of historic landmarks that celebrate the African American achievements in Memphis.  You can follow themed loops such as the civil rights loop or take on the entire trail using the free app as your guide. The Memphis Women's Legacy Trail is another fantastic option for a self-guided tour. The trail features 25 stops recognizing impactful Memphis women. 
Got a dollar in your pocket? Well, that's enough to get you a ride on the downtown trolleys. You'll boogie past shopping, restaurants, historic attractions and art galleries. If you take the Main Street Trolley, hop off at the corner of Main and G.E. Patterson to have a bite to eat at The Arcade Restaurant, the oldest restaurant in Memphis. If you're in town on the last Friday of the month, the trolley rides on South Main are free, music fills the air and galleries fling open their doors to display their local art.
Looking for a unique, exciting tour of the city? Game lovers will have a blast with Amazing Scavenger Hunt Adventure - Memphis. Explore the city and discover its landmarks through a series of riddles and clues on this three-hour tour. 
Tours by Car and Carriage
From a 1955 Cadillac, Tad Pierson takes you on a journey like you've never experienced. His American Dream Safari company offers themed rides, including Juke Joint Full of Blues, a Delta Day Trip and a soul-soothing Road Therapy Tour. Tad has done personal tours for some very influential folks, as his car's autographed door panels would indicate, and his rich historic and cultural knowledge are as vast as the Mississippi River is long. 
Spend any amount of time in downtown Memphis, and you'll surely come across a carriage. Saddle up for a horse-drawn carriage tour with the family, or choose a romantic after-dinner trot exploring the heart of downtown. You'll get your own driver for these one-hour tours (with their ever-present canine companions), giving you a spin on the Memphis scene. Book your tour with Carriage Company.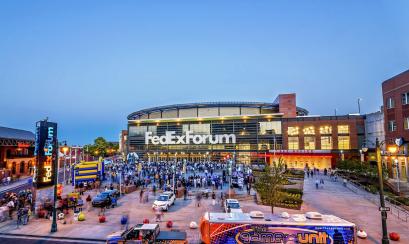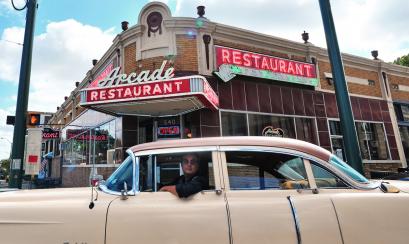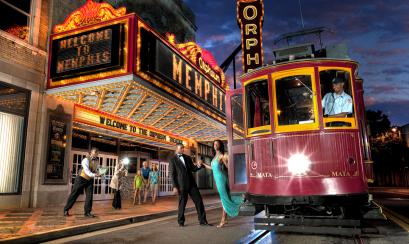 Behind-The-Scenes Tours
Are you a sports fan? Go behind the scenes of the city's biggest sports arena with FedExForum Tours. On these tours, visitors will explore the home of the Memphis Grizzlies (NBA). 
Theater lovers will adore tours at The Orpheum Theatre. Visitors will explore over 90 years of theater history, as well as the Halloran Centre, where the theater's educational programs are conducted. 
Visit the Overton Park Shell Backstage Experience, the new tour tells the story of a young Elvis Presley exploding Live Rock 'N' Roll onto the world's stage there on July 30, 1954. Built during the Great Depression, The Shell has weathered many ups and downs, entertaining Mid-Southerners from World War II through the controversial (and LOUD) classic rock era of the 1970s, until today, where The Shell still hosts 50 free concerts a year of all genres. 
Party Bike Tours
Another way to get around is by bike. But why bike solo when you can bring all of your friends? Have a party on wheels with Sprock n' Roll and River City Pedalers. These 16-person pedal-powered bicycles will take you around downtown or midtown.