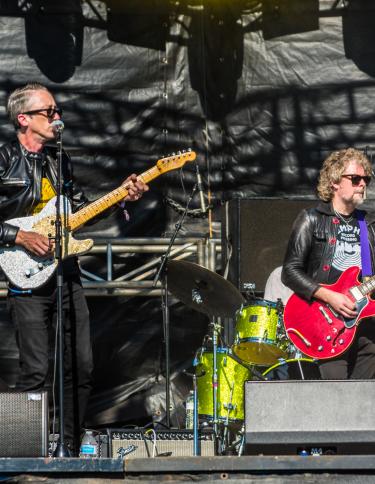 If you want to try playing like a rock star, Memphis is a perfect place to start. B.B. King, Eric Clapton, Dizzy Gillespie and Donald "Duck" Dunn all played guitars made right here in the Bluff City, a legacy that inspires modern-day musicians (think local rockers like John Paul Keith, who channels guitar icon Roland Janes, and Steve Selvidge, a second-generation Memphis musician who now plays guitar with The Hold Steady). We may not be able to give you their talent, but we can make sure you have the proper gear and inspiration to help you rock all night long, plus souvenirs from T-shirts to art prints. 
Memphis Guitar Spa and Ferner Fine Instruments
It's a musician's mecca under one roof for guitarists and bassists visiting Memphis Guitar Spa and Ferner Fine Instruments in the Broad Avenue Arts District. See and feel the difference while testing your skills on a custom-built Ferner guitar or bass. Once you own one, you might feel like gigging musicians such as Justin Timberlake's Tennessee Kids bandmates Mike Scott and Elliot Ives, who play Ferner instruments. Luthier and owner Kevin Ferner's crew at Guitar Spa do custom maintenance work and keep the specialty finishes on beautiful creations looking brand new.
Memphis Drum Shop
Get ready to hear the crash of cymbals, drumsticks keeping lively beats and the bellows of gongs at Memphis Drum Shop in the Cooper-Young neighborhood. The shop is a drummer's dream store, no matter if you're a pro (touring musicians stop in on the regular), still struggling with technique or just love the sounds. Sit in on a clinic or master class to get tips from those who do it best. Look at the latest percussion equipment and accessories, but also see displays of vintage drums and gear. Check the calendar as top-notch drummers often perform live – and do livestreams – in the Soundstage upstairs. Buy an official Memphis Drum Shop T-shirt or baseball cap to remember your visit.
DittyTV's Vibe & Dime
Lovers of Americana and Roots music should get to DittyTV's Vibe & Dime store in the historic South Main Arts District in Downtown Memphis. Listen to tunes, buy vinyl records and peruse fun merchandise such as music-themed clothing, books, artwork and collectible concert posters, as well as instruments. The shop is operated by the nonprofit Ditty Foundation, and all of the proceeds help preserve the music genres they're most passionate about. After you leave, you'll certainly be missing the mojo of the shop, so tune in to the DittyTV network's virtual live streams and regularly scheduled programs from any place at any time. Concerts are recorded live in Memphis.