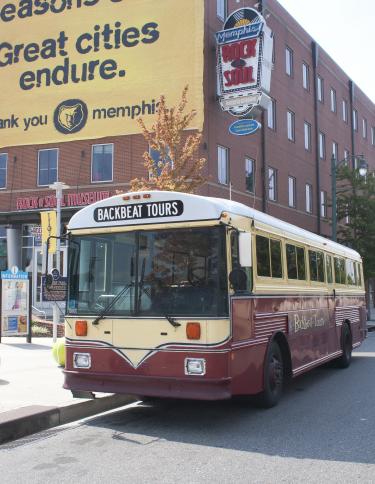 Downtown Memphis PARKING:
TENNESSEE STATE WELCOME CENTER
119 N. Riverside Drive
There are reserved bus parking spaces at the visitor center on Riverside Drive. These spaces are not available for overnight parking.
MARTIN LUTHER KING JR. BOULEVARD
Parking facility located on Martin Luther King Blvd. directly south of the Gibson Guitar Factory
BUS LOT 0530
95 S. Fourth Street
877-717-0004
Two-hours: $5, Out by 12 a.m.: $20, Overnight: $15
 
BASS PRO SHOPS AT THE PYRAMID
1 Bass Pro Drive
Buses are allowed to park in their lots during daylight hours.  
FEDEXFORUM
191 Beale Street
There are multiple parking lots within a quarter of a mile radius of FedExForum  totalling more than 6,000 spaces. 
SOUTHLAND PARK GAMING & RACING
1550 N. Ingram Blvd. 
West Memphis, AR 72301
800-467-6182
Parking arrangements must be made in advance by contacting [email protected].
east memphis PARKING:
These facilities offer motorcoach parking for groups using their facilities
GAMEDAY BASEBALL
7800 Fischer Steel Road
901-531-7410
MIKE ROSE SOCCER COMPLEX
9000 E. Shelby Drive
901-751-4223
AGRICENTER INTERNATIONAL
7777 Walnut Grove Road
901-757-7777
LIBERTY BOWL MEMORIAL STADIUM
335 S. Hollywood Street
901-729-4344
Arrangements must be made in advance.
AGRICENTER RV PARK
7777 Walnut Grove Road, Memphis TN 38120
901-355-1977
$2 dump station fee
ELVIS PRESLEY BLVD RV PARK
3971 Elvis Presley Boulevard, Memphis 38116
901-332-3633
$10 dump station fee
LOVE'S TRAVEL STOP
3371 Lamar Avenue, Memphis TN 38118
901-433-7205
$10 dump station fee
MEEMAN-SHELBY FOREST STATE PARK
910 Riddick Road, Millington, TN 38053
901-876-5215
$5 dump station fee