About Memphis Music
Memphis musicians are setting new creative standards, bending and blending classic genres. Start here to learn about some of Memphis' most influential genres, and some fresh artists carrying the torch.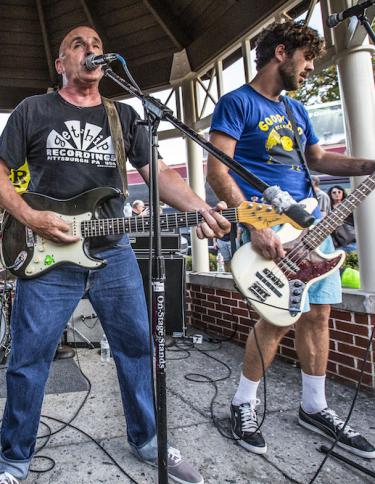 Rock N Roll is a feeling, a groove, and a core part of Memphis culture. In the early twentieth century, African American blues and gospel music, blended with American country music in Memphis at Sun Studio in the 1950's. The new sound was rock n roll, and it represented the spirit of youth around the world. In the 60's and 70's, Memphis musicians like Big Star, The Gentry's, The Boxtops, and others kept the groove alive recording hits at Ardent Recording Studio and Sam Phillips Recording Service.
Check our list of live music events to find out where current Memphis rock N roll and punk bands like Lucero, The Oblivians, and Aquarian Blood are playing while you are visiting.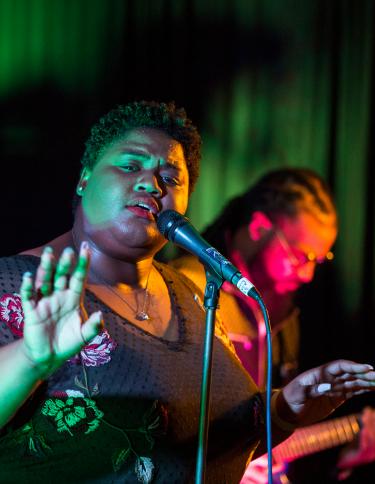 In the 60's and 70's, Memphis was a vehicle for the sound of soul music becoming popular around the world. Jim Stewart and Estelle Axton started the Stax Record Company in Memphis in the early 60's and recorded legends like Otis Redding, Rufus Thomas, The Staple Singers, and others. The Memphis Sound is a term used to describe the Southern soul genre, and is decidedly the sound of our city. 
Today, Memphis hosts two soul music festivals, and is currently home to traditional and neo-soul and Funk musicians like Talibah Safiya, Life Explicit and Memphis' favorite Booker T & The MG's tribute band, The MD's.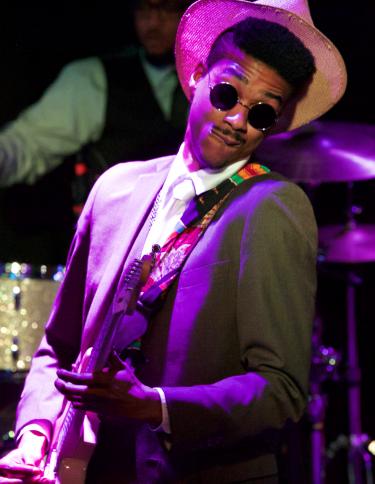 Memphis blues is the folk music that evolved from farm and fieldwork songs at the turn of the century. Key elements of the genre are a trance-like rhythm, call and response lyrics, and "blue notes", or notes that are slightly off pitch that are used to evoke emotion. Beale Street, one of America's first African American entertainment districts, is known as The Home of The Blues and is where Memphis Blues legend W.C. Handy penned "Memphis Blues", and propelled the genre into the mainstream. Blues legends like Furry Lewis, Little Junior Parker, B.B. King, Howlin' Wolf, Walter Horton, Joe Hill Louis, and many others all recorded in Memphis and regularly performed on Beale Street in its heyday. 
Look for live music performances with a Memphis blues groove current Memphis artists like Ghost Town Blues Band, The Bluff City Backsliders, Jason Freeman, PRVLG, and others in our live music listings.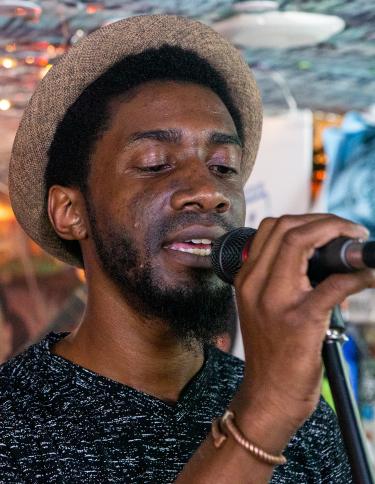 Southern Gospel music is responsible for major contributions to rock n roll, soul, and country music. Memphis Gospel recorded in the mid-century by artists like Elizabeth King and others had a sound a lot like soul music. Legends like The Staple Singers, Elvis Presley, and Al Green all have roots in Southern Gospel.
Every Sunday, Al Green's Full Gospel Tabernacle Church hosts a service where all are welcome. Memphis based gospel label, Bible and Tire Recording, launched in 2019 and released an acclaimed soul & gospel record with a vintage sound by the Sensational Barnes Brothers.
MEMPHIS MUSICIANS TO KNOW:
Memphis rap and hip hop became mainstream in the late 80's and early 90's with the popularity of the mixtapes of DJ Spanish Fly, Gangsta Pat and releases by Memphis' Eightball & MGJ, and Al Kapone. In 2006, Memphis based artists Three 6 Mafia won an Academy Award for the Best Original Song for the song "It's Hard Out Here For A Pimp", written for the motion picture Hustle & Flow. 
Today, Memphis rap & hip hop remains at the forefront of our musical identity. Current Memphis artists like Yo Gotti, Young Dolph, Tay Kieth and others continue to influence mainstream rap with the Memphis style, known for heavy high-hat track beats. James Dukes, AKA IMAKEMADBEATS, is the producer and recording engineer responsible for Memphis' hip-hop, rap, & R&B label Unapologetic. Keeping in time with Memphis' history of breaking tradition, the label encourages artists to make music that is unique to themselves, without heeding any existing bounds of the Memphis rap and hip-hop legacy. 
MEMPHIS MUSICIANS TO KNOW:
Beginning In the 30's, Middle Tennessee's WSM radio tower boasted 50,000 watts and brought legendary country music programs like the Grand Ole Opry to Memphis' ears. By the 50's, country music was blending with other influential genres in Memphis and the grittier style of more rebellious country music could be heard in the Sun Studio recordings of Johnny Cash, Jerry Lee Lewis, Carl Perkins, and Elvis. More traditional country recordings by artists like Ernie Chaffin, and Charlie Feathers were rare for the Sun Studio and the Memphis sound.
While Country music may not be the first thing you think of when you come to Memphis, local Memphis artists like John Paul Kieth, The Brandon Cunning Band, and even Texas music legend Dale Watson call Memphis home. Watson refurbished Hernando's Hideaway, a legendary Memphis music venue in 2019 and hosts Americana artists weekly. Memphis also hosts the annual Ameripolitan Awards. Part festival, part awards ceremony, Ameripolitan brings Americana music fans together from all around the world.
MEMPHIS MUSICIANS TO KNOW: