The Wizard of Oz
Nov 11, 2022 -Dec 22, 2022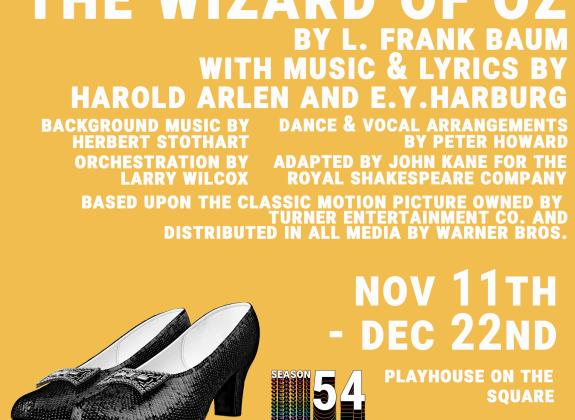 Playhouse on the Square
66 S. Cooper St
Memphis, TN 38104
United States
Nov 11, 2022 – Dec 22, 2022
at 8:00pm to 10:00pm
Nov 11, 2022 at
8:00pm – 10:00pm
Nov 12, 2022 at
8:00pm – 10:00pm
Nov 17, 2022 at
8:00pm – 10:00pm
Nov 18, 2022 at
8:00pm – 10:00pm
Nov 19, 2022 at
8:00pm – 10:00pm
Nov 24, 2022 at
8:00pm – 10:00pm
Nov 25, 2022 at
8:00pm – 10:00pm
Nov 26, 2022 at
8:00pm – 10:00pm
Dec 1, 2022 at
8:00pm – 10:00pm
Dec 2, 2022 at
8:00pm – 10:00pm
Dec 3, 2022 at
8:00pm – 10:00pm
Dec 8, 2022 at
8:00pm – 10:00pm
Dec 9, 2022 at
8:00pm – 10:00pm
Dec 10, 2022 at
8:00pm – 10:00pm
Dec 15, 2022 at
8:00pm – 10:00pm
Dec 16, 2022 at
8:00pm – 10:00pm
Dec 17, 2022 at
8:00pm – 10:00pm
Dec 22, 2022 at
8:00pm – 10:00pm
Price:
$30
Pay-What-You-Can Performance on Thursday, November 17th
Based on the classic motion picture, young Dorothy Gale and her dog Toto are swept away in a tornado to the magical land of Oz. In a plot of twists and turns, Dorothy's amazing adventure returns to Playhouse on the Square.  There is indeed no place like home! This revival is perfect for the entire family. *School matinee performances available
Performances will run Thursday - Saturday 8:00 pm curtain and with 2:00 pm on Sunday from November 11th - December 22nd, 2022. For tickets, call the Box Office at (901) 726-4656 or visit our website. Group rates are also available. 
For questions and booking, please contact Playhouse on the Square Director of Community Relations, Marcus Cox (901) 937-6496.