Alice's Adventures at the Garden at Memphis Botanic
A new walk-through immersive art experience is happening in Memphis this year!
Through October 31, 2022, you can walk through Alice's Wonderland at the Memphis Botanic Garden! The exhibition includes larger-than-life Alice In Wonderland themed sculptures, including The Red Queen, Alice, The Chess Set, and The Cheshire Cat.
These sculptures are creating using mosaiculture, the horticultural art of creating giant topiary-like sculptures using thousands of annual bedding plants to carpet steel armature forms. This exhibit was originally installed at the Atlantic Botanical Garden—Memphis will be the second city to host Alice and her friends, which is pretty cool.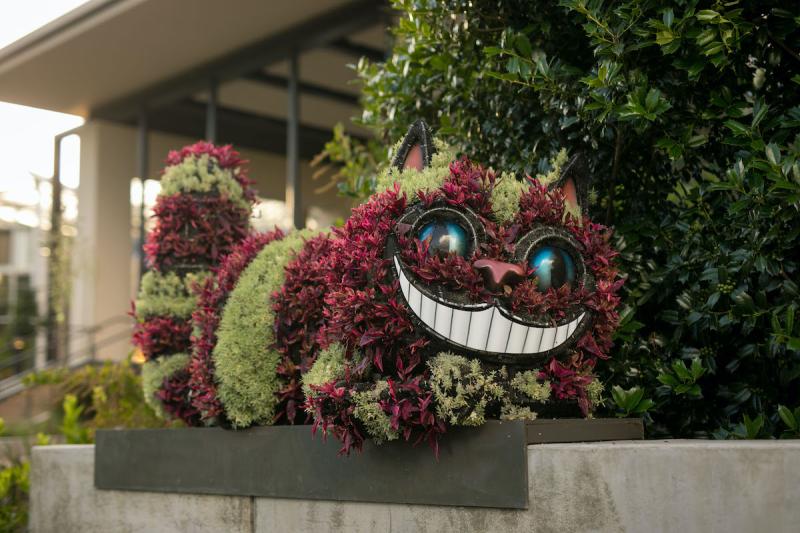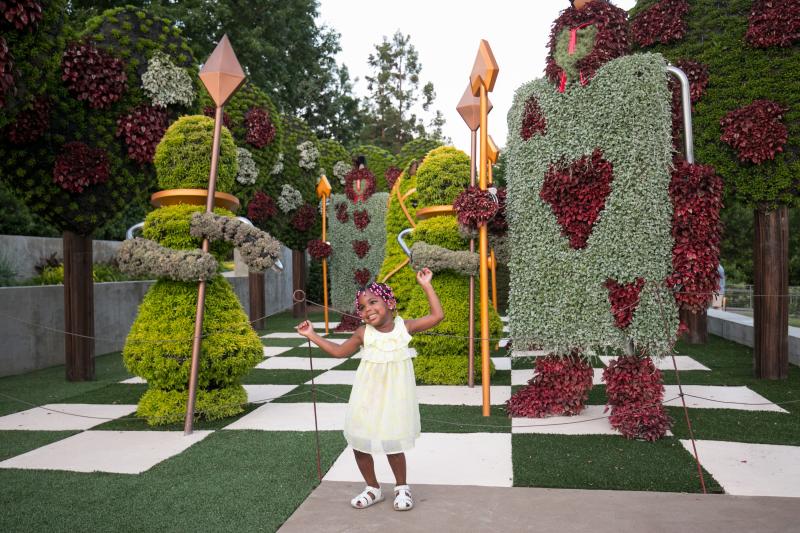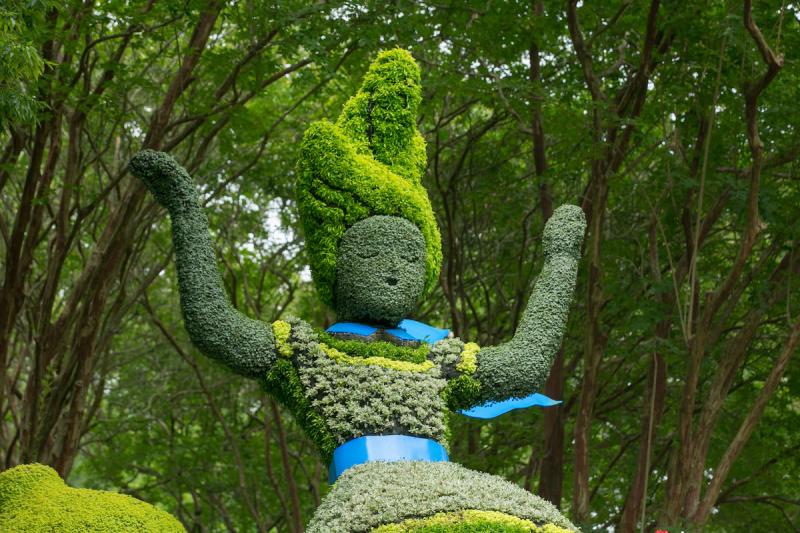 Alice's Adventures at the Garden will be open May 8 through October 31. As a part of Holiday Wonders at the Garden, the Alice's Adventures installation will remain at the Garden through the holiday season in 2022 with special lighting. 
Alice's Adventure Special Events and Date Nights
The Botanic Garden will also host Alice-themed programming including family-friendly tea parties, story-times, and special Wonderland date nights. Every Thursday May 12 through October 31, the Garden is open late for dog-friendly hours, food trucks, and a cash bar with curious (and curiouser?) cocktails. 
The Garden will also distribute at least 10,000 books to school children with support from local sponsors. 
See the events on the Garden's Facebook page.
Ticket Information 
MBG members have free, unlimited access to the exhibition. For non-members, you'll need to reserve your timed tickets online in advance.
Non-Member Prices
$12 adults
$10 seniors (62+)
$7 children (2-12)
Free children under 2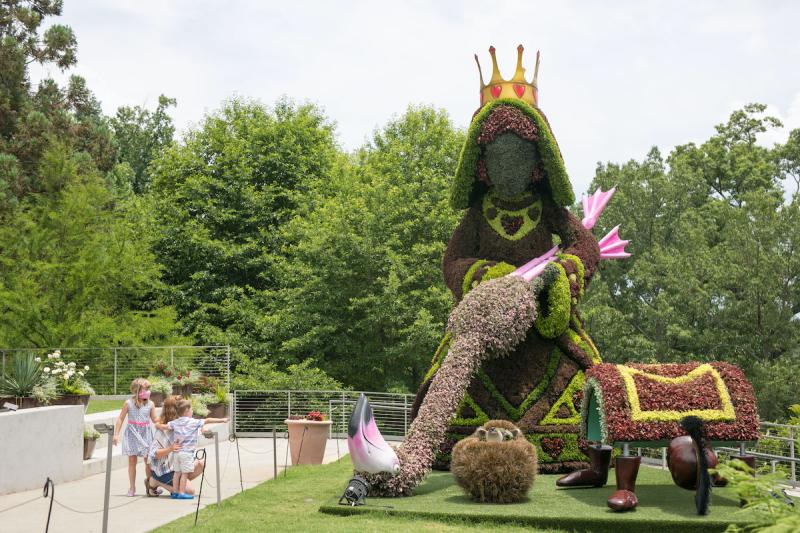 Alice's Adventures at the Garden Special Events Schedule
May
● Members Only Preview Days: May 6 & 7
● Thursdays beginning May 12 from 5-8 pm: Twilight Thursdays
● Adventure Saturday: Paint the Roses Red
● Saturday Storytime
● Adult Education: Off With Their Heads!: Roses 101
June
● Thursdays 5-8 pm: Twilight Thursdays
● Adventure Saturday: White Rabbit's Carrot
● Saturday Storytime
● Mad Hatter's Family Tea Party
● Rose & Croquet (21+)
● Garden Chat: The Herbal Magic & Mystery of Wonderland
● Adult Education: Wonderland Toadstools, Wonderland Key Hider, Mad Tea Party Charm Bracelet
July
● Thursdays 5-8 pm: Twilight Thursdays
● Adventure Saturday: Time for Tea
● Saturday Storytime
● Family Game Night
● Succulent Teacup Planting Party (21+)
● Garden Chat: Senses Like a Cat
● Adult Education: Wonderland Toadstools, Silly Cheshire Cat Succulent Pots
August
● Thursdays 5-8 pm: Twilight Thursdays
● Adventure Saturday: Blossoming Bookmarks
● Saturday Storytime
● Mini Mosaiculture Family Planting Party
● Cocktail Garden Planting Party (21+)
● Garden Chat: Creating a Backyard Wonderland
● Adult Education: Wonderland Toadstools, Wonderland Key Hider
September
● Thursdays 5-8 pm: Twilight Thursdays
● Adventure Saturday: Alice's Tiny Adventures
● Saturday Storytime
● Mad Hatter's Family Tea Party
● Tipsy Tea Party (21+)
● Garden Chat: Butterflies & Caterpillars
● Adult Education: Wonderland Toadstools, Silly Cheshire Cat Succulent Pots
October
● Thursdays 5-8 pm: Twilight Thursdays
● Adventure Saturday: Disappearing Act - Camouflage in the Garden
● Saturday Storytime
● Halloween Hike
● Wonderland Fairy Garden Planting Party (21+)
● Alice's Ales (21+)
● Garden Chat: Plants of the Queen
● Adult Education: Growing Mushrooms at Home