Take In The View At These Memphis Rooftop Bars
Turn it up at these rooftop bars in Memphis.
The Peabody Rooftop is on the top floor of the hotel, and you're in the heart of downtown with great views of the city skyline and sunset. Sunset Social Hours are on for Friday and Saturday nights at the Peabody, 4 p.m. 'til 9 p.m. weather permitting. Sunset Social schedule for the fall of 2022 will be September 2, 3, 9, 10, 16, 24 and 30 and October 7, 8, 15, 21, 22 and 28.
Head up through the Lobby elevators to the roof; they'll have drinks and snacks available, and you might even see the ducks do their march back to their own rooftop palace at 5 p.m.
In the summer, the Peabody Hotel's rooftop parties are legendary! From April through early August, enjoy music or DJs, drinks, food, and a great sunset view every Thursday night. Stay tuned for next year's schedule, to be released in spring 2023.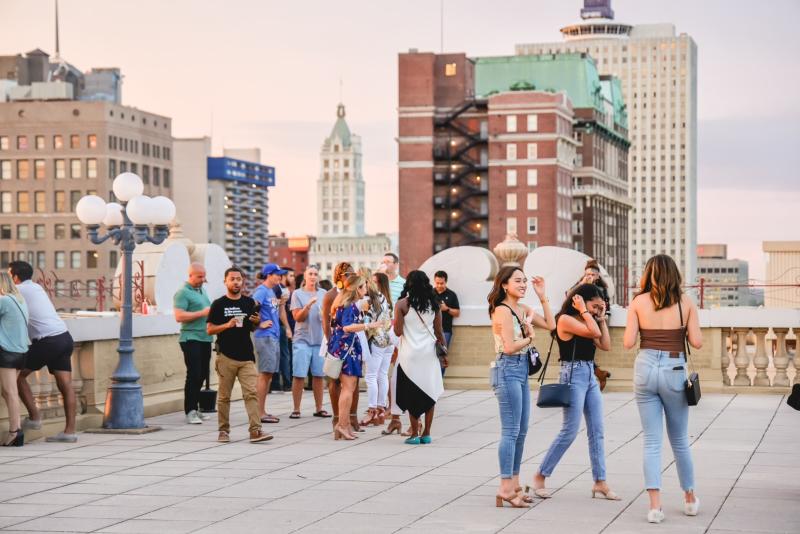 Peabody Rooftop Location: 
Top floor of the Peabody Hotel 
149 Union Ave.
Peabody Rooftop Hours:
Friday and Saturday evenings through October, 4 p.m. - 9 p.m. weather permitting
Thursday night parties, April - August 2023
From the Peabody: "We are only offering our Sunset Social hours at this time. The rooftop is open to visitors from 11 a.m. until 6 p.m. daily (weather permitting). The rooftop is occasionally closed to the public for private parties."
No reservations required.
Parking: There's valet, an attached garage, limited street parking and surface lots in the vicinity. 
Take in panoramic views of the river at Beck & Call, the upscale rooftop lounge on the top of the Hyatt Centric hotel in downtown Memphis. Inside the lounge, sit at the bar or grab a small table, or explore multiple outdoor spaces. There are speciality cocktails ($$$) and a Southern-inspired small plates food menu. 
How to get there: When you go in the Front Street door to the hotel, turn right through the downstairs lounge and keep going to the elevator. There's no dress code but people tend to dress up, think cocktail attire or casual cocktail. On Friday and Saturday nights, there is a $15 cover charge.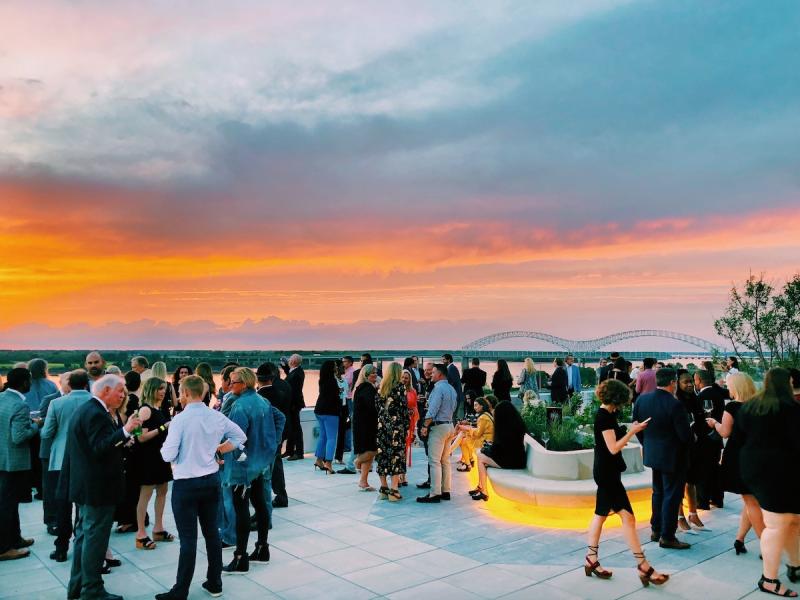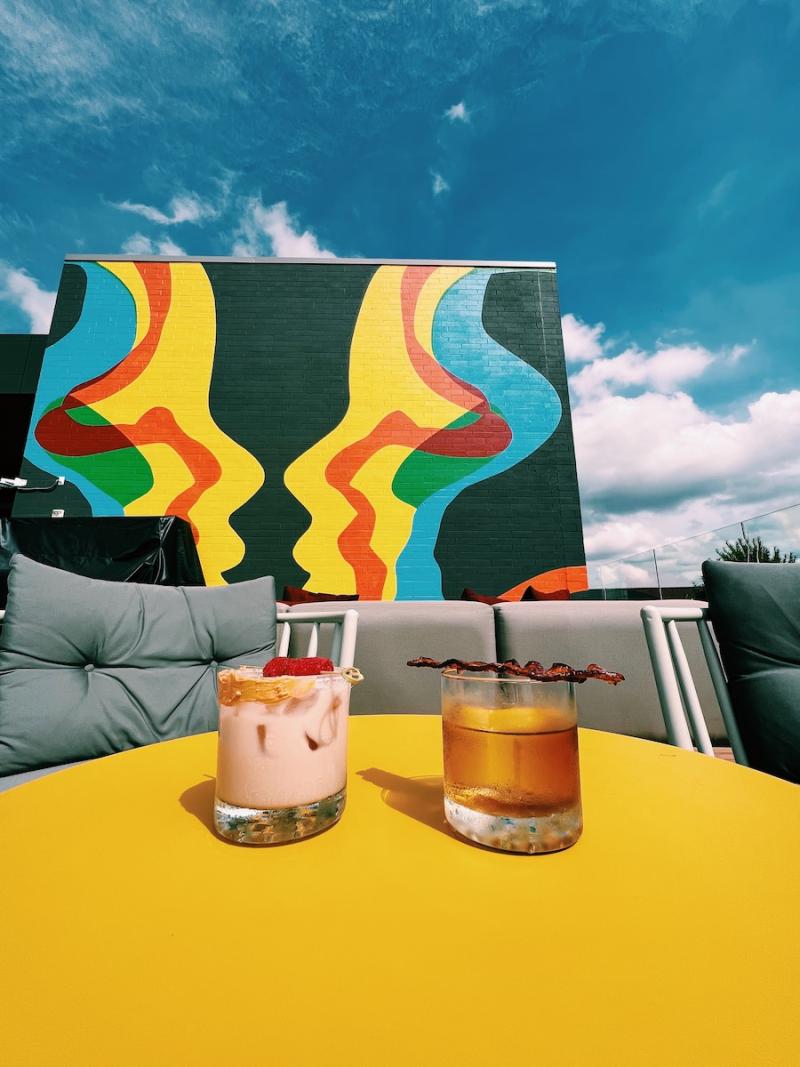 Beck & Call Location: 
Top floor of Hyatt Centric
33 Beale Street
Memphis, Tennessee
Beck & Call Hours: 
Sundays - Thursdays 4 p.m. - 10 p.m.

Fridays - Saturdays 4 p.m. - midnight
First-come, first served. 
Parking: There's valet, street parking in the area, and a paid surface lot across the street.
Tiger & Peabody rooftop lounge and patio is on the top floor of The Memphian hotel in Overton Square. Check out the entertainment district and midtown's streets—plus the street murals on Cooper—while you sip craft cocktails or dine from the small plates menu. 
It's mostly lounge-style seating or bar seating, plus a smaller outdoor area. The decor is lively and colorful, and the vibe is upscale—there's also a "dress to impress" dress code you should check out before you go, and a $25 minimum spend per person. Access Tiger & Peacock through the elevators in the lobby.
Tiger & Peacock location:
Top floor of the Memphian Hotel
21 Cooper Street
Memphis, Tennessee
Tiger & Peacock Hours:
Tuesday - Wednesday: 5 p.m. - 11 p.m.
Thursday - Saturday : 5 p.m. - midnight
Sunday: 5 p.m. - 10 p.m.
Reservations are highly recommended; seating is limited and you may not get a spot, or have a long wait, if you don't reserve.
Parking: There's the Overton Square garage (usually $3 but I've seen it up to $6...) It's painless if you download the app, snag a photo of your car tag, and pay while you walk up to the hotel. Most of the area street parking is reserved for residents, so don't bother.
The Hu. Hotel (formerly the Madison) and the Hu.Roof rooftop bar is open for drinks Monday through Thursday from 3 p.m. to 10 p.m., Friday and Saturday from 4 p.m. to midnight, and Sunday from noon to 6 p.m.
Hu.Roof has a fantastic view of the river, bridge, and nightly Mighty Lights show. There is an indoor/outdoor lounge space.
** I HIGHLY RECOMMEND YOU CALL AHEAD + MAKE BACKUP PLANS IN CASE HOURS OR OFFERING CHANGE WITHOUT NOTICE. FOR THE HU OR ANYWHERE. Just a pro tip :)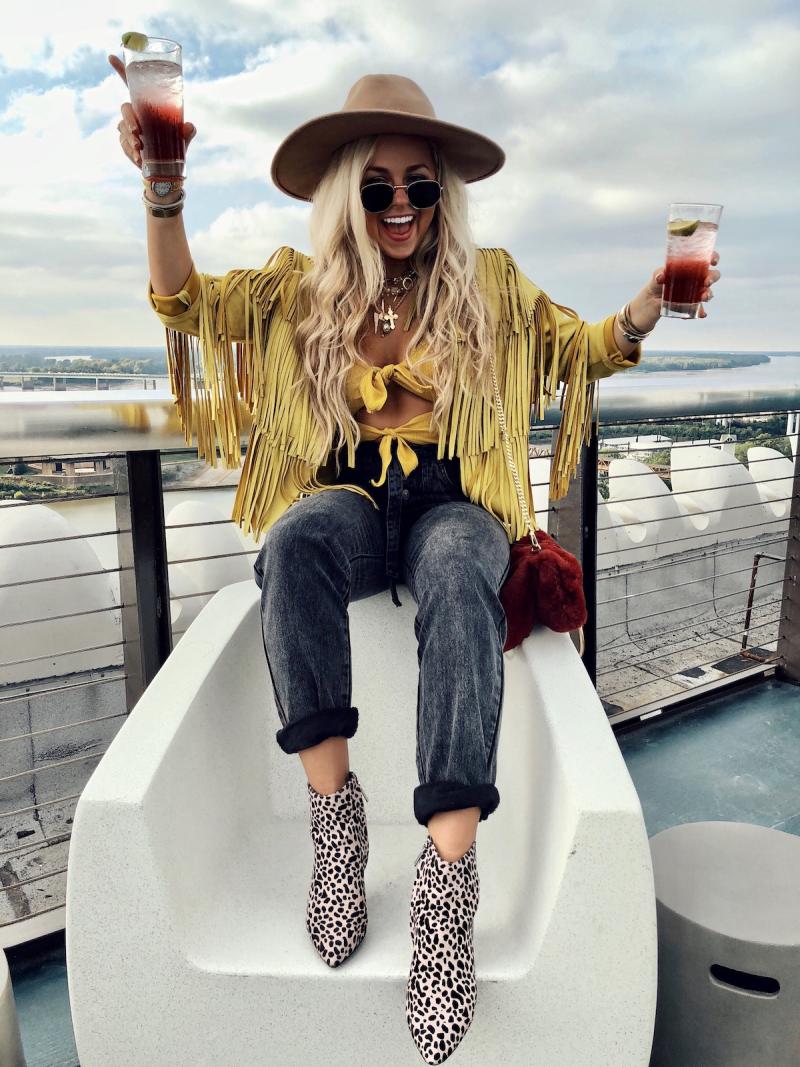 Hu. Roof Location: 
Top floor of Hu.Hotel
83 Madison Ave.
Memphis, Tennessee 38104
Hu. Roof serves drinks and snacks in the evenings, Tuesdays through Saturdays.
Hu. Roof Hours:  *SUBJECT TO CHANGE*** CALL AHEAD
Sunday 12pm-6pm
Monday - Thursday 3pm-10pm
Friday - Saturday 4pm - midnight
Reservations are iffy. Try to call ahead or show up and see / make a backup plan.
Parking: Street parking and garages in the area.
The Mississippi River Terrace at the Pyramid is on the third floor of our city's most recognizable landmark. It's only available to guests of the Pyramid's Big Cypress Lodge luxury hotel UNLESS they are hosting a special event, such as a Friday night DJ or a yoga class. Yoga information as of August 2022 here.
My advice for trying to get access to this Terrace is to follow Big Cypress Lodge on Instagram for updates in case they're having a party.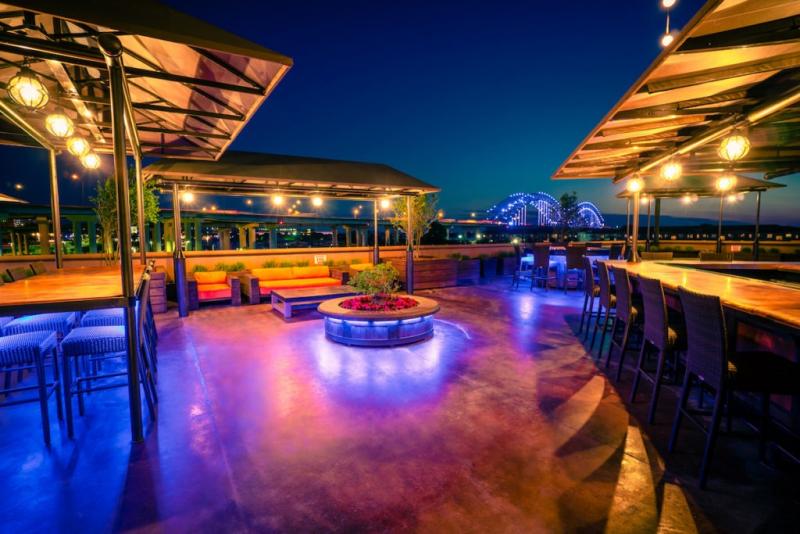 Head over to Harbor Town for a more pastoral view of the Mighty Mississippi at the Terrace at the River Inn hotel. This covered patio is on the top floor of the River Inn boutique hotel—it has a roof over it, but it functions as a rooftop bar. Enjoy cocktails and small plates here while you take in stunning sunsets.
Terrace at the River Inn tends of have lots of specials and three-course meals for holidays, so check their website. Thursday night is Champagne night, with $6 glasses of bubbly from 5 p.m. - 8 p.m. Upscale casual is the vibe.
Terrace at the River Inn Location: 
50 Harbor Town Square
Memphis, Tennessee 38103
Terrace at the River Inn Hours: 
Tuesday - Thursday, 5 p.m. - 9 p.m.
Friday - Saturday, 5 p.m. - 10 p.m.
Sunday, 5 p.m. - 9 p.m.
No reservations; first come, first serve 
Parking: adjacent parking in front and back, leave extra time in case you have to drive around for a space.
Aldo's in Midtown has a cute rooftop patio. This cozy one-story spot serves up some of the city's favorite pizzas, garlic knots, sandwiches, and more, and you can sit on top of the building for a breeze. They usually put up some shade coverings and fans to keep it cool in the summer.
Aldo's Midtown Location: 
752 S. Cooper St.
Memphis, Tennessee 
Aldo's Midtown Hours (subject to change):
Sun-Thurs 11:00 AM - 10:00 PM, Fri-Sat 11:00 AM - 11:00 PM
No reservations, first come, first serve; can fill up fast
Free parking in adjacent lots or streets.
More Rooftop Ideas
Beale Street Landing at Tom Lee Park is a literal grassy knoll that's technically the roof of the building, and it's got a great view of the river and sunset. However, Tom Lee Park is under construction right now so I'd put a pin in this one.
Bass Pro Shops at the Pyramid offers a $8 ($5 for kids) elevator ride to the top of the 28-story pyramid with observation decks. While it's not where I would hang out for drinks, it's worth the price at least once to take in the city from the tippy top. 
Old Dominick Distillery makes their own whiskey, vodka, bourbon, and gin right here in the heart of downtown Memphis. They offer tours and their downstairs bar has reopened with limited hours. They do have a rooftop bar and patio, but it's only open for private events and occasionally as staffing permits. Follow them on social media for updates, and read more about Old Dominick in this blog post about their tours.