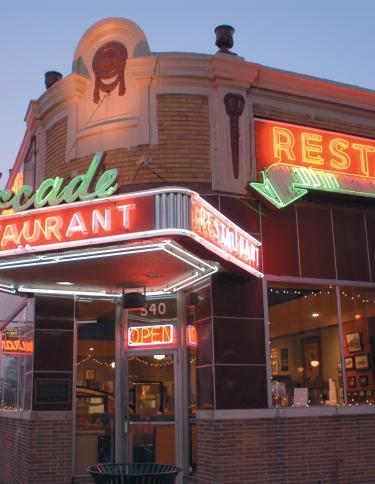 It used to be that people chose a vacation destination based on weather, price and distance. Now people are also considering food. Both the Food Network and the Travel Channel use food as a way to show the unique culture and cuisine of a place. That fundamental change in the way travel is communicated has helped all Southern cities, and Memphis is no exception. Our local restaurants and barbecue joints have been featured hundreds of times on both channels. 
Taking a tour of Memphis food, though, requires some time. And maybe even a pair of sweatpants to accommodate an expanding waistline. Near the University of Memphis, you can get started with a hearty breakfast at Brother Juniper's, a small café that offers everything from Southern staples like biscuits and gravy to vegetarian and soy-based options. The only challenge to eating at Brother Juniper's might be the line of college students looking for cheap good eats.
For lunch, you might want to head over to The Arcade Restaurant. A few blocks away from the National Civil Rights Museum, The Arcade is centrally located at the corner of South Main and G.E. Patterson Avenue. It has its own trolley stop and is a perfect place for visitors to eat with locals. Fare includes everything from burgers and fries to patty-melts and old-fashioned milkshakes. A classic diner experience, The Arcade is well known as one of Elvis' favorite haunts.
And if you've still got room for more good food, no visit to Memphis would be complete without a stop at Gus's World Famous Hot & Spicy Chicken. The name of the restaurant says it all; there's not a whole lot of choice on the menu. This place does one thing, and it does it better than anyone in the city. Fried chicken, fried pickles, French fries and some sweet tea are about as good as it gets in Memphis. If you don't believe us, ask "Man v. Food" star Adam Richman.
In addition to these outstanding establishments, visitors to Memphis should also consider the Blue Plate Café, Bryant's and, if you're up late enough, the soul burger at Earnestine and Hazel's.