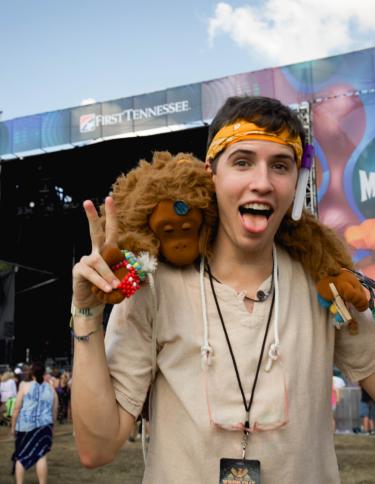 From concerts to foodie feasts, Memphis has a year full of signature festivals, where locals and visitors alike can come together and celebrate the best the city has to offer. Plan your next vacation around one of our signature festivals described below, and if you're specifically interested in food, music or cultural fests, we've got details on those too!
World Championship Barbecue Cooking Contest
May 15-18, 2024
Pitmasters from around the world come to this annual event to show off their skills at one of the country's most prestigious barbecue cooking competitions. Head to Liberty Park to stroll past wildly decorated booths and rigs, where teams compete in tasty categories for big prize money. General admission grants you entrance, but add on a Kingsford Tour of Champions or BBQ Alley experience to sample the goods. Or, splurge on a VIPit pass to get behind-the-scenes access to competitor cooking spaces, demonstrations, a judging class and more. View all ticket options here.

Great American River Run
May 25, 2024
Set a goal and make it happen, whether it's running a 5k, 10k or a half-marathon. Not into running? Come to cheer on the racers. With a course that begins on Beale Street and progresses past some of Memphis' most beloved downtown landmarks, the Great American River Run is a memorable experience whether you run, walk or cheer! 

Memphis In May International Salute To France
May 2024
You know about the concerts and competitions, but did you know that Memphis in May was designed as a cultural exchange between the city and a different honored country every year? This year's honored country is France, so check back for a schedule of exhibits, luncheons, lectures and other activities connecting Memphians and visitors with speakers, artists and celebrities from the honored country.
June - September
Mid-South Pride Parade & Festival
May 30-June 2, 2024
The Memphis Pride Parade is the most colorful and exciting celebration ever to roll down Beale Street. 
JUNETEENTH
June 2024
Come together with vendors, entertainment, food and fun in Health Sciences Park. 
Elvis Week
August 9-17, 2024
Thousands of fans from around the world come together to celebrate Elvis' life and career. The week-long festival brings live music performances, a 5k run, the Ultimate Elvis Tribute Artist Contest and more.
Delta Fair & Music Festival
September 2024
Carnival rides, games, live music and delicious fair food come together for the annual Delta Fair & Music Festival at the Agricenter.
Southern Heritage Classic Weekend
September 12-14, 2024
Thousands cheer on this showdown between Tennessee State University and University of Arkansas at Pine Bluff. Come for the game and experience the lively tailgate parties, special events and live music.
Germantown Festival
September 7-8, 2024
Bring the whole family to this free weekend festival in Germantown featuring artisans, kiddie rides, games, live music, a "Weenie Dog Race" and a car show.
Cooper-Young Festival
September 2024
The trendy Cooper-Young neighborhood transforms into an all-out festival with live music, food vendors, maker booths and more.
Collierville Hot Air Balloon Festival
September 2024
The  Festival brings together more than 20 stunning hot air balloons, live entertainment, food, arts & crafts vendors, and more. Take a tethered hot air balloon ride or snap a picture in front of them.
Mid-South Fair
September/October 2024
Count on thrill rides, funnel cakes, live music and family-friendly shows at the Landers Center in Southaven, Mississippi.
Pink Palace Crafts Fair
September 2024
Browse creations by 150 artists from around the country at this annual tradition at Audubon Park.
Mempho Music Festival
September/October 2024
One of the city's biggest music events, Mempho is three days of national touring acts and local superstars on stage at Radians Amphitheater at Memphis Botanic Garden.
OCTOBER 
RiverArts Fest
October 19-20, 2024
Make your way downtown for this annual arts festival where nearly 200 artists from around the U.S. will be showcasing their works.
Indie Memphis Film Festival
October 2024
Center yourself in the Overton Square Performing Arts District for this showcase of local films.