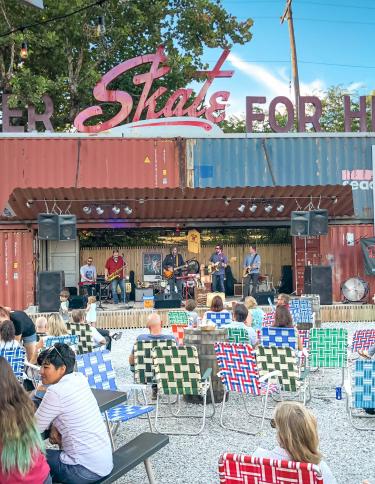 Many cities claim to be live music capitals. Memphis is different. We don't have to toot our own horn (yeah, we said it) so much as tell you to just open your ears and move toward the sound you like, no matter what genre you're into, where you are in town or what day of the week it is. But we do want to help you along by sharing this neighborhood guide to some of Memphis' best live music venues.
But first: Outdoor Music Venues in Memphis
We'll get to the neighborhood guide shortly, but with the weather and volume of events warming up, we can't wait to talk about places to listen to live music outside in Memphis this season. Don't miss:
The Grove at GPAC (1801 Exeter Rd., Germantown) The recent addition of this outdoor space at Germantown Performing Arts Center is made for good weather. Relax on the shaded lawn (with easy access to a bar and food truck corral) as acts like Memphis Harvest Band, Brad Birkedahl and Alexis Grace perform during the venue's Concerts in the Grove series. See the full schedule here. 
Loflin Yard  (7 W. Carolina, Downtown Memphis) This downtown hangout hosts occasional concerts on a sprawling lawn filled with Adirondack chairs and picnic tables. Lounge, enjoy the craft food and cocktail menu and listen to live music (The Bugaloos and Grassfire Bluegrass Band are on tap for May). 
Railgarten (2158 Central Ave., Midtown Memphis) Maybe the only venue where you can listen to live music while playing volleyball in the sand, watching your kids on the playground and ordering tiki bar, ice cream parlor and farm-to-table favorites. Listen up for concerts by touring bands and local acts, say Gregg Clark, Soul Rebels, and Queen Ann Hines. 
Tom Lee Park (Riverside Dr., Downtown Memphis), Memphis' new-look riverfront park, is re-opening just in time for the 2023 Beale Street Music Festival. Get your tickets to see nearly 60 acts across four stages, including The Lumineers, The Roots, Greta Van Fleet, GloRilla, Gary Clark Jr, Robert Plant and Alison Krauss, Earth, Wind & Fire and 311.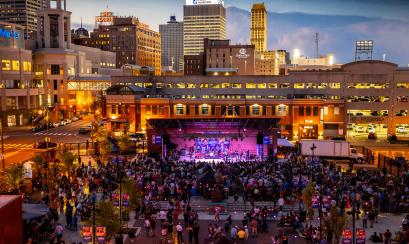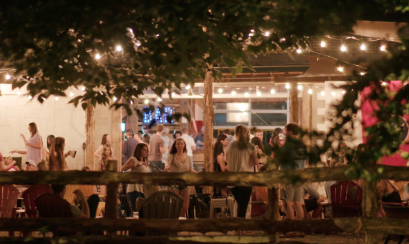 Overton Park Shell (1928 Poplar Ave., Midtown Memphis) Formerly known as the Levitt Shell, Overton Park's historic amphitheater is set to host another summer and fall lineup of free concerts. All ages, blankets and picnics are welcome; just check the calendar and come on down. If you're an Elvis fan, note that this is where the icon performed his first paid gig.
Radians Amphitheatre (750 Cherry Rd., East Memphis) Set inside lush, blooming Memphis Botanic Garden, this newer venue has become a fast-favorite for hosting two major annual music events: the Live at the Garden Concert Series (set for June 3-Sept. 8, 2023) and Mempho Music Festival (set for Sept. 29-Oct. 1, 2023). Between these two music events, acts including Doobie Brothers, Train and The Black Crowes will take the stage in Memphis this year. 
Handy Park (Beale Street, Downtown Memphis) We all love Beale Street's bars, but don't miss this outdoor concert venue right on Beale. Named for the Father of the Blues, W.C. Handy Park features two stages for concert series and impromptu blues jams.
Downtown Memphis & Beale Street Live Music Venues
It was here that the blues found an urban home, having floated up Highway 61 from the Mississippi Delta. W.C. Handy, Memphis Minnie and B.B. King all played regularly here, setting a sonic tradition that later brought Rufus Thomas, Willie Mitchell and other pioneers of Memphis' rock and soul music explosions to listen and perform on the street. Expect live music nightly, a variety of genres and dozens of clubs, including:
B.B. King's Blues Club (143 Beale St.) If Beale Street is ground zero for live music in Memphis, B.B. King's Blues Club is the epicenter. At this de facto gateway to the Beale Street Entertainment District, catch live music daily from stalwarts including Memphis Jones, who tells the story of Memphis music as he sings through its legends' biggest hits, and the Allstar house band, infusing Memphis R&B and soul stylings. 
The Orpheum Theatre (203 S. Main St.) Widely known for its Broadway Series, The Orpheum also hosts globally acclaimed artists under its chandeliered, Art Deco-era ceiling. In 2023, listen for Boys II Men, ZZ Top, Gladys Night and Kansas, among others.
Rum Boogie Cafe (182 Beale St.) When you want to soak in the sounds of Memphis' blues tradition, Rum Boogie's your spot. Heavy-hitters like Vince Johnson, Eric Hughes, Free World and Beale Street Mojo are frequent headliners in this venue decorated with hundreds of autographed guitars and other music memorabilia.  
Halloran Centre (225 S. Main St.) Next door to The Orpheum is its modern, more intimate counterpart. The Halloran Centre hosts concerts by touring artists while shining a light on local talent through Memphis Songwriter Showcases and "Unplugged" concerts by the Memphis Symphony Orchestra.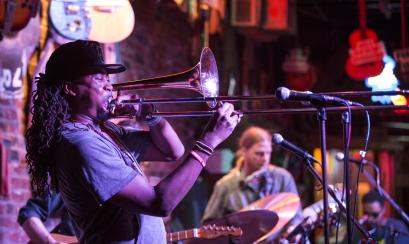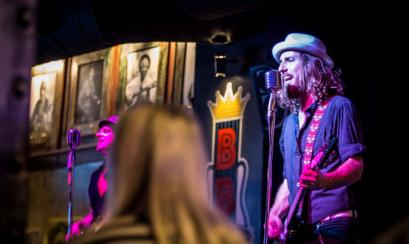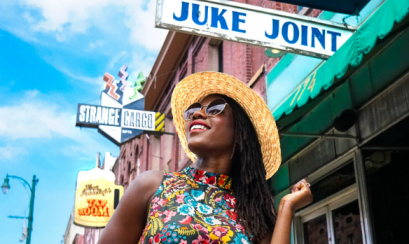 Cannon Center for the Performing Arts (255 S. Main St.) From comedy to ballet, you can find something for everyone on the Cannon Center's events calendar. When it comes to concerts, 2023 promises Memphis Symphony Orchestra, The Champions Tour Concert and Joe Bonamassa
SugaShack (392 Beale St.) Friday and Saturday nights, lean into Memphis' soulful R&B side at this venue that's also a hit for its soul food menu. 
FedExForum (191 Beale St.) The home of the NBA Memphis Grizzlies doubles as Memphis' modern arena concert venue. When the Grizzlies are away, the hoops come down and the big names come in, like Drake, Alicia Keys, Chris Stapleton and Lil Baby in 2023.
South Main Sounds (550 S. Main St.) A place for both up-and-coming and established musicians from Memphis and beyond, this casual, intimate gallery in the South Main Historic Arts District regularly hosts singer/songwriter nights.
Midtown Memphis Live Music Venues
Lafayette's Music Room (2119 Madison Ave. in Overton Square) Daily, and sometimes twice a day, you can catch live music at this landmark that got its start hosting an unknown Billy Joel and recording stars from legendary Ardent Studios just down the street. We recommend Sunday brunch to the jazzy sounds of local guitarist Joe Restivo.
Zebra Lounge (2114 Trimble in Overton Square) Go for the full piano-bar experience.
Growlers (1911 Poplar Ave. near Overton Square) Expect local and regional acts performing energetic shows and fests with start-up charisma.
Bar DKDC (964 Cooper in Cooper-Young) This late-night hotspot with a bohemian air hosts some of Memphis' most original artists. Drop in for a set from local acts like Turnstyles, James and the Ultrasounds and Tyler Keith and the Apostles. 
Young Avenue Deli (2119 Young in Cooper-Young) Anytime is a good time to hang at "the Deli," but check the events calendar before you go: you might be in for some live music with your local-favorite fries. 
The Cove (2559 Broad in the Broad Avenue Arts District) Go for the low-lit, pirate-themed bar; stay for live jazz on Thursdays and Sundays.  
B-Side (1553 Madison between Overton Square and Crosstown) This venue on the intimate side attracts Memphis musicians like Andrew Sheppard, Louder Than Bombs and The Stolen Faces. Find it inside the old Minglewood Hall factory building.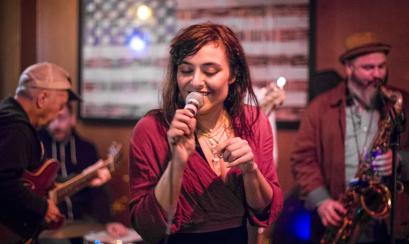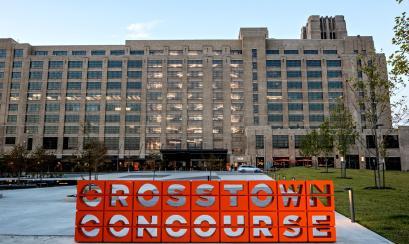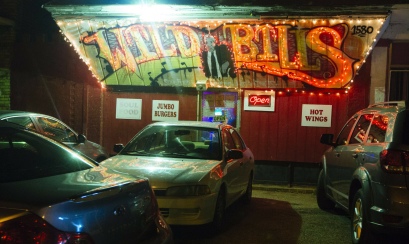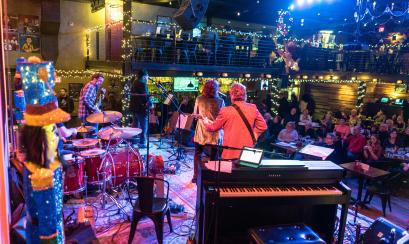 Crosstown-Area Live Music Venues
Crosstown Concourse is a vertical urban village* resurrected from an abandoned, century-old Sears warehouse. The surrounding neighborhood now goes by "Crosstown" in local lingo, and it lies just three miles northeast of Downtown Memphis. 
*You'll find a brewery, bar and restaurants on-site at Crosstown Concourse to round out your night of live music. 
Crosstown Theater (1350 Concourse Ave., on-site at Crosstown Concourse) This black-box theater makes concerts sound impeccable, and special appearances by Memphis-based artists really make it sing. The theater has hosted greats from Big Star's Jody Stephens to Grammy-winning saxophonist Kirk Whalum. 
Green Room (1350 Concourse Ave., on-site at Crosstown Concourse) This cozy counterpart to Crosstown Theater hosts intimate performances by touring artists and locals like Graber Gryass.
The Hi-Tone (282-284 N. Cleveland St., near Crosstown) Like variety? This is your place. Any genre goes, and musicians alternate nights with open mic entertainers, poets and comedians.
Wild Bill's (1580 Vollintine Ave., 1 mile north of Crosstown Concourse) Check the calendar for special events showcasing a variety of music genres, but for the classic Wild Bill's experience, go late on a Friday night to dance to juke joint-style grooves.
Graceland-Area live music venues
Check Graceland's events calendar for proof that even though Elvis has left the building, live music hasn't. Especially during Elvis Week, concerts rock the grounds of the King's complex. But with the addition of a new live music venue on-site and a surprise just down the road, there's more reason than ever to enjoy live music at and around Graceland.  
Graceland's Soundstage is booking big names for 2023, from Jason Bonham's Led Zeppelin Evening to Cheap Trick. Bonus: The venue is located across the street from Graceland at the Elvis Presley's Memphis entertainment complex, and ticket-holders get free admission to the complex after 3 p.m. on their show day.
Hernando's Hide-A-Way (3210 Old Hernando Rd., one mile north of Graceland) Dale Watson, champion of the "Ameripolitan" genre, dreamed up the closest thing to a honky-tonk you can get, bringing in touring and local artists who embody that blend of Americana-Country-Rockabilly and then some.
East Memphis & University of Memphis-Area Live Music Venues
Head east from downtown Memphis past Midtown, and you'll feel college-town vibes coming from restaurants and bars that double as live music venues around the University of Memphis. Keep heading east for that "where everybody knows your name" feel. You'll reach the University area and the edge of East Memphis within 20 minutes of leaving downtown.
The Bluff (535 S. Highland) and Newby's (539 S. Highland) Together, The Bluff and Newby's help to anchor the University-area shopping and entertainment district known as the Highland Strip. At The Bluff, expect local and regional acts, especially rock and country bands, in a generous concert space. Newby's, "the college bar you never graduate from," specializes in chill live music and DJs.
Neil's Music Room (5725 Quince Rd.) and Brookhaven Pub (695 W. Brookhaven Cir.) invite you to rub elbows with the locals while celebrating the genres that Memphis made famous. Local acts like Elmo and the Shades bring the blues, Memphis Soul Remedy does its groove thing and The Pistol & The Queen rock out: just a few examples of what you might hear at these two local-favorites.
Head further north to Memphis Music Room for one of the largest music complexes that showcases original music by Memphis Artists & Musicians. Expect to hear authentic Memphis sounds with a mix of tributes and jam bands.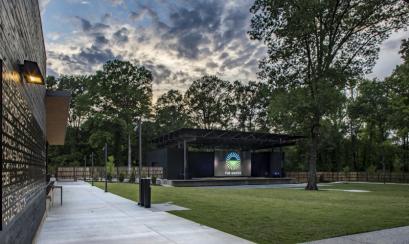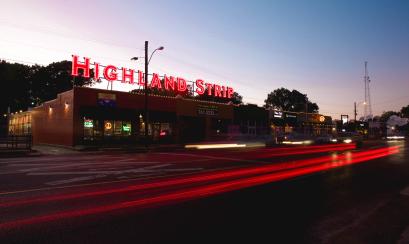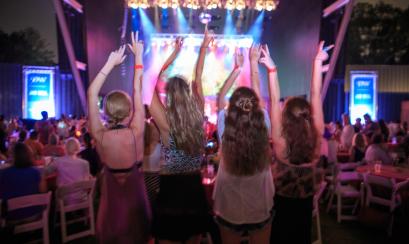 Germantown & Southaven Live Music Venues
Germantown, Tennessee, and Southaven, Mississippi, are residential suburbs of Memphis. And yes, live music venues stretch into both. You'll reach Southaven about 25 minutes south of downtown Memphis; Germantown about 30 minutes east. Check the events calendars for each of these community's signature concert venue and you'll see they're worth the drive.
Germantown Performing Arts Center (1801 Exeter, Germantown, TN) Just say "jee-pack" when referring to this venue that will host Patti Lupone and Cyrille Aimée in 2023. With curated series like "Jazz in the Box" to appearances by Memphis' experimental IRIS Orchestra and the aforementioned concerts in The Grove, you'll find a sophisticated but balanced line-up here.
Landers Center (4560 Venture Dr., Southaven, MS) If you're looking for live music concerts and festivals within easy reach of Memphis, be sure to include the Landers Center in your search.