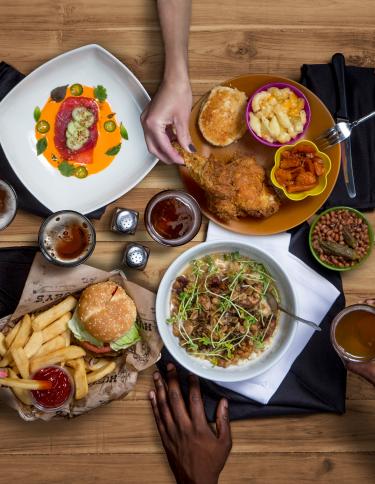 Why Memphis food tastes so good
We could chew the fat around history and music all day long, but let's get to the real dish—the drip-down-your-chin, light-up-your-grin deliciousness that helped put Memphis on the map. 
You're already craving barbecue. We get it: There's a reason Princes William and Harry, Andrew Zimmern (and everyone between) duck into a downtown alley to find Charlie Vergos' Rendezvous. Today, The Rendezvous is one of 100-some pins on the city's barbecue map, dotted with names like Cozy Corner, Tops and "The Commissary," a Germantown staple. Knock as many of them as you like off your bucket list and one truth emerges: Memphis 'cue isn't one thing. Yes, it's ribs dusted with The Rendezvous' Greek-meets-Cajun dry rub, then chargrilled. Certainly, it's the sandwiches juxtaposing meat—juicy inside, crisp with bark outside—with tangy-sweet slaw at Interstate Barbecue. (Such simple pleasures are an ode to the institution that kindled Memphis' love affair with pit-smoked barbecue, Leonard's. It opened in 1922 with five stools and a nickel sandwich.) But Memphis 'cue is also nachos topped with savory pulled pork, piquant jalapenos and the sweet house-made sauce at Central. Old-school smoked bologna sandwiches coming out of the kitchen—packed with family—at Payne's. Bowls of spaghetti smothered with meaty sauce (specifically, barbecue sauce studded with barbecued meat) at The Bar-B-Q Shop. Spreads fit for a holiday with smoke-ringed brisket, barbecue baked beans and creamy mac and cheese at Corky's. In other words, it's generally easier to define Memphis barbecue by what it isn't vs. what it is: Personal favorites aside, the type and cut of meat aren't codified—pork, beef, shoulder, ribs . . . it's all good. While the meat might get rubbed down with dry spices before cooking, sauce (usually tomato-based) rarely appears before you sit down to eat. If you want to hold Memphis 'cue to one thing, try this: The meat is the star, and it'll melt in your mouth through an alchemy of wood, fire and time.   
But even before Leonard's, Memphis was cookin' up culinary tradition. In 1918, The Little Tea Shop opened in the basement of the Cotton Exchange to serve brokers and the like. In 1919, The Arcade opened, one in a long line of Memphis restaurants flavored by the Mediterranean heritage of its owners (remember that the next time you order a Greek salad with your Rendezvous ribs). The Arcade turns 100 in the year of our bicentennial, and you can celebrate by ordering a fat stack of sweet potato pancakes or a sundried tomato-and-feta pizza. The Little Tea Shop is still open too, and while the crowd suggests "power lunch," the vibe is all heart: Owner Suhair Lauck serves hugs along with Southern specialties including fork-tender pot roast, steaming turnip greens and crispy cornbread sticks. Soul food institutions—like The Four Way, which has served diners from Dr. Martin Luther King, Jr. and Stax Records artists to Drake—have inscribed the meat-and-three in our lexicon. If you aren't familiar, it's your choice of one meat (say golden-fried chicken or succulent roast turkey) served with two homestyle vegetables—maybe velvety mashed potatoes ladled with gravy, crispy fried okra or macaroni and cheese. (When you're in Memphis, the latter is, in fact, a vegetable. Just go with it.)  
Our culinary traditions sustain us, and inspire us. For our cooks and chefs, that means playing around in the kitchen to fuse familiar techniques with fresh flavors. You might tuck into a comfort classic like meatloaf—dressed with tomato gravy and crisp Tabasco onions by neo-soul chef Kaia Brewer. Or sample critically acclaimed interpretations of Southern standards—think salmon croquettes with celery root remoulade at Chef Felicia Willett's Felicia Suzanne's Restaurant or pork tenderloin drizzled with pink peppercorn gastrique at Chef Kelly English's Restaurant Iris. You might taste the current expression of Mediterranean-meets-Southern culinary tradition at Andrew Michael Italian Kitchen or another local restaurant guided by Chefs Andy Ticer and Michael Hudman. Honoring their Italian grandmothers and their Memphis upbringing, the chefs explore the intersection of the two: an emphasis on simple ingredients and how elements like fire can transform them.   
These and other new-generation chefs have earned attention and accolades for the wider Memphis food scene from entities including the James Beard Foundation, Bon Appetit, Food & Wine and Food Network. Like locals, who champion Memphis' fine-dining establishments right up there with its dives, food celebs can't stop gushing about our favorite comfort foods (see: Alton Brown's ode to Gibson's glazed doughnut, the Man v. Food episode featuring Kooky Canuck's Kookamonga Challenge and every single blog post ever written about a  Jerry's "sno cone" or Earnestine & Hazel's soul burger). 
All the while, Memphis has been cultivating a craft beverage program. Turns out, the Memphis Sands Aquifer provides such pure drinking water for the city, it's a coveted resource for any beverage-maker. In 1992, Boscos became the first brewpub in all of Tennessee. But the decade-or-so leading up to the bicentennial welcomed a clutch of craft breweries to the city, from Boscos' side project Ghost River to Wiseacre, another boundary-pushing crafter that lobbied to allow high-gravity brewing in Memphis. In our bicentennial year, more craft breweries, two cideries and Old Dominick Distillery top off the offering. Echoing our respect for tradition, Old Dominick relies on family recipes to resurrect spirits not distilled in Memphis since Prohibition. The distillery repurposes a century-old warehouse not far from where the spirits were first crafted in 1866. 
Where there's a brewery or distillery in Memphis, there's usually a hyper-local food scene. The restaurants likely came first, but no matter; it all comes together to create neighborhoods where folks can gather 'round to eat, drink and have a good time. From downtown districts like South Main to the midtown neighborhoods of Cooper-Young, Broad Avenue and Overton Square to the vertical village that is Crosstown Concourse, Memphis shares its diverse lineup of original, locally owned restaurants. Add to them the restaurants of Summer Avenue, where the city's first International District marks a three-mile network of business owners representing more than 30 countries. (Now you know where to go for authentic Asian, Latin American and Middle Eastern eats in Memphis.) 
The result is a city where annual events like Downtown Dining Week and Black Restaurant Week can still surprise diners; where the calendar year is packed with food fests that can help you find Memphis' best breakfast, burger or grilled cheese—or pair wine with courses from the city's top chefs (that's Vintage901). Still, Memphis' quintessential food fest may just be the World Championship Barbecue Cooking Contest, a signature event of our month-long Memphis in May celebration since 1978. To find the fest, just follow the aroma of low, slow cooking all the way to the Mississippi River.