Ways To Celebrate Juneteenth In Memphis 2022
Rhymes on the River: Juneteenth Poetry Slam, The Fourth Bluff, June 17, 7 p.m.
Rhymes on the River: Juneteenth Poetry Slam is a poetry competition where the power of words meet the beauty of the downtown Memphis riverfront. We have Comedian Rob Love as our host as the poets prepare for a 3-round elimination poetry night in honor of Juneteenth. The top 3 poets will win cash prizes. In round 1, all poets must share poems on the Juneteenth theme
Tri-State Black Pride All Star Weekend, Locations Vary, June 16-19 
Panels, presentations, performances, parties, and more at the Tri-State Black Pride weekend. See the full schedule here.
29th Annual Juneteenth Douglass Freedom & Heritage Festival, Douglass Park, June 17-19, free to attend
Find live music, family-friendly activities, wrestling, a flag-raising ceremony and so much more at the 29th annual event at Douglass Park. 
Focused On Freedom with the National Civil Rights Museum, June 18 - 21
The National Civil Rights Museum is uniquely celebrating a Juneteenth extended holiday weekend with Focused On Freedom! a series of virtual and special events from Saturday, June 18 to Tuesday, June 21. 
The Museum will simulcast the Mass Poor People's & Low-Wage Workers' Assembly and Moral March on Washington and to the Polls LIVE from DC, the virtual event will be broadcast in the museum's event spaces for visitors to watch on June 18. The assembly is from 9:00am to 1:00pm Central. 
The Museum joins ten of the nation's leading Black museums and historical institutions in a virtual program that documents a national exploration of the U.S. Constitution in "We The People" through the eyes of historical museums and anthropologists. The presentation premieres at noon Central, 1:00pm Eastern on June 19th. Visitors can watch it at the Museum, on the museum's website and blkfreedom.org.
The museum strongly encourages Tennessee residents to visit during its Monday Free Period (June 20) at 3:00-6:00pm.
The Museum is offering a FREE admission day on June 21 with highlights, including the Solidary Now! and the Poverty Today special exhibitions. Normally closed on Tuesdays, the Museum is open from 11:00am to 6:00pm. The Museum is also issuing a Call for Artifacts and Oral History Interviews to people who participated in or whose families were present for the 1968 Poor People's Campaign to share their stories. On June 21, the Museum will record interviews on-demand and by appointment. 
Memphis Juneteenth Festival and Health Fair, LeMoyne-Owen College, June 18, 8 a.m. - 4 p.m., free 
LeMoyne-Owen College Alumni Association will host a Juneteenth Festival and Health Fair.   Methodist LeBonheur Hospital and other Health providers will provide various health screenings.   Come enjoy cultural events featuring a re-enactment of events of 1865 in Galveston, Texas.   Family-Friendly Event.  Vendors and Food Trucks will be present.
Feeding the Root Grows Juneteenth Wellness Market, 1551 Bridgewater Rd. Cordova, June 18, 9 a.m. - noon, free
A block party, family reunion style event with fresh produce, local vendors, yoga and a farm to table luncheon - all located on a historic plot of land! 
Juneteenth Celebration, Slave Haven Underground Railroad Museum, June 18, 10 a.m. - 5 p.m.
Expect African music, spoken word and poetry, music performances, museum tours, and an artists market at the annual Juneteenth day at Slave Haven museum at 826 N. Second Street. 
Memphis Juneteenth Festival, Health Sciences Park, June 18 and 19, 10 a.m. - 10 p.m., free 
Memphis Juneteenth Festival is a cultural community awareness festival with Juneteenth education, food, fun, vendors and great Entertainment with FREE admission. 
Juneteenth Shop Black Festival, Pipkin Building, June 19, 11 a.m. - 6 p.m., free
Cynthia Daniels' annual event celebrates Black Businesses, Live Music and Food for all! Expect food vendors inside and outside, plus food trucks and musical performances. Bring your lawn chairs or blankets, but leave your pets, tents, coolers, and all outside food and drink at home.
Juneteenth Family Reunion, Orange Mound Tower (2205 Lamar Ave.) June 19, 5 p.m., free
For the second year in a row TONE be hosting their Juneteenth Family Reunion Festival on the ten acres of land surrounding the Orange Mound Tower. This festival will be free and open to the public and will feature live performances, local vendors, food trucks, games, and more.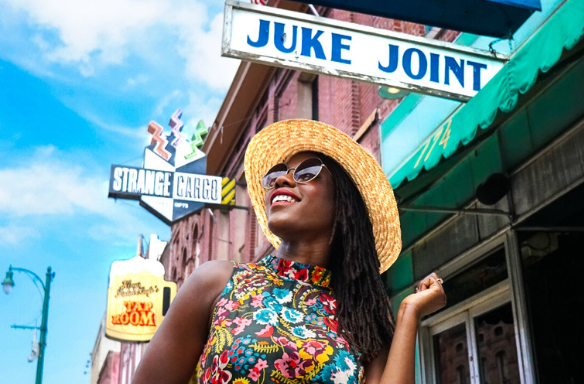 More Black History In Memphis
The National Civil Rights Museum at the Lorraine Motel covers the struggle for civil rights and Black liberation across times, places, and peoples—but the museum's exhibits begin by exploring the slavery in America in the 1600s. If you haven't visited NCRM, or haven't visited in a few years, make sure you take time to visit soon. 
If you want to go deeper into Black history in Memphis, I highly recommend A Tour of Possibilities van tour. Even if you know a lot about Memphis history, you'll be surprised and moved by this special tour. Check out contributor Wesley Paraham's first-hand account of ATOP here (without giving too much away). 
Off the beaten path for most visitors, the Slave Haven Underground Railroad Museum is on the site of a stop on the Underground Railroad, a network that helped people and families escape enslavement in the Southern U.S. Visit the museum to learn more about how Memphis was a central location for commerce and trading of enslaved people from Africa—and the efforts of abolitionists and liberated people to end the practice of slavery.