Zoo Boo
Oct 13, 2023 -Oct 31, 2023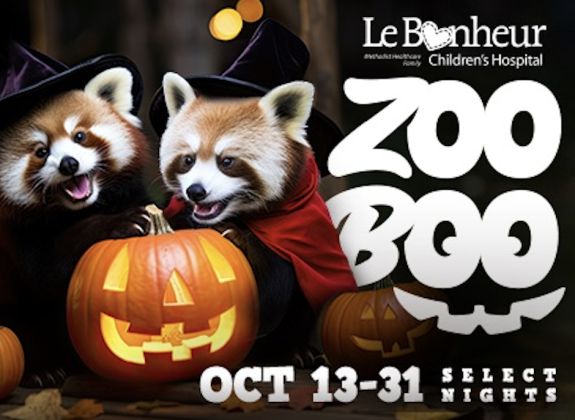 Memphis Zoo
2000 Prentiss Place
Memphis, TN 38112
United States
Oct 13, 2023 – Oct 31, 2023
at 6:00pm to 9:30pm
Oct 13, 2023 at
6:00pm – 9:30pm
Oct 14, 2023 at
6:00pm – 9:30pm
Oct 15, 2023 at
6:00pm – 9:30pm
Oct 20, 2023 at
6:00pm – 9:30pm
Oct 21, 2023 at
6:00pm – 9:30pm
Oct 22, 2023 at
6:00pm – 9:30pm
Oct 27, 2023 at
6:00pm – 9:30pm
Oct 28, 2023 at
6:00pm – 9:30pm
Oct 29, 2023 at
6:00pm – 9:30pm
Oct 30, 2023 at
6:00pm – 9:30pm
Oct 31, 2023 at
6:00pm – 9:30pm
Bring Your Kids
Date Idea
Outside
Price:
$13/Members, $18 Non-Members
Calling all candy lovers and party goers! Halloween is taking over Memphis Zoo for a family-friendly haunting at Le Bonheur Zoo Boo! Go all out and wear your best costumes and bring your trick-or-treat bags to make sure you satisfy all your candy cravings. This year, the all-new Candy Lane inside the Monogram Foods Loves Kids Foundation Splash Park  is your one stop shop featuring eight different candy stations for you to enjoy!
Along with tons of delectable goodness to enjoy, light up your very own monster at the Monster Creation Studio, then boogie down at the hit Dracula Disco dance party! Unleash your inner genius at the incredible Mad Scientist Lab, and enjoy TONS of harvest themed decor, and much more. It's a Halloween bash you truly don't want to miss! Join us for amazing, spooky, and friendly Halloween fun at the Zoo on select nights this October. Don't delay on buying your tickets today. JUST BOO IT!