St Jude IRONMAN 70.3 Memphis Triathlon
Oct 2, 2021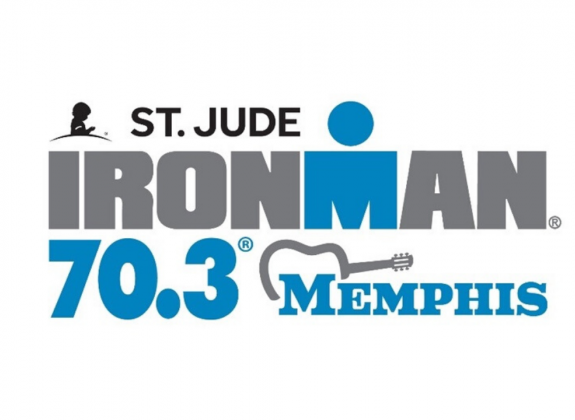 Shelby Farms Park
6903 Great View Dr. N.
teMemphis, TN 38134
United States
Join us for the inaugural St. Jude IRONMAN 70.3 Memphis on October 2, 2021! Since its inception, IRONMAN has drawn ambitious and courageous people who aren't afraid to push their limits. Consisting of a 1.2-mile swim, a 56-mile bike ride, and a 13.1-mile run, this new and challenging course will take place at one of the largest urban parks in the country, Shelby Farms Park.
VOLUNTEERS NEEDED
PLEASE HELP!!!! St. Jude IRONMAN 70.3 Memphis triathlon benefits St. Jude and they are in SERIOUS NEED of volunteers. 
The race is October 2, but there are volunteer shifts available Sept. 29 - Oct. 2. Sign up ASAP at ironman.volunteerlocal.com. Examples of volunteer tasks: hand out food, help with registration, put together athlete packets, hand out medals at the finish line, give water to cyclists as they zoom by, and more. You'll get a swag bag and food and drink—and you'll be helping raise money for St. Jude Children's Research Hospital. Set aside a few hours on race day or 
About The Race
The St. Jude IRONMAN 70.3 Memphis triathlon will begin with a rolling start format. The 1.2-mile swim will take place in the clear man-made waters of Hyde Lake in Shelby Farms Park. Hyde Lake offers a welcoming environment to new athletes as the shoreline is easily accessible from anywhere in the lake. Spectators can follow their athletes by walking the perimeter of the lake on paved paths. 
Once out of the water, athletes will take on the 56-mile bike course that traverses the rolling hills of Shelby and Fayette Counties, before returning to Shelby Farms Park. The spectator friendly run course weaves through the paved and packed gravel trails of the park. Athletes will likely get a view of the buffalo herd that resides at the park while on the run course. 
Athletes will be vying for slots to compete at the 2021 IRONMAN 70.3 World Championship taking place in St. George, Utah. 
Individuals can also participate in the event as St. Jude Heroes®, or those who fundraise for the hospital through an athletic event. Registration is now open for a limited number of St. Jude Hero fundraising entries. Funds raised through events like this help ensure families never receive a bill from St. Jude for treatment, travel, housing or food – because all a family should worry about is helping their child live. 
For more information on the 2021 St. Jude IRONMAN 70.3 Memphis triathlon, visit www.ironman.com/im703-memphis and follow the social media hashtag #IM703Memphis. For more information on the IRONMAN brand and global event series, visit www.ironman.com. Athlete inquiries can be directed to [email protected]