2023 Donuts & Dogs 5 Miler
Apr 23, 2023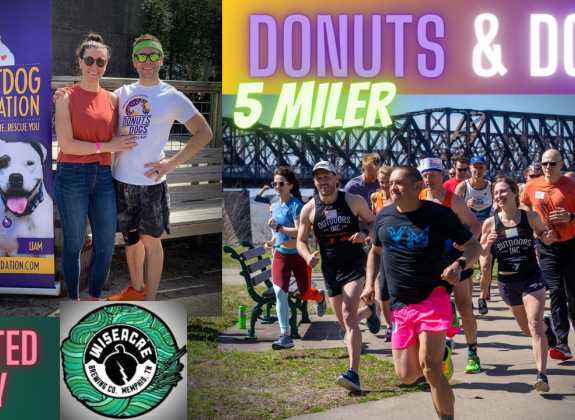 Wiseacre Brewing Company OG
2783 Broad Ave
Memphis, TN 38112
United States
Apr 23, 2023
at 12:00pm to 3:30pm
Price:
Prices are the same whether you register as a runner or a spectator.  All registrations include an exclusive event t-shirt.  Prices go up April 8
Full dozen - $30
Half Dozen - $27
Casual (3 donuts) - $22
It's the sweetest race in Memphis!
Official rules for the official run at http://krispykremechallenge.com/
Short version: run 2.5 miles out, eat 12 glazed donuts, run 2.5 miles back.  You may run/walk at whatever pace you want but the official challenge it to complete the run in under 1 hour!
In 2022, we had a massive turnout for the 5th annual unofficial Memphis edition of the donut run, raising nearly $2,000 for Streetdog Foundation and getting 2 dogs a forever home!  This year, we're kicking it up a notch and including an official event shirt with every registration!
Schedule:
12:30-1:00 - Arrive/check-in
1:15-1:30 Announcements
1:30-2:30 Race!
2:45-3:00 Awards
3:00-on Dog hangouts and drinks
Registration - Official event T shirt included with every signup!
Running Packages*
Full Package - 12 Donuts
Half Package - 6 Donuts
Casual Package - 3 Donuts
Spectator Packages
Full Package - 12 Donuts
Half Package - 6 Donuts
Casual Package - 3 Donuts