West TN Trail Run for Clean Water
May 6, 2023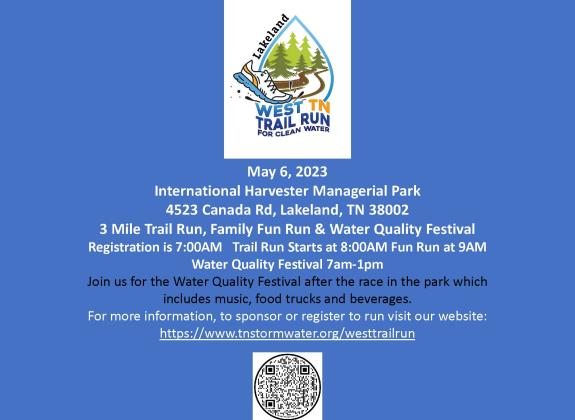 Tennessee Stormwater Association
International Harvester Managerial Park, 4523 Canada Rd
lakeland, TN 38002
United States
May 6, 2023
at 7:00am to 1:00pm
Price:
Registration Fee:  Trail Run $35, Fun Run $15 Adults, $10 Children over 6 and older.
Water Quality Festival Free to attend.
May 6, 2023
International Harvester Managerial Park, 4523 Canada Rd, Lakeland, TN 38002
The 1st Annual West Trail Run is designed to promote stormwater educational efforts and to highlight successful green infrastructure practices that have been implemented within west Tennessee.
Trail Run and Fun Run.  Join us for the Water Quality Festival after the race in the park which includes music, food trucks and beer.
This year, a portion of the proceeds will be awarded back to the community through a watershed quality award of $1000 to promote the implementation of a local watershed quality stewardship project.
Click here for more information: https://www.tnstormwater.org/westtrailrun