AI Artificial Intelligence: Your Mind & The Machine
Jan 23, 2023 -May 6, 2023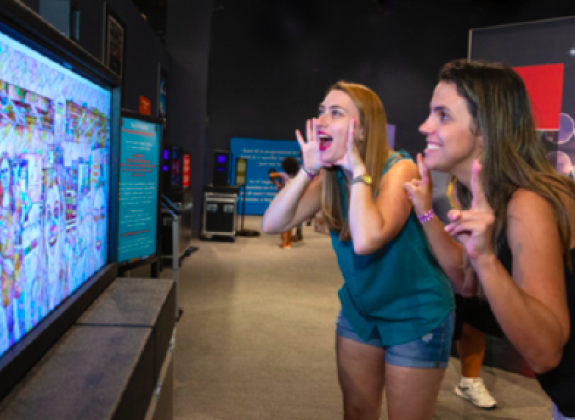 Museum of Science & History
3050 Central Avenue
Memphis, TN 38111
United States
Jan 23, 2023 – May 6, 2023
at 10:30am to 5:30pm
Jan 23, 2023 at
10:30am – 5:30pm
Jan 24, 2023 at
10:30am – 5:30pm
Jan 25, 2023 at
10:30am – 5:30pm
Jan 26, 2023 at
10:30am – 5:30pm
Jan 27, 2023 at
10:30am – 5:30pm
Jan 28, 2023 at
10:30am – 5:30pm
Jan 29, 2023 at
10:30am – 5:30pm
Jan 30, 2023 at
10:30am – 5:30pm
Jan 31, 2023 at
10:30am – 5:30pm
Feb 1, 2023 at
10:30am – 5:30pm
Feb 2, 2023 at
10:30am – 5:30pm
Feb 3, 2023 at
10:30am – 5:30pm
Feb 4, 2023 at
10:30am – 5:30pm
Feb 5, 2023 at
10:30am – 5:30pm
Feb 6, 2023 at
10:30am – 5:30pm
Feb 7, 2023 at
10:30am – 5:30pm
Feb 8, 2023 at
10:30am – 5:30pm
Feb 9, 2023 at
10:30am – 5:30pm
Feb 10, 2023 at
10:30am – 5:30pm
Feb 11, 2023 at
10:30am – 5:30pm
Feb 12, 2023 at
10:30am – 5:30pm
Feb 13, 2023 at
10:30am – 5:30pm
Feb 14, 2023 at
10:30am – 5:30pm
Feb 15, 2023 at
10:30am – 5:30pm
Feb 16, 2023 at
10:30am – 5:30pm
Feb 17, 2023 at
10:30am – 5:30pm
Feb 18, 2023 at
10:30am – 5:30pm
Feb 19, 2023 at
10:30am – 5:30pm
Feb 20, 2023 at
10:30am – 5:30pm
Feb 21, 2023 at
10:30am – 5:30pm
Feb 22, 2023 at
10:30am – 5:30pm
Feb 23, 2023 at
10:30am – 5:30pm
Feb 24, 2023 at
10:30am – 5:30pm
Feb 25, 2023 at
10:30am – 5:30pm
Feb 26, 2023 at
10:30am – 5:30pm
Feb 27, 2023 at
10:30am – 5:30pm
Feb 28, 2023 at
10:30am – 5:30pm
Mar 1, 2023 at
10:30am – 5:30pm
Mar 2, 2023 at
10:30am – 5:30pm
Mar 3, 2023 at
10:30am – 5:30pm
Mar 4, 2023 at
10:30am – 5:30pm
Mar 5, 2023 at
10:30am – 5:30pm
Mar 6, 2023 at
10:30am – 5:30pm
Mar 7, 2023 at
10:30am – 5:30pm
Mar 8, 2023 at
10:30am – 5:30pm
Mar 9, 2023 at
10:30am – 5:30pm
Mar 10, 2023 at
10:30am – 5:30pm
Mar 11, 2023 at
10:30am – 5:30pm
Mar 12, 2023 at
10:30am – 5:30pm
Mar 13, 2023 at
10:30am – 5:30pm
Mar 14, 2023 at
10:30am – 5:30pm
Mar 15, 2023 at
10:30am – 5:30pm
Mar 16, 2023 at
10:30am – 5:30pm
Mar 17, 2023 at
10:30am – 5:30pm
Mar 18, 2023 at
10:30am – 5:30pm
Mar 19, 2023 at
10:30am – 5:30pm
Mar 20, 2023 at
10:30am – 5:30pm
Mar 21, 2023 at
10:30am – 5:30pm
Mar 22, 2023 at
10:30am – 5:30pm
Mar 23, 2023 at
10:30am – 5:30pm
Mar 24, 2023 at
10:30am – 5:30pm
Mar 25, 2023 at
10:30am – 5:30pm
Mar 26, 2023 at
10:30am – 5:30pm
Mar 27, 2023 at
10:30am – 5:30pm
Mar 28, 2023 at
10:30am – 5:30pm
Mar 29, 2023 at
10:30am – 5:30pm
Mar 30, 2023 at
10:30am – 5:30pm
Mar 31, 2023 at
10:30am – 5:30pm
Apr 1, 2023 at
10:30am – 5:30pm
Apr 2, 2023 at
10:30am – 5:30pm
Apr 3, 2023 at
10:30am – 5:30pm
Apr 4, 2023 at
10:30am – 5:30pm
Apr 5, 2023 at
10:30am – 5:30pm
Apr 6, 2023 at
10:30am – 5:30pm
Apr 7, 2023 at
10:30am – 5:30pm
Apr 8, 2023 at
10:30am – 5:30pm
Apr 9, 2023 at
10:30am – 5:30pm
Apr 10, 2023 at
10:30am – 5:30pm
Apr 11, 2023 at
10:30am – 5:30pm
Apr 12, 2023 at
10:30am – 5:30pm
Apr 13, 2023 at
10:30am – 5:30pm
Apr 14, 2023 at
10:30am – 5:30pm
Apr 15, 2023 at
10:30am – 5:30pm
Apr 16, 2023 at
10:30am – 5:30pm
Apr 17, 2023 at
10:30am – 5:30pm
Apr 18, 2023 at
10:30am – 5:30pm
Apr 19, 2023 at
10:30am – 5:30pm
Apr 20, 2023 at
10:30am – 5:30pm
Apr 21, 2023 at
10:30am – 5:30pm
Apr 22, 2023 at
10:30am – 5:30pm
Apr 23, 2023 at
10:30am – 5:30pm
Apr 24, 2023 at
10:30am – 5:30pm
Apr 25, 2023 at
10:30am – 5:30pm
Apr 26, 2023 at
10:30am – 5:30pm
Apr 27, 2023 at
10:30am – 5:30pm
Apr 28, 2023 at
10:30am – 5:30pm
Apr 29, 2023 at
10:30am – 5:30pm
Apr 30, 2023 at
10:30am – 5:30pm
May 1, 2023 at
10:30am – 5:30pm
May 2, 2023 at
10:30am – 5:30pm
May 3, 2023 at
10:30am – 5:30pm
May 4, 2023 at
10:30am – 5:30pm
May 5, 2023 at
10:30am – 5:30pm
May 6, 2023 at
10:30am – 5:30pm
Price:
Included in General Admission
Adult: $18
Senior: $17
Youth: $13
Exhibit Coming January 22, 2023
A touring exhibition of The Relayer Group
Learn how AI touches lives now and in the future.
AI Artificial Intelligence: Your Mind & The Machine is a traveling exhibit that shows visitors how artificial intelligence is relevant to their lives right now – and in the future. Dozens of interactives, illusions, and videos make this the perfect STEAM exhibit to introduce children and adults to the world of artificial intelligence. With a wide spectrum tactile interactives including sliders, blocks, cylinders, puzzles and flip boards, visitors will learn how AI programs work. Touch screens allow them to experience how AI learns and behaves.