Wacky Hollow
Aug 27, 2022 -Nov 19, 2022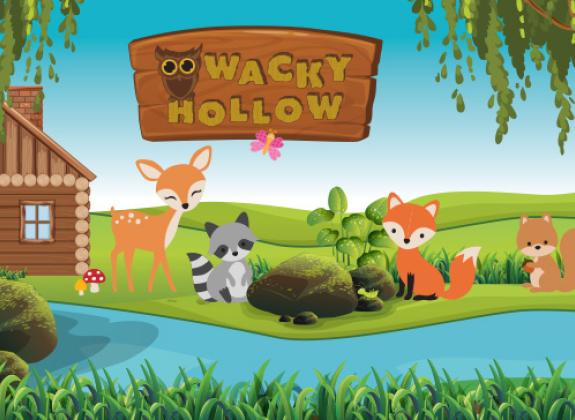 Children's Museum of Memphis
2525 Central Ave.
Memphis, TN 38104
United States
Aug 27, 2022 – Nov 19, 2022
at 8:00am to 4:00pm
Aug 27, 2022 at
8:00am – 4:00pm
Aug 28, 2022 at
8:00am – 4:00pm
Aug 29, 2022 at
8:00am – 4:00pm
Aug 30, 2022 at
8:00am – 4:00pm
Aug 31, 2022 at
8:00am – 4:00pm
Sep 1, 2022 at
8:00am – 4:00pm
Sep 2, 2022 at
8:00am – 4:00pm
Sep 3, 2022 at
8:00am – 4:00pm
Sep 4, 2022 at
8:00am – 4:00pm
Sep 5, 2022 at
8:00am – 4:00pm
Sep 6, 2022 at
8:00am – 4:00pm
Sep 7, 2022 at
8:00am – 4:00pm
Sep 8, 2022 at
8:00am – 4:00pm
Sep 9, 2022 at
8:00am – 4:00pm
Sep 10, 2022 at
8:00am – 4:00pm
Sep 11, 2022 at
8:00am – 4:00pm
Sep 12, 2022 at
8:00am – 4:00pm
Sep 13, 2022 at
8:00am – 4:00pm
Sep 14, 2022 at
8:00am – 4:00pm
Sep 15, 2022 at
8:00am – 4:00pm
Sep 16, 2022 at
8:00am – 4:00pm
Sep 17, 2022 at
8:00am – 4:00pm
Sep 18, 2022 at
8:00am – 4:00pm
Sep 19, 2022 at
8:00am – 4:00pm
Sep 20, 2022 at
8:00am – 4:00pm
Sep 21, 2022 at
8:00am – 4:00pm
Sep 22, 2022 at
8:00am – 4:00pm
Sep 23, 2022 at
8:00am – 4:00pm
Sep 24, 2022 at
8:00am – 4:00pm
Sep 25, 2022 at
8:00am – 4:00pm
Sep 26, 2022 at
8:00am – 4:00pm
Sep 27, 2022 at
8:00am – 4:00pm
Sep 28, 2022 at
8:00am – 4:00pm
Sep 29, 2022 at
8:00am – 4:00pm
Sep 30, 2022 at
8:00am – 4:00pm
Oct 1, 2022 at
8:00am – 4:00pm
Oct 2, 2022 at
8:00am – 4:00pm
Oct 3, 2022 at
8:00am – 4:00pm
Oct 4, 2022 at
8:00am – 4:00pm
Oct 5, 2022 at
8:00am – 4:00pm
Oct 6, 2022 at
8:00am – 4:00pm
Oct 7, 2022 at
8:00am – 4:00pm
Oct 8, 2022 at
8:00am – 4:00pm
Oct 9, 2022 at
8:00am – 4:00pm
Oct 10, 2022 at
8:00am – 4:00pm
Oct 11, 2022 at
8:00am – 4:00pm
Oct 12, 2022 at
8:00am – 4:00pm
Oct 13, 2022 at
8:00am – 4:00pm
Oct 14, 2022 at
8:00am – 4:00pm
Oct 15, 2022 at
8:00am – 4:00pm
Oct 16, 2022 at
8:00am – 4:00pm
Oct 17, 2022 at
8:00am – 4:00pm
Oct 18, 2022 at
8:00am – 4:00pm
Oct 19, 2022 at
8:00am – 4:00pm
Oct 20, 2022 at
8:00am – 4:00pm
Oct 21, 2022 at
8:00am – 4:00pm
Oct 22, 2022 at
8:00am – 4:00pm
Oct 23, 2022 at
8:00am – 4:00pm
Oct 24, 2022 at
8:00am – 4:00pm
Oct 25, 2022 at
8:00am – 4:00pm
Oct 26, 2022 at
8:00am – 4:00pm
Oct 27, 2022 at
8:00am – 4:00pm
Oct 28, 2022 at
8:00am – 4:00pm
Oct 29, 2022 at
8:00am – 4:00pm
Oct 30, 2022 at
8:00am – 4:00pm
Oct 31, 2022 at
8:00am – 4:00pm
Nov 1, 2022 at
8:00am – 4:00pm
Nov 2, 2022 at
8:00am – 4:00pm
Nov 3, 2022 at
8:00am – 4:00pm
Nov 4, 2022 at
8:00am – 4:00pm
Nov 5, 2022 at
8:00am – 4:00pm
Nov 6, 2022 at
8:00am – 4:00pm
Nov 7, 2022 at
8:00am – 4:00pm
Nov 8, 2022 at
8:00am – 4:00pm
Nov 9, 2022 at
8:00am – 4:00pm
Nov 10, 2022 at
8:00am – 4:00pm
Nov 11, 2022 at
8:00am – 4:00pm
Nov 12, 2022 at
8:00am – 4:00pm
Nov 13, 2022 at
8:00am – 4:00pm
Nov 14, 2022 at
8:00am – 4:00pm
Nov 15, 2022 at
8:00am – 4:00pm
Nov 16, 2022 at
8:00am – 4:00pm
Nov 17, 2022 at
8:00am – 4:00pm
Nov 18, 2022 at
8:00am – 4:00pm
Nov 19, 2022 at
8:00am – 4:00pm
Price:
Free with museum admission.
Wacky Hollow, a fan-favorite exhibit that made its debut at the Children's Museum of Memphis last year, will make its return on Saturday, August 27th with a few new activities and pranksters. Equipped with a backpack and lantern to navigate the more than 2,000 square foot forest, kids become the main character of this life-sized board game. 
The game tests children's creative problem-solving skills as they uncover clues and work together to solve the mystery and unveil the identity of a silly prankster in this family-friendly adventure. All the playful learning activity stations reinforce knowledge of the forest and how to love and protect nature.