Star & Micey | Dead Soldiers - Orion Free Concert Series
Jun 16, 2023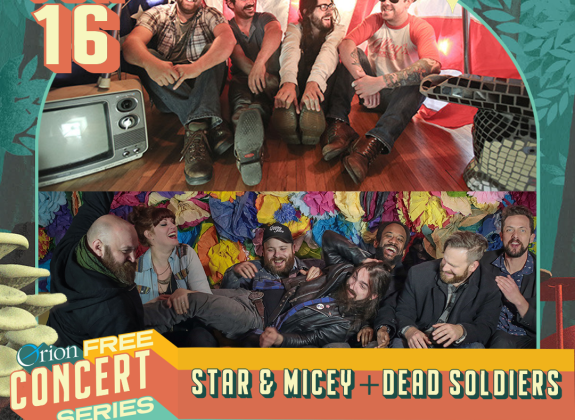 Overton Park Shell
1928 Poplar Avenue
Memphis, TN 38104
United States
Jun 16, 2023
at 7:30pm to 10:00pm
Bring Your Kids
Bring Your Pet
Date Idea
Outside
Concert begins at 7:30PM sharp.
2023 Orion Free Concert Series at Overton Park Shell. Picnic baskets, beverages, blankets, and lawn chairs are always welcome. We also offer food and beverage for sale in our ShellEats community area. Dogs on a leash are welcome in designated areas. Overton Park Shell is a nonsmoking facility. 
--- 
About Star & Micey:
"One of Memphis' most inventive and enduring bands. Formed in 2009, Star and Micey has toured the US and Canada to play for a select crowd of die hard fans. Called "Tennessee's Number One Band" by Paste Magazine in 2016 the group has continued to stay humble and live life on their terms. Having never broken up even once, their relationship onstage is just as genuine offstage."
About Dead Soldiers:
Dead Soldiers is an eight-piece band from Memphis, Tennessee, whose eclectic compositions feature a rock'n'roll core that lifts five-part vocal harmonies, horns and strings to create a wall of sound. Building on the musical traditions of the Delta and the melting pot aesthetic that first made Memphis the home of rock and roll, their music is at once irreverent and uniquely American. While firmly rooted in the modern urban south, they draw heavily from the inspiration of a range of artists: Tom Waits to The Band, John Prine and Bob Dylan to Frank Zappa and Randy Newman. Like Dead Soldiers, they're all artists who refuse to be easily classified. With humor, cynicism and an underlying foundation of humanity, Dead Soldiers' songs root for the underdog while skewering the hypocrisy of our post-modern media landscape.
---
Food Trucks:
Sips and Sammies | Diamond Dave's | Good Groceries