Live Open Mic Comedy at hitone hosted by John Miller
Feb 21, 2023 -Feb 18, 2025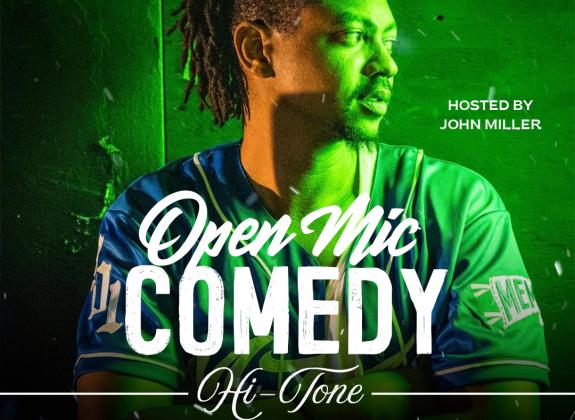 Hitone Cafe
282 N.Cleveland
Memphis , TN 38104
United States
Feb 21, 2023 – Feb 18, 2025
at 8:00pm to 10:00pm
Feb 21, 2023 at
8:00pm – 10:00pm
Feb 28, 2023 at
8:00pm – 10:00pm
Mar 7, 2023 at
8:00pm – 10:00pm
Mar 14, 2023 at
8:00pm – 10:00pm
Mar 21, 2023 at
8:00pm – 10:00pm
Mar 28, 2023 at
8:00pm – 10:00pm
Apr 4, 2023 at
8:00pm – 10:00pm
Apr 11, 2023 at
8:00pm – 10:00pm
Apr 18, 2023 at
8:00pm – 10:00pm
Apr 25, 2023 at
8:00pm – 10:00pm
May 2, 2023 at
8:00pm – 10:00pm
May 9, 2023 at
8:00pm – 10:00pm
May 16, 2023 at
8:00pm – 10:00pm
May 23, 2023 at
8:00pm – 10:00pm
May 30, 2023 at
8:00pm – 10:00pm
Jun 6, 2023 at
8:00pm – 10:00pm
Jun 13, 2023 at
8:00pm – 10:00pm
Jun 20, 2023 at
8:00pm – 10:00pm
Jun 27, 2023 at
8:00pm – 10:00pm
Jul 4, 2023 at
8:00pm – 10:00pm
Jul 11, 2023 at
8:00pm – 10:00pm
Jul 18, 2023 at
8:00pm – 10:00pm
Jul 25, 2023 at
8:00pm – 10:00pm
Aug 1, 2023 at
8:00pm – 10:00pm
Aug 8, 2023 at
8:00pm – 10:00pm
Aug 15, 2023 at
8:00pm – 10:00pm
Aug 22, 2023 at
8:00pm – 10:00pm
Aug 29, 2023 at
8:00pm – 10:00pm
Sep 5, 2023 at
8:00pm – 10:00pm
Sep 12, 2023 at
8:00pm – 10:00pm
Sep 19, 2023 at
8:00pm – 10:00pm
Sep 26, 2023 at
8:00pm – 10:00pm
Oct 3, 2023 at
8:00pm – 10:00pm
Oct 10, 2023 at
8:00pm – 10:00pm
Oct 17, 2023 at
8:00pm – 10:00pm
Oct 24, 2023 at
8:00pm – 10:00pm
Oct 31, 2023 at
8:00pm – 10:00pm
Nov 7, 2023 at
8:00pm – 10:00pm
Nov 14, 2023 at
8:00pm – 10:00pm
Nov 21, 2023 at
8:00pm – 10:00pm
Nov 28, 2023 at
8:00pm – 10:00pm
Dec 5, 2023 at
8:00pm – 10:00pm
Dec 12, 2023 at
8:00pm – 10:00pm
Dec 19, 2023 at
8:00pm – 10:00pm
Dec 26, 2023 at
8:00pm – 10:00pm
Jan 2, 2024 at
8:00pm – 10:00pm
Jan 9, 2024 at
8:00pm – 10:00pm
Jan 16, 2024 at
8:00pm – 10:00pm
Jan 23, 2024 at
8:00pm – 10:00pm
Jan 30, 2024 at
8:00pm – 10:00pm
Feb 6, 2024 at
8:00pm – 10:00pm
Feb 13, 2024 at
8:00pm – 10:00pm
Feb 20, 2024 at
8:00pm – 10:00pm
Feb 27, 2024 at
8:00pm – 10:00pm
Mar 5, 2024 at
8:00pm – 10:00pm
Mar 12, 2024 at
8:00pm – 10:00pm
Mar 19, 2024 at
8:00pm – 10:00pm
Mar 26, 2024 at
8:00pm – 10:00pm
Apr 2, 2024 at
8:00pm – 10:00pm
Apr 9, 2024 at
8:00pm – 10:00pm
Apr 16, 2024 at
8:00pm – 10:00pm
Apr 23, 2024 at
8:00pm – 10:00pm
Apr 30, 2024 at
8:00pm – 10:00pm
May 7, 2024 at
8:00pm – 10:00pm
May 14, 2024 at
8:00pm – 10:00pm
May 21, 2024 at
8:00pm – 10:00pm
May 28, 2024 at
8:00pm – 10:00pm
Jun 4, 2024 at
8:00pm – 10:00pm
Jun 11, 2024 at
8:00pm – 10:00pm
Jun 18, 2024 at
8:00pm – 10:00pm
Jun 25, 2024 at
8:00pm – 10:00pm
Jul 2, 2024 at
8:00pm – 10:00pm
Jul 9, 2024 at
8:00pm – 10:00pm
Jul 16, 2024 at
8:00pm – 10:00pm
Jul 23, 2024 at
8:00pm – 10:00pm
Jul 30, 2024 at
8:00pm – 10:00pm
Aug 6, 2024 at
8:00pm – 10:00pm
Aug 13, 2024 at
8:00pm – 10:00pm
Aug 20, 2024 at
8:00pm – 10:00pm
Aug 27, 2024 at
8:00pm – 10:00pm
Sep 3, 2024 at
8:00pm – 10:00pm
Sep 10, 2024 at
8:00pm – 10:00pm
Sep 17, 2024 at
8:00pm – 10:00pm
Sep 24, 2024 at
8:00pm – 10:00pm
Oct 1, 2024 at
8:00pm – 10:00pm
Oct 8, 2024 at
8:00pm – 10:00pm
Oct 15, 2024 at
8:00pm – 10:00pm
Oct 22, 2024 at
8:00pm – 10:00pm
Oct 29, 2024 at
8:00pm – 10:00pm
Nov 5, 2024 at
8:00pm – 10:00pm
Nov 12, 2024 at
8:00pm – 10:00pm
Nov 19, 2024 at
8:00pm – 10:00pm
Nov 26, 2024 at
8:00pm – 10:00pm
Dec 3, 2024 at
8:00pm – 10:00pm
Dec 10, 2024 at
8:00pm – 10:00pm
Dec 17, 2024 at
8:00pm – 10:00pm
Dec 24, 2024 at
8:00pm – 10:00pm
Dec 31, 2024 at
8:00pm – 10:00pm
Jan 7, 2025 at
8:00pm – 10:00pm
Jan 14, 2025 at
8:00pm – 10:00pm
Jan 21, 2025 at
8:00pm – 10:00pm
Jan 28, 2025 at
8:00pm – 10:00pm
Feb 4, 2025 at
8:00pm – 10:00pm
Feb 11, 2025 at
8:00pm – 10:00pm
Feb 18, 2025 at
8:00pm – 10:00pm
Live comedy open mic night! Every week veterans and newbies alike try their hand at entertaining a live audience with jokes! Live at The Hi-tone in Memphis TN! 
About the Comedy Open Mic Night: 
The Comedy open mic night is an invigorating, surprising, and all around hilarious event created in October 2020 by Stand up Comedian : John Andrew Miller. 
The show boasts a diverse and interesting line up each week that cracks smiles, shakes heads and causing uproarious laughter. 
Purpose of the Comedy Open Mic Night: 
The host:  John Miller  noticed the lack of options for serious stand up comedians and aspiring acts in the city of Memphis to practice their craft and explore topics in front of an engaging audience on a Tuesday night. Not to mention, Fans of stand up comedy get to enjoy the art in its rawest and sublime form. 
The Comedy Open Mic Night Format:
The concept is easy: 18 Comics max are allowed to sign up. 
Most comics get 5 minutes max; out of town Comics can ask the host for a 10 minutes slot if needed. 
The Host will open the show with rules, reminders, promotions, and opening set. 
Sign ups for performers : 7p
Showtime 8p-10p
Showtime FAQs:
How do sign up: Show up between 7p-8p and sign the list! The host has complete and total control of when the comics perform so...the spot you sign up for might not necessarily be the spot you get. Performers will be notified one minute before the end of their set to dismount from the stage. 
Can I ( an audience member) engage with the performer? - This is commonly called heckling if the comic doesn't interact first. Please don't heckle( shout or disturb the show) and be respectful to the performers. 
Is it Free? - The Show is free for performers and $10 for all audience members. 
How do I support the show? - Fans of the show can support at the door, donate Crypto ( ask the host how!), and keep on spreading the word about the Host and Memphis Comedy at large!