Alice's Adventures at the Garden
May 8, 2022 -Oct 31, 2022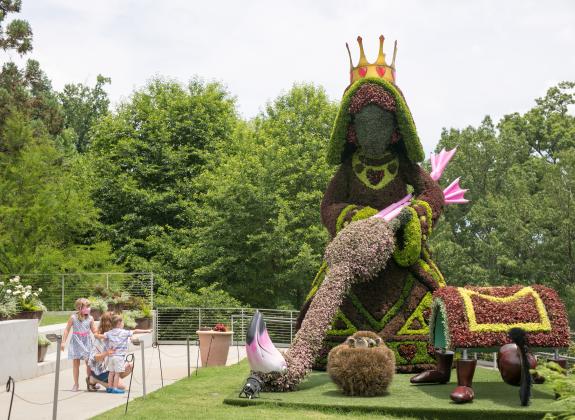 Memphis Botanic Garden
750 Cherry Road
Memphis, TN 38117
United States
May 8, 2022 – Oct 31, 2022
at 9:00am to 6:00pm
May 8, 2022 at
9:00am – 6:00pm
May 9, 2022 at
9:00am – 6:00pm
May 10, 2022 at
9:00am – 6:00pm
May 11, 2022 at
9:00am – 6:00pm
May 12, 2022 at
9:00am – 6:00pm
May 13, 2022 at
9:00am – 6:00pm
May 14, 2022 at
9:00am – 6:00pm
May 15, 2022 at
9:00am – 6:00pm
May 16, 2022 at
9:00am – 6:00pm
May 17, 2022 at
9:00am – 6:00pm
May 18, 2022 at
9:00am – 6:00pm
May 19, 2022 at
9:00am – 6:00pm
May 20, 2022 at
9:00am – 6:00pm
May 21, 2022 at
9:00am – 6:00pm
May 22, 2022 at
9:00am – 6:00pm
May 23, 2022 at
9:00am – 6:00pm
May 24, 2022 at
9:00am – 6:00pm
May 25, 2022 at
9:00am – 6:00pm
May 26, 2022 at
9:00am – 6:00pm
May 27, 2022 at
9:00am – 6:00pm
May 28, 2022 at
9:00am – 6:00pm
May 29, 2022 at
9:00am – 6:00pm
May 30, 2022 at
9:00am – 6:00pm
May 31, 2022 at
9:00am – 6:00pm
Jun 1, 2022 at
9:00am – 6:00pm
Jun 2, 2022 at
9:00am – 6:00pm
Jun 3, 2022 at
9:00am – 6:00pm
Jun 4, 2022 at
9:00am – 6:00pm
Jun 5, 2022 at
9:00am – 6:00pm
Jun 6, 2022 at
9:00am – 6:00pm
Jun 7, 2022 at
9:00am – 6:00pm
Jun 8, 2022 at
9:00am – 6:00pm
Jun 9, 2022 at
9:00am – 6:00pm
Jun 10, 2022 at
9:00am – 6:00pm
Jun 11, 2022 at
9:00am – 6:00pm
Jun 12, 2022 at
9:00am – 6:00pm
Jun 13, 2022 at
9:00am – 6:00pm
Jun 14, 2022 at
9:00am – 6:00pm
Jun 15, 2022 at
9:00am – 6:00pm
Jun 16, 2022 at
9:00am – 6:00pm
Jun 17, 2022 at
9:00am – 6:00pm
Jun 18, 2022 at
9:00am – 6:00pm
Jun 19, 2022 at
9:00am – 6:00pm
Jun 20, 2022 at
9:00am – 6:00pm
Jun 21, 2022 at
9:00am – 6:00pm
Jun 22, 2022 at
9:00am – 6:00pm
Jun 23, 2022 at
9:00am – 6:00pm
Jun 24, 2022 at
9:00am – 6:00pm
Jun 25, 2022 at
9:00am – 6:00pm
Jun 26, 2022 at
9:00am – 6:00pm
Jun 27, 2022 at
9:00am – 6:00pm
Jun 28, 2022 at
9:00am – 6:00pm
Jun 29, 2022 at
9:00am – 6:00pm
Jun 30, 2022 at
9:00am – 6:00pm
Jul 1, 2022 at
9:00am – 6:00pm
Jul 2, 2022 at
9:00am – 6:00pm
Jul 3, 2022 at
9:00am – 6:00pm
Jul 4, 2022 at
9:00am – 6:00pm
Jul 5, 2022 at
9:00am – 6:00pm
Jul 6, 2022 at
9:00am – 6:00pm
Jul 7, 2022 at
9:00am – 6:00pm
Jul 8, 2022 at
9:00am – 6:00pm
Jul 9, 2022 at
9:00am – 6:00pm
Jul 10, 2022 at
9:00am – 6:00pm
Jul 11, 2022 at
9:00am – 6:00pm
Jul 12, 2022 at
9:00am – 6:00pm
Jul 13, 2022 at
9:00am – 6:00pm
Jul 14, 2022 at
9:00am – 6:00pm
Jul 15, 2022 at
9:00am – 6:00pm
Jul 16, 2022 at
9:00am – 6:00pm
Jul 17, 2022 at
9:00am – 6:00pm
Jul 18, 2022 at
9:00am – 6:00pm
Jul 19, 2022 at
9:00am – 6:00pm
Jul 20, 2022 at
9:00am – 6:00pm
Jul 21, 2022 at
9:00am – 6:00pm
Jul 22, 2022 at
9:00am – 6:00pm
Jul 23, 2022 at
9:00am – 6:00pm
Jul 24, 2022 at
9:00am – 6:00pm
Jul 25, 2022 at
9:00am – 6:00pm
Jul 26, 2022 at
9:00am – 6:00pm
Jul 27, 2022 at
9:00am – 6:00pm
Jul 28, 2022 at
9:00am – 6:00pm
Jul 29, 2022 at
9:00am – 6:00pm
Jul 30, 2022 at
9:00am – 6:00pm
Jul 31, 2022 at
9:00am – 6:00pm
Aug 1, 2022 at
9:00am – 6:00pm
Aug 2, 2022 at
9:00am – 6:00pm
Aug 3, 2022 at
9:00am – 6:00pm
Aug 4, 2022 at
9:00am – 6:00pm
Aug 5, 2022 at
9:00am – 6:00pm
Aug 6, 2022 at
9:00am – 6:00pm
Aug 7, 2022 at
9:00am – 6:00pm
Aug 8, 2022 at
9:00am – 6:00pm
Aug 9, 2022 at
9:00am – 6:00pm
Aug 10, 2022 at
9:00am – 6:00pm
Aug 11, 2022 at
9:00am – 6:00pm
Aug 12, 2022 at
9:00am – 6:00pm
Aug 13, 2022 at
9:00am – 6:00pm
Aug 14, 2022 at
9:00am – 6:00pm
Aug 15, 2022 at
9:00am – 6:00pm
Aug 16, 2022 at
9:00am – 6:00pm
Aug 17, 2022 at
9:00am – 6:00pm
Aug 18, 2022 at
9:00am – 6:00pm
Aug 19, 2022 at
9:00am – 6:00pm
Aug 20, 2022 at
9:00am – 6:00pm
Aug 21, 2022 at
9:00am – 6:00pm
Aug 22, 2022 at
9:00am – 6:00pm
Aug 23, 2022 at
9:00am – 6:00pm
Aug 24, 2022 at
9:00am – 6:00pm
Aug 25, 2022 at
9:00am – 6:00pm
Aug 26, 2022 at
9:00am – 6:00pm
Aug 27, 2022 at
9:00am – 6:00pm
Aug 28, 2022 at
9:00am – 6:00pm
Aug 29, 2022 at
9:00am – 6:00pm
Aug 30, 2022 at
9:00am – 6:00pm
Aug 31, 2022 at
9:00am – 6:00pm
Sep 1, 2022 at
9:00am – 6:00pm
Sep 2, 2022 at
9:00am – 6:00pm
Sep 3, 2022 at
9:00am – 6:00pm
Sep 4, 2022 at
9:00am – 6:00pm
Sep 5, 2022 at
9:00am – 6:00pm
Sep 6, 2022 at
9:00am – 6:00pm
Sep 7, 2022 at
9:00am – 6:00pm
Sep 8, 2022 at
9:00am – 6:00pm
Sep 9, 2022 at
9:00am – 6:00pm
Sep 10, 2022 at
9:00am – 6:00pm
Sep 11, 2022 at
9:00am – 6:00pm
Sep 12, 2022 at
9:00am – 6:00pm
Sep 13, 2022 at
9:00am – 6:00pm
Sep 14, 2022 at
9:00am – 6:00pm
Sep 15, 2022 at
9:00am – 6:00pm
Sep 16, 2022 at
9:00am – 6:00pm
Sep 17, 2022 at
9:00am – 6:00pm
Sep 18, 2022 at
9:00am – 6:00pm
Sep 19, 2022 at
9:00am – 6:00pm
Sep 20, 2022 at
9:00am – 6:00pm
Sep 21, 2022 at
9:00am – 6:00pm
Sep 22, 2022 at
9:00am – 6:00pm
Sep 23, 2022 at
9:00am – 6:00pm
Sep 24, 2022 at
9:00am – 6:00pm
Sep 25, 2022 at
9:00am – 6:00pm
Sep 26, 2022 at
9:00am – 6:00pm
Sep 27, 2022 at
9:00am – 6:00pm
Sep 28, 2022 at
9:00am – 6:00pm
Sep 29, 2022 at
9:00am – 6:00pm
Sep 30, 2022 at
9:00am – 6:00pm
Oct 1, 2022 at
9:00am – 6:00pm
Oct 2, 2022 at
9:00am – 6:00pm
Oct 3, 2022 at
9:00am – 6:00pm
Oct 4, 2022 at
9:00am – 6:00pm
Oct 5, 2022 at
9:00am – 6:00pm
Oct 6, 2022 at
9:00am – 6:00pm
Oct 7, 2022 at
9:00am – 6:00pm
Oct 8, 2022 at
9:00am – 6:00pm
Oct 9, 2022 at
9:00am – 6:00pm
Oct 10, 2022 at
9:00am – 6:00pm
Oct 11, 2022 at
9:00am – 6:00pm
Oct 12, 2022 at
9:00am – 6:00pm
Oct 13, 2022 at
9:00am – 6:00pm
Oct 14, 2022 at
9:00am – 6:00pm
Oct 15, 2022 at
9:00am – 6:00pm
Oct 16, 2022 at
9:00am – 6:00pm
Oct 17, 2022 at
9:00am – 6:00pm
Oct 18, 2022 at
9:00am – 6:00pm
Oct 19, 2022 at
9:00am – 6:00pm
Oct 20, 2022 at
9:00am – 6:00pm
Oct 21, 2022 at
9:00am – 6:00pm
Oct 22, 2022 at
9:00am – 6:00pm
Oct 23, 2022 at
9:00am – 6:00pm
Oct 24, 2022 at
9:00am – 6:00pm
Oct 25, 2022 at
9:00am – 6:00pm
Oct 26, 2022 at
9:00am – 6:00pm
Oct 27, 2022 at
9:00am – 6:00pm
Oct 28, 2022 at
9:00am – 6:00pm
Oct 29, 2022 at
9:00am – 6:00pm
Oct 30, 2022 at
9:00am – 6:00pm
Oct 31, 2022 at
9:00am – 6:00pm
Immerse yourself in wonder and whimsy at the Garden in 2022. Meet larger-than-life Alice in Wonderland themed sculptures constructed entirely of mosaiculture, the horticultural art of creating giant topiary-like sculptures using thousands of annual bedding plants to carpet steel armature forms. As you explore the Garden you'll encounter The Red Queen playing her curious version of croquet, Alice spinning through Wonderland, card guards and pawns defending The Chess Set, and the mysterious grin of The Cheshire Cat.
Each month you can enjoy a diverse series of Alice-related programming at the Garden focusing on literacy, arts, horticulture, and more. From family-friendly tea parties and storytimes to garden chats and date nights, we have something for everyone to enjoy. And don't miss Twilight Thursdays at the Garden! Each Thursday for the duration of the exhibit we'll be open late for dog-friendly hours with food trucks and curious cocktails.
Come back for Holiday Wonders at the Garden, starting the first Friday after Thanksgiving, when these sculptures will be transformed with light creating a winter wonderland at the Garden.
Due to the expected popularity of Alice's Adventures at the Garden and in an effort to improve everyone's experience, we are hosting two Members Only Preview Days on May 6 & 7 prior to the official opening to the public on May 8. The Garden will be closed for all non-members on May 6 & 7. Click to join today!
Tickets on sale April 1. Don't be late!
Alice's Adventures at the Garden was originally designed and developed by the Atlanta Botanical Garden in collaboration with Mosaïcultures Internationales de Montréal.