America At The Crossroads: The GUITAR And A Changing Nation
Jun 10, 2023 -Oct 23, 2023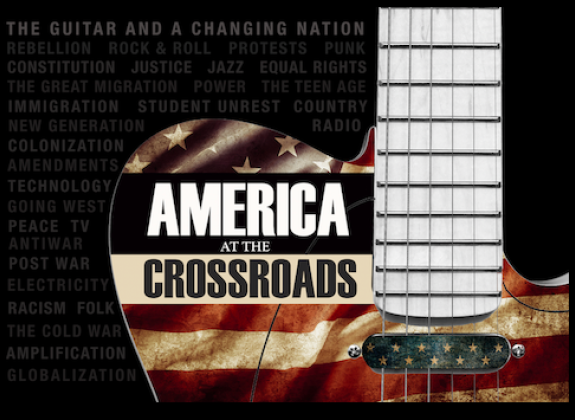 3050 Central Ave.
Memphis, TN 38111
United States
Jun 10, 2023 – Oct 23, 2023
at 10:30am to 5:30pm
Jun 10, 2023 at
10:30am – 5:30pm
Jun 11, 2023 at
10:30am – 5:30pm
Jun 12, 2023 at
10:30am – 5:30pm
Jun 13, 2023 at
10:30am – 5:30pm
Jun 14, 2023 at
10:30am – 5:30pm
Jun 15, 2023 at
10:30am – 5:30pm
Jun 16, 2023 at
10:30am – 5:30pm
Jun 17, 2023 at
10:30am – 5:30pm
Jun 18, 2023 at
10:30am – 5:30pm
Jun 19, 2023 at
10:30am – 5:30pm
Jun 20, 2023 at
10:30am – 5:30pm
Jun 21, 2023 at
10:30am – 5:30pm
Jun 22, 2023 at
10:30am – 5:30pm
Jun 23, 2023 at
10:30am – 5:30pm
Jun 24, 2023 at
10:30am – 5:30pm
Jun 25, 2023 at
10:30am – 5:30pm
Jun 26, 2023 at
10:30am – 5:30pm
Jun 27, 2023 at
10:30am – 5:30pm
Jun 28, 2023 at
10:30am – 5:30pm
Jun 29, 2023 at
10:30am – 5:30pm
Jun 30, 2023 at
10:30am – 5:30pm
Jul 1, 2023 at
10:30am – 5:30pm
Jul 2, 2023 at
10:30am – 5:30pm
Jul 3, 2023 at
10:30am – 5:30pm
Jul 4, 2023 at
10:30am – 5:30pm
Jul 5, 2023 at
10:30am – 5:30pm
Jul 6, 2023 at
10:30am – 5:30pm
Jul 7, 2023 at
10:30am – 5:30pm
Jul 8, 2023 at
10:30am – 5:30pm
Jul 9, 2023 at
10:30am – 5:30pm
Jul 10, 2023 at
10:30am – 5:30pm
Jul 11, 2023 at
10:30am – 5:30pm
Jul 12, 2023 at
10:30am – 5:30pm
Jul 13, 2023 at
10:30am – 5:30pm
Jul 14, 2023 at
10:30am – 5:30pm
Jul 15, 2023 at
10:30am – 5:30pm
Jul 16, 2023 at
10:30am – 5:30pm
Jul 17, 2023 at
10:30am – 5:30pm
Jul 18, 2023 at
10:30am – 5:30pm
Jul 19, 2023 at
10:30am – 5:30pm
Jul 20, 2023 at
10:30am – 5:30pm
Jul 21, 2023 at
10:30am – 5:30pm
Jul 22, 2023 at
10:30am – 5:30pm
Jul 23, 2023 at
10:30am – 5:30pm
Jul 24, 2023 at
10:30am – 5:30pm
Jul 25, 2023 at
10:30am – 5:30pm
Jul 26, 2023 at
10:30am – 5:30pm
Jul 27, 2023 at
10:30am – 5:30pm
Jul 28, 2023 at
10:30am – 5:30pm
Jul 29, 2023 at
10:30am – 5:30pm
Jul 30, 2023 at
10:30am – 5:30pm
Jul 31, 2023 at
10:30am – 5:30pm
Aug 1, 2023 at
10:30am – 5:30pm
Aug 2, 2023 at
10:30am – 5:30pm
Aug 3, 2023 at
10:30am – 5:30pm
Aug 4, 2023 at
10:30am – 5:30pm
Aug 5, 2023 at
10:30am – 5:30pm
Aug 6, 2023 at
10:30am – 5:30pm
Aug 7, 2023 at
10:30am – 5:30pm
Aug 8, 2023 at
10:30am – 5:30pm
Aug 9, 2023 at
10:30am – 5:30pm
Aug 10, 2023 at
10:30am – 5:30pm
Aug 11, 2023 at
10:30am – 5:30pm
Aug 12, 2023 at
10:30am – 5:30pm
Aug 13, 2023 at
10:30am – 5:30pm
Aug 14, 2023 at
10:30am – 5:30pm
Aug 15, 2023 at
10:30am – 5:30pm
Aug 16, 2023 at
10:30am – 5:30pm
Aug 17, 2023 at
10:30am – 5:30pm
Aug 18, 2023 at
10:30am – 5:30pm
Aug 19, 2023 at
10:30am – 5:30pm
Aug 20, 2023 at
10:30am – 5:30pm
Aug 21, 2023 at
10:30am – 5:30pm
Aug 22, 2023 at
10:30am – 5:30pm
Aug 23, 2023 at
10:30am – 5:30pm
Aug 24, 2023 at
10:30am – 5:30pm
Aug 25, 2023 at
10:30am – 5:30pm
Aug 26, 2023 at
10:30am – 5:30pm
Aug 27, 2023 at
10:30am – 5:30pm
Aug 28, 2023 at
10:30am – 5:30pm
Aug 29, 2023 at
10:30am – 5:30pm
Aug 30, 2023 at
10:30am – 5:30pm
Aug 31, 2023 at
10:30am – 5:30pm
Sep 1, 2023 at
10:30am – 5:30pm
Sep 2, 2023 at
10:30am – 5:30pm
Sep 3, 2023 at
10:30am – 5:30pm
Sep 4, 2023 at
10:30am – 5:30pm
Sep 5, 2023 at
10:30am – 5:30pm
Sep 6, 2023 at
10:30am – 5:30pm
Sep 7, 2023 at
10:30am – 5:30pm
Sep 8, 2023 at
10:30am – 5:30pm
Sep 9, 2023 at
10:30am – 5:30pm
Sep 10, 2023 at
10:30am – 5:30pm
Sep 11, 2023 at
10:30am – 5:30pm
Sep 12, 2023 at
10:30am – 5:30pm
Sep 13, 2023 at
10:30am – 5:30pm
Sep 14, 2023 at
10:30am – 5:30pm
Sep 15, 2023 at
10:30am – 5:30pm
Sep 16, 2023 at
10:30am – 5:30pm
Sep 17, 2023 at
10:30am – 5:30pm
Sep 18, 2023 at
10:30am – 5:30pm
Sep 19, 2023 at
10:30am – 5:30pm
Sep 20, 2023 at
10:30am – 5:30pm
Sep 21, 2023 at
10:30am – 5:30pm
Sep 22, 2023 at
10:30am – 5:30pm
Sep 23, 2023 at
10:30am – 5:30pm
Sep 24, 2023 at
10:30am – 5:30pm
Sep 25, 2023 at
10:30am – 5:30pm
Sep 26, 2023 at
10:30am – 5:30pm
Sep 27, 2023 at
10:30am – 5:30pm
Sep 28, 2023 at
10:30am – 5:30pm
Sep 29, 2023 at
10:30am – 5:30pm
Sep 30, 2023 at
10:30am – 5:30pm
Oct 1, 2023 at
10:30am – 5:30pm
Oct 2, 2023 at
10:30am – 5:30pm
Oct 3, 2023 at
10:30am – 5:30pm
Oct 4, 2023 at
10:30am – 5:30pm
Oct 5, 2023 at
10:30am – 5:30pm
Oct 6, 2023 at
10:30am – 5:30pm
Oct 7, 2023 at
10:30am – 5:30pm
Oct 8, 2023 at
10:30am – 5:30pm
Oct 9, 2023 at
10:30am – 5:30pm
Oct 10, 2023 at
10:30am – 5:30pm
Oct 11, 2023 at
10:30am – 5:30pm
Oct 12, 2023 at
10:30am – 5:30pm
Oct 13, 2023 at
10:30am – 5:30pm
Oct 14, 2023 at
10:30am – 5:30pm
Oct 15, 2023 at
10:30am – 5:30pm
Oct 16, 2023 at
10:30am – 5:30pm
Oct 17, 2023 at
10:30am – 5:30pm
Oct 18, 2023 at
10:30am – 5:30pm
Oct 19, 2023 at
10:30am – 5:30pm
Oct 20, 2023 at
10:30am – 5:30pm
Oct 21, 2023 at
10:30am – 5:30pm
Oct 22, 2023 at
10:30am – 5:30pm
Oct 23, 2023 at
10:30am – 5:30pm
The guitar is one of the most enduring icons in American history. And the story of "The Crossroads" is one of America's most enduring myths. The musician who sells their soul on a lonely country road for fame and wealth is a legend that is uniquely American. Crossroads also define times of immense and wrenching change. The American nation has come upon many of its own crossroads.
We find ourselves at one right now—after a pandemic, civil unrest, political infighting, global unease, and even anarchy. Guitars are a symbol of the nation's diverse culture, ethnography, and geography. Its most famous and skilled practitioners have been spread across race, gender, religion, and ethnicity.
For decades, the guitar was the one instrument that many rural people and those freed from slavery could afford to buy—sold for a few dollars in the Sears Catalog. Later, the sound of the guitar defined the first-ever generation of American "teenagers"—a term that came into popular use as the first electric guitars were being manufactured. The guitar was the sound of protest in the 1960s and 1970s, the sound of anger and alienation in the 1980s and 1990s, and the preferred pastime of the Covid pandemic—when more guitars were sold than ever before.
"America At The Crossroads: The GUITAR And A Changing Nation" displays 40 instruments that serve as touchpoints to connect visitors directly with significant moments in America's evolution—from the earliest Spanish invasion to the nation's modern status as a global superpower. The artifacts are supplemented with video, photographs, and illustrations that depict important events, artists, and instruments of the last century. It is an exciting and engaging experience that gives visitors the chance to interact with the guitar not only from the perspective of its history, but also through the music it has created and those it has inspired.
Exhibit opening in conjunction with the America at The Crossroads: The GUITAR and a Changing Nation exhibit.
From the Blues clubs on Beale Street to Midtown punk dive bars, music from Memphis has become a global phenomenon. And no instrument has been as important to the sound of this city as the guitar.
Grind City Picks: The Music That Made Memphis invites you to learn about the evolution of notable music genres in Memphis through an impressive display of instruments from famous artists, band merchandise, and photographs. This exhibit explores how Memphis's history and culture are shaped by the iconic instruments, riffs, and guitarists that put Memphis on the map. Grind City Picks will also feature talented local luthiers who have attracted international artists eager for a taste of the Memphis sound and craftsmanship. This exhibit serves as a testament to the power of music and how the guitar has been integral to the city's national and international fame.