Sweat the Greenway - Mud Island Section
Jun 5, 2021 -Oct 16, 2021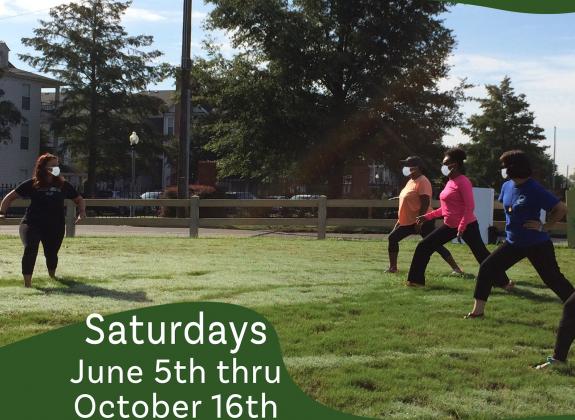 https://wolfriver.org/programming
1320 North Mud Island Road
Memphis, TN 38103
United States
Jun 5, 2021 – Oct 16, 2021
at 9:00am to 12:00pm
Jun 5, 2021 at
9:00am – 12:00pm
Jun 12, 2021 at
9:00am – 12:00pm
Jun 19, 2021 at
9:00am – 12:00pm
Jun 26, 2021 at
9:00am – 12:00pm
Jul 3, 2021 at
9:00am – 12:00pm
Jul 10, 2021 at
9:00am – 12:00pm
Jul 17, 2021 at
9:00am – 12:00pm
Jul 24, 2021 at
9:00am – 12:00pm
Jul 31, 2021 at
9:00am – 12:00pm
Aug 7, 2021 at
9:00am – 12:00pm
Aug 14, 2021 at
9:00am – 12:00pm
Aug 21, 2021 at
9:00am – 12:00pm
Aug 28, 2021 at
9:00am – 12:00pm
Sep 4, 2021 at
9:00am – 12:00pm
Sep 11, 2021 at
9:00am – 12:00pm
Sep 18, 2021 at
9:00am – 12:00pm
Sep 25, 2021 at
9:00am – 12:00pm
Oct 2, 2021 at
9:00am – 12:00pm
Oct 9, 2021 at
9:00am – 12:00pm
Oct 16, 2021 at
9:00am – 12:00pm
- What -
Mud Island Section - Barre with Peggy Jean Craig
Barre workouts are a fusion of yoga, Pilates, strength training, and ballet. Barre classes incorporate sequencing patterns and isometric movements that target specific muscle groups. This pattern of exercise helps to improve strength, endurance, balance, flexibility and posture. In Barre class, we will lengthen and sculpt lean muscles through a full-body workout. And, no, you don't have to know ballet to be good at barre!
What to bring: Bottle of water (optional)
Class Level: Beginner to Intermediate
What to wear: Tee and workout leggings. You may wear sneakers if you like, but our barre classes are traditionally done barefoot.
All Greenway Community Programming is free and open to the public. Any equipment necessary is provided to participants for use during classes.
-Where-
1320 North Mud Island Road
Memphis, TN 38103
Street Parking Available
-How-
Our certified fitness instructors will begin classes, every Saturday at 10:00 am. We encourage you to bring water and sunscreen and any other items that will make you comfortable. Instructors will have water, and snacks if participants need. Children are allowed to the extent they do not interfere with other participants. Portable restrooms, handwashing station, and sanitizer station will be on site.