River Garden Yoga
Apr 6, 2021 -Sep 28, 2021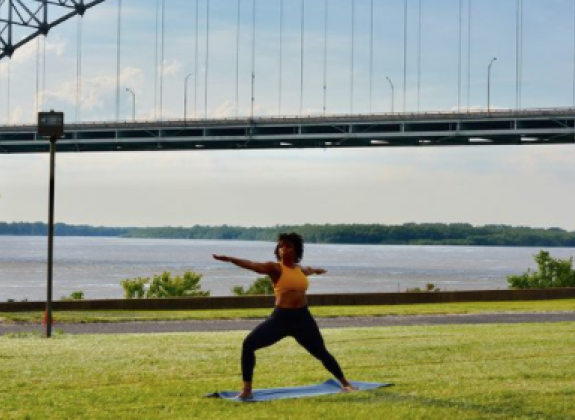 River Garden
51 Riverside Dr.
Memphis, TN 38103
United States
Apr 6, 2021 – Sep 28, 2021
at 5:30pm to 6:30pm
Apr 6, 2021 at
5:30pm – 6:30pm
Apr 13, 2021 at
5:30pm – 6:30pm
Apr 20, 2021 at
5:30pm – 6:30pm
Apr 27, 2021 at
5:30pm – 6:30pm
May 4, 2021 at
5:30pm – 6:30pm
May 11, 2021 at
5:30pm – 6:30pm
May 18, 2021 at
5:30pm – 6:30pm
May 25, 2021 at
5:30pm – 6:30pm
Jun 1, 2021 at
5:30pm – 6:30pm
Jun 8, 2021 at
5:30pm – 6:30pm
Jun 15, 2021 at
5:30pm – 6:30pm
Jun 22, 2021 at
5:30pm – 6:30pm
Jun 29, 2021 at
5:30pm – 6:30pm
Jul 6, 2021 at
5:30pm – 6:30pm
Jul 13, 2021 at
5:30pm – 6:30pm
Jul 20, 2021 at
5:30pm – 6:30pm
Jul 27, 2021 at
5:30pm – 6:30pm
Aug 3, 2021 at
5:30pm – 6:30pm
Aug 10, 2021 at
5:30pm – 6:30pm
Aug 17, 2021 at
5:30pm – 6:30pm
Aug 24, 2021 at
5:30pm – 6:30pm
Aug 31, 2021 at
5:30pm – 6:30pm
Sep 7, 2021 at
5:30pm – 6:30pm
Sep 14, 2021 at
5:30pm – 6:30pm
Sep 21, 2021 at
5:30pm – 6:30pm
Sep 28, 2021 at
5:30pm – 6:30pm
 🧘Yoga is back in RIVER GARDEN! ⁠
Starting Tuesday, April 6th at 5:30 pm! ⁠
⁠
Instagram Live or In-Person!⁠ All levels! ⁠
Join us for Yoga on the River with @TheYogaKickback!⁠
Same Awesome Class – NEW Awesome Instructor!⁠
⁠
Candace of Yoga Kickback will be guiding your yoga journey along the mighty Mississippi! Don't forget your mat/towel, mask, and water!⁠
⁠
When: EVERY TUESDAY - 5:30 pm - 6:30 pm⁠
Where: River Garden - 51 Riverside Drive⁠ or @downtownmemphis IG live⁠
⁠
Join us virtually on INSTAGRAM LIVE!⁠