Halloween Scavenger Haunt
Oct 30, 2021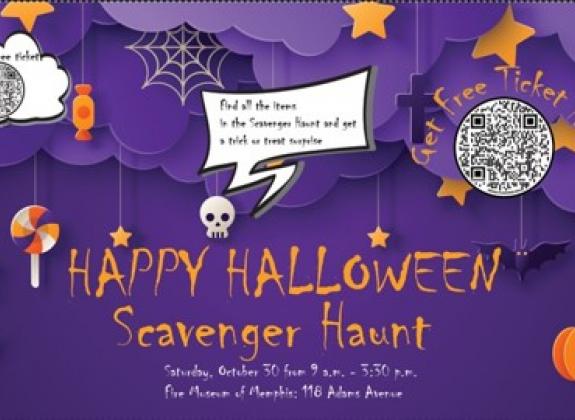 Fire Museum of Memphis
118 Adams Ave
Memphis, TN 38103
United States
Oct 30, 2021
at 9:00am to 4:30pm
On Saturday, October 30, 2021, from 9 a.m. until 4:30 p.m. the Fire Museum of Memphis will be hosting a special Scavenger Haunt for all our little Trick o' Treaters.
All children of MFD personnel will receive free admission to the museum that day and will be able to participate in the Scavenger Haunt for free. Since it will be exceptionally hard this year for kids to trick o' treat due to COVID, they can do this fun Scavenger Haunt and receive a bag of candy as their prize.  This is a fun and safe/socially distanced way for kids to celebrate Halloween.  We do ask that they wear a mask and the costume of their choice to make this a fun-filled Halloween.
Does your child want to bring a friend? They can! They just need to download a free ticket as well.
In order to ensure that we can properly social distance please click here and fill out the form to let us know that you are coming. Each ticket is good for one adult and one child.