Graceland's All-American 4th of July Weekend
Jul 3, 2021 -Jul 4, 2021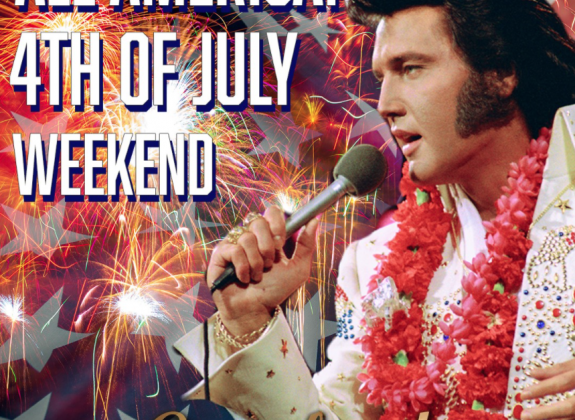 Graceland
3717 Elvis Presley Blvd.
Memphis, TN 38116
United States
Jul 3, 2021 – Jul 4, 2021
at 6:00pm to 10:00pm
SATURDAY, JULY 3 – SUNDAY, JULY 4, 2021
FEATURING AN ALL-AMERICAN ELVIS FIREWORKS EXTRAVAGANZA ON SUNDAY, JULY 4TH
There is nothing more American than Elvis, Rock 'n' Roll, Fireworks, and BBQ. And we've put them all together so that you can join us in Memphis, TN – chosen by multiple travel publications as one of the country's hottest destinations – to celebrate our nation's independence at Graceland!
In honor of the holiday, Graceland will host several special events and parties, and the iconic Graceland Mansion will be beautifully lit in red, white, and blue all weekend long.
All-American 4th of July Weekend Hotel Packages are available at the AAA-rated Four Diamond Guest House at Graceland Resort. Enjoy incredible rooms, restaurants and world-class amenities located steps away from Graceland Mansion and Elvis Presley's Memphis Entertainment and Exhibit Complex. The Guest House at Graceland is in the heart of all the action, and free shuttles are available to take you throughout the ever-expanding Graceland campus. Ticket-Only Packages and tickets for individual events are also available for those who do not need hotel accommodations.
Plan your Graceland summer getaway now and prepare for non-stop fun and entertainment for all ages!
All-American 4th of July Weekend Highlights include:
SATURDAY, JULY 3
PRE-SHOW COCKTAIL HOUR
6pm - Lightning Lounge at Elvis Presley's Memphis
VIP and Deluxe Package Holders Only
Prior to the show, meet up with friends for a complimentary drink and appetizers in the all-new Lightning Lounge, located directly next door to The Soundstage at Graceland.
AN ULTIMATE ELVIS TRIBUTE: BILL CHERRY IN CONCERT
7pm - The Soundstage at Graceland
Individual Ticket: $25; Included in VIP and Deluxe Packages
2009 Ultimate Elvis Tribute Artist Contest winner Bill Cherry returns to the Soundstage at Graceland for a special July 4th weekend performance. Feel the power of Elvis on stage - from the karate kicks to the king-sized vocals – and experience this incredibe tribute performance. Bill Cherry is a rock 'n' roll superman on stage who will immerse you into the glitz and glamor of Elvis' incredible stage performances from the 70s. Backed by the EAS Band, he will deliver the most tender ballads to the hardest rocking show-stoppers in a show packed with energy, spirit and heart.
HIDDEN GRACELAND TOURS WITH ANGIE MARCHESE
9pm - Graceland Mansion
Individual Ticket: $500; Not Included in Any Package
For those seeking the ultimate Graceland experience, treat yourself to this once in a lifetime 2-hour tour of Graceland Mansion after-hours with Graceland's VP of Archives and Exhibits Angie Marchese. Limited to just 10 guests, this is as close as you can come to having a private tour of Elvis' iconic home where you will see the sites and hear the stories that made this the King's castle. Have you ever wondered what might be inside a drawer or around a corner? This exclusive experience will give you a glimpse at hidden areas and items that you cannot see on regular tours – and will feature a special photo op inside Graceland Mansion.
SUNDAY, JULY 4
THE GREAT AMERICAN SUNDAY GOSPEL BRUNCH
11am - The Guest House at Graceland
Individual Ticket: $50; Included in VIP and Deluxe Packages
Great food + astounding talent = the perfect combination. Start America's birthday with an inspiring Gospel Brunch with delicious Southern specialties and an incredible live gospel performance by the Cummings Street Worship Team.
PRIVATE BBQ DINNER & RECEPTION – NEVER BEFORE OFFERED!
6pm - The Graceland Grounds
VIP Package Exclusive
For the first time ever, Graceland will be hosting an exclusive, private reception and dinner on the beautiful grounds of the original Graceland Chapel. A BBQ dinner will be served, followed with a toast celebrating America's Birthday in front of Graceland Mansion – where guests will also get a photo op!
ALL-AMERICAN PARTY & ELVIS FIREWORKS EXTRAVAGANZA
7pm - Elvis Presley's Memphis
Free Admission
It's all happening at Elvis Presley's Memphis Exhibit and Entertainment Complex! Spend time indoors and outdoors, wandering through 10 fantastic Elvis-themed museums, shopping, or dining at our Elvis-inspired restaurants. Don't miss our 10 all-new Interactive Experiences that give fans the opportunity to get closer to Elvis than ever before! Enjoy music and cool off with a tasty American-themed adult beverage from our cash bars. After the sun finally sets, it's time to celebrate America with an unforgettable firework display set to Elvis music. The evening will be hosted by DJ Argo of SiriusXM Elvis Radio, who will share unique stories of Elvis and Graceland.
COVID-19 Protocols will be in place for all events based on local health directive. This may include the requirement of masks, temperature screenings, and socially distanced seating for events. Patrons will receive seating assignments at ticket pick-up for Graceland Soundstage events. Find out more about Graceland's current COVID-19 Protocols HERE.