Black Lodge Film Camp
Jun 21, 2021 -Jul 26, 2021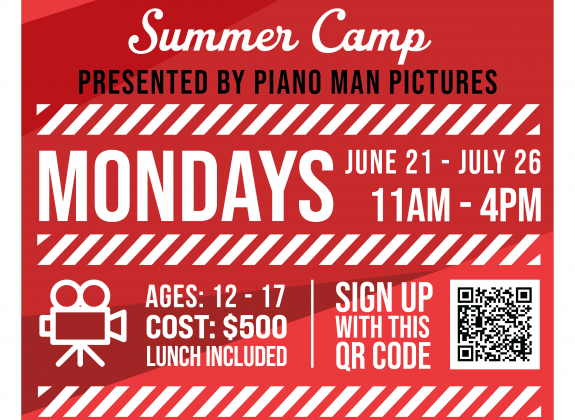 Black Lodge
405 N. Cleveland Street
Memphis, TN 38104
United States
Jun 21, 2021 – Jul 26, 2021
at 11:00am to 4:00pm
Jun 21, 2021 at
11:00am – 4:00pm
Jun 28, 2021 at
11:00am – 4:00pm
Jul 5, 2021 at
11:00am – 4:00pm
Jul 12, 2021 at
11:00am – 4:00pm
Jul 19, 2021 at
11:00am – 4:00pm
Jul 26, 2021 at
11:00am – 4:00pm
Black Lodge Film Camp
This hands-on camp will introduce the basics of filmmaking and help make their own films. Each weekly class will be a mix of instruction, demonstration, and hands-on experience- the best way to learn filmmaking.
Students will pitch ideas, write scripts, storyboard, film, and edit their own projects in small groups. They'll learn the basic structure of story, the different jobs of a production, and how to put it all together to make a cohesive idea. There will be some homework, but we promise they'll actually enjoy it.
This is an interactive workshop, and students can expect to be very involved in the actual filmmaking process. For each group, we'll teach them how to use basic equipment they might have at home so they can continue to make films in the future, but we'll also introduce them to real film equipment so they get a good understanding of film set basics.  At the end of the camp, students will have the opportunity to screen their films in front of their family and guests. 
We do have a 25 student limit to ensure the best quality experience for each student so spots are limited. 
We love filmmaking, and we're excited to share it with students bursting with their own creative ideas. It'll be a six weeks they won't forget!
Instructors:
Chad Allen Barton is the co-founder of the Memphis-based production company, Piano Man Pictures. He has written, produced, and directed several short films ("Am I", "Hirsch", "H.I.D.") that have screened at numerous festivals including ones in Los Angeles, New York, and London. He has produced award-winning music videos as well as the North Mississippi All-Stars concert documentary, World Boogey is Coming (dir. Cody Dickinson). Recently, along with Matt Martin of Black Lodge Video, Chad has founded Cinematic Panic, a film festival for the bizarre, weird, and insane. Teaches filmmaking at Memphis University School and has worked with Indie Memphis to teach filmmaking workshops for children as well.
Rachel M. Taylor is a director, writer, and producer based in Memphis, TN where she works with Piano Man Pictures, a film collective that operates as an incubator for local filmmakers and artists. She's best known for her award-winning fantasy shorts "Avarice" and "Solus," winner of the IndieGrant with Indie Memphis Film Festival in 2018. Her accolades include  mentorship in the Indie Memphis Youth Festival, helping students to make films on their own from start to finish and instructing with Memphis Comic and Fantasy Convention where she goes to various schools and teaches students how to make a film using equipment they have at home.