The Barnes Family Holiday Show
Dec 18, 2021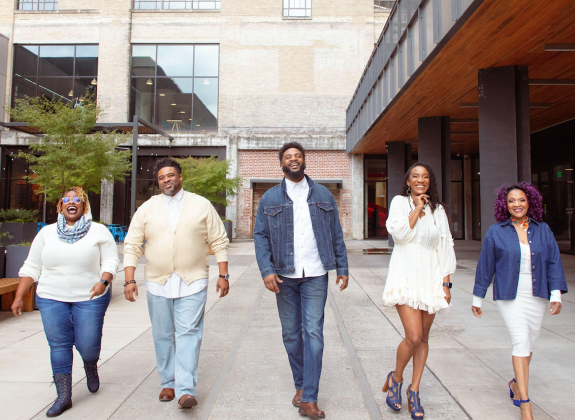 Crosstown Theater
1350 Concourse Ave.
Memphis, TN 38104
United States
Dec 18, 2021
at 7:30pm to 9:00pm
Gospel group The Barnes Family presents a special holiday show at Crosstown Theater.
TICKETS: $30 first-level seating | $20 balcony seating
Doors at 6:30 pm | Show at 7:30 pm
With more than 30 years in the music industry, The Barnes Family has been called "one of the most influential Gospel families in Memphis, TN." They're reuniting on-stage after a five year hiatus.
Chris and Courtney of the Sensational Barnes Brothers released their critically acclaimed debut album Nobody's Fault But My Own in 2019. The following year, in 2020, Calvin J. Barnes II and Carla Barnes-Anderson released James Anderson, an album with more R&B influences centered around inspiration and motivation. The success of these projects were the missing piece in reuniting the family on stage and shifting their time and energy on the revival of the Barnes family.
This show gives the family an opportunity to have fun and create music on their terms. Since their time apart, each member of the family has toured and performed with acts, such as the Bar-Kays, and in solo ventures in Las Vegas. However, this time around they are looking forward to sharing their favorite Christmas carols in their own way. And more importantly, they'll be revisiting the moments that have gotten away from them over the years.
The Barnes family has deep ties to gospel, often bridging the gap between soul and non-secular music. There is a familiarity in the way this family performs as it teeters the line of both fervid and faithful. Although the Barnes family got its start in gospel music, this concert will be a melting pot of old and new. It will be a raw look at the life that each of them has experienced individually over the last couple of years and how that translates into the way they will perform together.
This holiday production will be an elevation of where the Barnes family left off in 2015 after the release of their family album, Family Tree. "We are giving them what they've been asking for," says Calvin J. Barnes II. "Expect to hear Christmas classics with a funk and soul twist."