Beale Street Entertainment District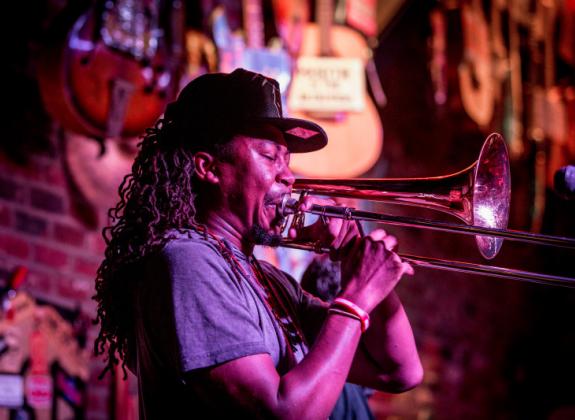 Live music spills from each club. Smoky barbecue wafts on the breeze. History hangs in the air.
You're on Beale Street.
From the moment your foot touches the cobblestones, you realize you've officially entered a music mecca unlike any other.It is the most visited attraction in the State of Tennessee. Beale Street is alive with blues, jazz, rock 'n' roll, R&B, soul, and gospel. It has a variety of clubs, restaurants, and retail shops. Its live music, outdoor concerts, clubs, restaurants, and neon give you an authentic look at Memphis and its music. No other local landmark has held such mystique, intrigue, fame, and infamy over the years.
Beale Street is in the heart of Downtown Memphis and dates back to 1841. It inspired W.C. Handy's "Beale Street Blues." It was where B.B. King's Blues Club calls home. It has welcomed everything from bars and nightclubs to gamblers and musicians. Beale Street was declared a National Historic Landmark in 1966, and officially declared the Home of the Blues by an act of Congress in 1977.
While on the street, don't miss local favorites, the Beale Street Flippers as they do acrobatic stunts you have to see to believe. Also, tour the home of W.C. Handy (the Father of the Blues) and enjoy outdoor concerts at the W.C. Handy Park.
Amenities ▲
Facility Amenities
General Information

Accessible
Family-Friendly
Free Admission

Neighborhoods
Parking

Parking Lot
Street Parking
Valet Parking